BYD Atto 3
The new BYD Atto 3, a SUV from BYD, was launched in India in Nov 2022. Atto 3 has received 87% rating score from our users. Atto 3 is preferred for its comfort and performance.
BYD Atto 3 price starts from ₹ 33.99 Lakh in India. Atto 3 is available in 5 colours - Boulder Grey, Parkour Red, Ski White, Surf Blue, and Forest Green. Atto 3 seating capacity is 5 People. Atto 3 has received Not Tested star NCAP Rating safety rating.
Atto 3 is available in 2 versions and 1 fuel options - Electric.
Atto 3 competes with BYD e6, Hyundai Ioniq 5 and MG ZS EV in India.
BYD Atto 3 Model List
| Atto 3 Model | Price | Key Specs |
| --- | --- | --- |
| Extended Range | ₹ 33.99 Lakh | Electric |
| Special Edition | ₹ 34.49 Lakh | Electric |
Atto 3 Price
Version
All Versions
City
Not Selected
Avg. Ex-Showroom price
Atto 3 starting EMI
₹68,919 for 5 Years
Ex-Showroom Price

This price includes GST and any state/city entry tax. However, the ex-showroom price does not include RTO, Insurance, Fast tag, and other accessories cost

₹

0

Registration Charges

Road Tax or registration tax This varies from city to city.

₹

0

Insurance

The insurance cost on CarTrade covers 1-year comprehensive insurance cost with 95% IDV and 3-year third-party insurance cost.
IDV - it is the max amount you will receive if your vehicle is stolen or completely damaged.
Third-party insurance - If you met with an accident with another vehicle, third-party insurance covers cost against damages to the other vehicle or the owner/driver of the other vehicle. It is helpful in the event of an accident by your mistake.
Insurance is mandatory for every vehicle as per the Indian Govt laws.

₹

0

Other Charges

₹

0

On-Road price

The final price you will need to pay to purchase the car in your city. On-road price = ex-showroom price + RTO + Insurance + Fast tag and other accessory charges.

₹

0
BYD Atto 3 Key Specifications
| | |
| --- | --- |
| Price | ₹ 33.99 - 34.49 Lakh |
| Fuel Type | Electric |
| Driving Range (km) | 521 km |
| Seating Capacity | 5 People |
| NCAP Rating (Best - 5 Star) | Not Tested star NCAP Rating |
| Warranty | 6 Years or 150000 km |
| Battery Warranty | 8 Years or 160000 km |
| Battery Capacity | 60.48 kWh |
| Size | 4455 mm L X 1875 mm W X 1615 mm H |
| Ground Clearance (mm) | 175 mm |
Atto 3 Expert Review
Good Things
It's a complete package
Loads of features, high on safety
Battery range and management system
Could be Better
Isn't as engaging to drive
Limited sales network
Engine and Performance
Most electric vehicles today use a lithium-ion battery pack. But BYD uses a segment-first Lithium Iron Phosphate battery pack with unique Blade-like packaging. Unlike lithium-ion cells, these batteries are more affordable, less toxic, and have a longer life cycle. BYD says this battery fares better in a nail penetration test as compared to lithium-ion battery packs, making it safer if involved in an accident. In an extreme example, a test battery was functional even after being driven over by a truck! In the real world, this means that the owners of the BYD Atto 3 should have lesser range anxiety and better peace of mind.
Even the motor design on this BYD car is unique. It uses an eight-in-one layout where all the major electrical components are packed into one smaller unit. This saves space while also allowing for better weight management. There's also a dedicated heat management system which reduces the effect of ambient temperatures on the battery performance, offering consistent range figures irrespective of the climate.
The Atto 3 has been designed from the ground up as an EV, and it shows. It's as convenient to drive as any other electric car. There are three drive modes – Eco, Normal, and Sport. In the Eco mode, the throttle feels slightly heavier yet the response is subdued, while in the Normal, it feels slightly livelier. But the Sport mode is the place to be. The sharper throttle response means the Atto 3 gathers speed in a very linear manner. It's not neck-snapping quick, but it's fast enough to keep up with anything on the road, electric or otherwise.
Apart from these three, BYD has also provided a Snow mode. It controls the throttle response to prevent slip, but we'll have to check some other day how well it works. This being an EV, there's also brake energy regeneration, and two levels of it, Standard and High. You can barely feel it working in the former, while some of it is felt in the latter. But there's no 'one pedal' drive here.
Sizes
With the 60.4kWh battery pack, the claimed ARAI-tested range of the Atto 3 is 521 kilometres. BYD says that when charged using an 80kW DC setup, a depleted battery can be charged to 80 per cent in less than an hour! The Atto 3's battery supports fast charging of up 120kW, theoretically reducing the wait time further. Then, it also gets the vehicle-to-load function (VOLT), which means the Atto 3 becomes a versatile tool too, with the ability to power appliances for a small picnic or double up as a generator for power tools.
Ride and Handling
Coming to the suspension hardware, the Atto 3 uses the conventional MacPherson struts up front and a multi-link setup at the back. But it has a good level of, such that this BYD SUV feels quite European in the way it rides. The sharp creases and bumps are absorbed without a thud and even the uneven patches are taken astride with good composure. Although you can hear the 215/55 R18 tyres' road noise inside the cabin, that can be resolved with better and grippier tyres. Otherwise, under hard acceleration, the tyres struggle to keep a grip, thus inadvertently making your arms wrestle with the steering. While we are at it, the steering goes less than two and a half turns lock-to-lock. It's also well-weighted and feels direct without any lag. Moreover, there's also a gimmicky 'steering mode' in the infotainment system that slightly alters the weight of the steering, nothing more. Otherwise, the Atto 3 doesn't give many reasons to complain with respect to ride and handling.
Exterior
In the metal, the Atto 3 appears to be a good-looking crossover, thanks to a smart design without any tacky elements. It does qualify as a mid-size crossover considering its size, but on paper, the Atto 3 is longer and wider when compared to the MG ZS EV, the Jeep Compass, and the Hyundai Creta. It might not have the street presence of, say, the Tata Harrier or the likes, but the unique styling of this BYD car in India does guarantee a second glance. And you get this SUV in four colour options – red, grey, white, and blue.
Comfort, Convenience, and Features
Now, on the interiors of the Atto 3, the first thing that caught our attention is the unusual and quirky design layout. Each element here feels like it's placed there deliberately to tell a story. The flow of the dashboard, for instance, the design of the air vents, how the door handles resemble a spanner, those guitar-like strings down on the door pads, or even the door handle integrated over the speakers, all make the cabin of the Atto 3 feel special.
But that's not all, you'd find this quirky design quite functional too. The lever to open the door has a grippy surface for easy operation. The door pads have soft-touch surfaces throughout along with the dashboard. Even the large armrest for the driver has these sections which might look weird at first but have the same texture as the air cushions used in packaging, and are actually comfortable. The front seats do not get adjustable headrests but are cosy, similar to the bucket seats you find in performance cars. These also get six-way electric adjustments for both driver and passenger. Since there's no physical gear linkage, the floating armrest has space for storage below it. You also have USB ports placed down there. Moreover, on the centre console, the jet-like gear-lever would surely be a great conversation starter.
Lastly, we come to the party piece of the Atto 3's cabin – the rotating 12.8-inch screen which can go to landscape or portrait position at the touch of a button. It has a simple interface with good touch response, and we didn't find any glitches or bugs in the limited time we used it. However, Android Auto and Apple CarPlay are set to be introduced next year and weren't available on our test cars.
Talking about the overall ergonomics, the second row is easy to get in and out of. The seat height is great, and the best part is the seat base length. It is long and flat and offers good under-thigh support. Now, since the floor is high owing to the battery placed underneath, taller passengers would sit in a slightly uncomfortable knees-up position. That said, even the backrest has a comfortable recline angle and provides good support all the way up. Room for three is possible, though the middle passenger might feel slightly uneasy with the hard seat base and reduced height. Then, there is enough shoulder room to seat three adults abreast as well.
Some tiny details we like on the interior of the BYD Atto 3 include the sunroof, which extends almost through the whole length of the roof. This amplifies the sense of space and grandness. Not to mention, the seats' back pockets are compartmentalised to easily store phones, wallets, paperwork, and some other knick-knacks. Soft-touch materials are not just limited to the front doors of Atto 3, and one-touch up/down powered windows are available for the rear passengers too.
Conclusion
A price tag of Rs 36 lakh might seem a lot for an electric crossover. But the Atto 3 is a lot of car for its price. It offers a bigger battery pack than the competition, with a higher claimed range and better performance too. It also promises peace of mind with a focus on safety, including ADAS functions and scoring a five-star rating in the Euro-NCAP crash tests. The Atto 3 has a lot going for it. It is one of those offerings that will force the competition to up their game. BYD has already received 1,500 bookings for the Atto 3 SUV. Now, this indeed seems like the first tiny step of a million-mile journey.
Pictures by Kapil Angane
BYD Atto 3 Variants
Find a list of all 2 electric versions of BYD Atto 3. This table includes BYD Atto 3 on-road price which covers all costs like RTO and Insurance.
Filter By
Fuel type, Transmission and Seating Capacity
Electric
Automatic
5 Seater
Atto 3 Versions
Ex-showroom Price
Compare

Electric

₹ 33.99 Lakh

Key Features : 7 Airbags, Sunroof, Cruise Control, Push Button Start, Wireless Charger

Electric

₹ 34.49 Lakh

Extra Features over Extended Range versions : Steering Mounted Controls, 360 Camera Parking Assist, Rear AC, LED Headlights, Integrated Music System
BYD Atto 3 Price in India
About BYD Atto 3
Introduction
Chinese automaker BYD (Build Your Dreams) introduced the all-electric Atto 3 in India on 14 November, 2022. It is available in a single variant and four exterior colour options.
Exterior
The Atto 3 bears BYD's Dragon Face 3.0 design language, consisting of angular body panels and sharp creases. The exterior highlights include adaptive LED headlights with integrated daytime running lights, LED rear lights with a light bar running across the width, 18-inch alloy wheels, and body cladding.
Interior
The dual-tone interior gets a unique and minimalist design with leatherette upholstery. On the feature front, there is a 12.8-inch rotating touchscreen, a five-inch digital instrument cluster, a panoramic sunroof, a wireless charging pad, eight speakers, in-cabin filters, and ambient lighting.
Electric powertrain
The electric powertrain of the Atto 3 consists of a 60.48kWh battery pack and an electric motor that makes 201bhp and 310Nm of torque. It has an ARAI-tested range of 521km.
Read More
Atto 3 FAQs
BYD Atto 3 runs 521 km in a single charge.
BYD Atto 3 is a 5 seater car with 5 doors.
BYD offers battery warranty for first 160000 km with all offered 2 versions. However, warranty expires after 8 years even if km is not achieved.
Quick Facts about
BYD Atto 3
BYD Atto 3, a SUV, is available from ₹ 33.99 - 34.49 Lakh in India. BYD offers the latest Atto 3 in 2 versions in India. The base model Extended Range starts at ₹ 33.99 Lakh in Delhi and the top model Special Edition priced at ₹ 34.49 Lakh in Delhi. If you are looking for 5 seater car then you should consider Atto 3.
Atto 3 comes in 2 Electric version (s).
The Electric version comes with 60.48kWh battery and generates power. It can drive 521Km on full charge.
BYD Atto 3 comes in 5 colors which include Boulder Grey, Parkour Red, Ski White, Surf Blue, and Forest Green.
Compare Atto 3 with Alternatives
| | | | | |
| --- | --- | --- | --- | --- |
| | BYD Atto 3 | BYD e6 | Hyundai Ioniq 5 | MG ZS EV |
| Price | ₹ 33.99 Lakh | ₹ 29.15 Lakh | ₹ 44.95 Lakh | ₹ 22.98 Lakh |
| Fuel Type | Electric | Electric | Electric | Electric |
| Engine Size | - | - | - | - |
| Transmission | Automatic | Automatic | Automatic | Automatic |
| Power | - | - | - | - |
| Torque | - | - | - | - |
| Safety Rating | Not Tested | Not Tested | 5 Star (Euro NCAP) | 5 Star (Euro NCAP) |
| Boot Space | 440 litres | 580 litres | 531 litres | 448 litres |
| Ground Clearance | 175 mm | 170 mm | - | 177 mm |
| Size | 4455 mm L X 1875 mm W X 1615 mm H | 4695 mm L X 1810 mm W X 1670 mm H | 4635 mm L X 1890 mm W X 1625 mm H | 4314 mm L X 1809 mm W X 1620 mm H |
| Compare | Atto 3 base vs top model | Compare Atto 3 vs e6 | Compare Atto 3 vs Ioniq 5 | Compare Atto 3 vs ZS EV |
BYD Atto 3 Videos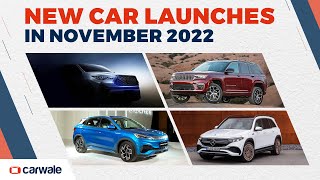 New Car Launches in November 2022 | Innova Hycross, Grand Cherokee, Atto 3, EQB SUV and more
11/14/2022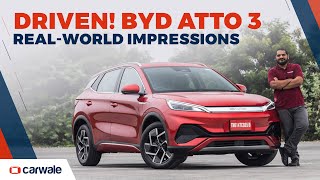 BYD Atto 3 Electric Car Review - Quality, Comfort, Drive Impressions | CarWale
12/12/2022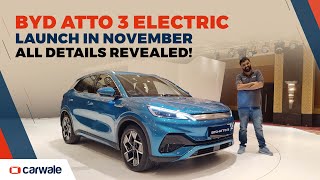 BYD Atto 3 India Launch in November 2022 | All Details Revealed!
10/12/2022
BYD Atto 3 News
BYD Atto 3 gathers 1,500 bookings
The manufacturer also stated that it has an annual production capacity of 15,000 vehicles, which is also the sales target for the Atto 3.
BYD launches new all-electric Atto 3 in India at Rs 33.99 lakh
The Atto 3 has an ARAI-certified range of 521km.
BYD Atto 3 makes India debut; bookings open
The Atto 3 will be the second EV after the e6 from BYD in the Indian market.
BYD opens a new dealership in Hyderabad
BYD aims to have 53 showrooms in India by 2023.
BYD Atto 3 receives five stars in the Euro NCAP crash test
BYD will launch the new Atto 3 in India in November 2022.
Find New Cars of Your Choice
PRICE RANGE

FUEL TYPE

BODY TYPE

MAKE

MORE