MG ZS EV
The latest MG ZS EV, a SUV from MG, was launched in India in Mar, 2022. ZS EV has received 80% rating from our users.
MG ZS EV price starts from ₹ 25.88 Lakh in India. ZS EV is available in 4 colours - Currant Red, Ashen Silver, Sable Black, Ferris White. ZS EV seating capacity is 5 People. ZS EV has received 5 Star (Euro NCAP) star NCAP Rating safety ratings.
ZS EV is available in 2 versions and 1 fuel options(s) - Electric.
ZS EV competes with Hyundai Kona Electric, Tata Nexon EV Max and MG Astor in India.
MG ZS EV Model List
| ZS EV Model | Price | Key Specs |
| --- | --- | --- |
| Exclusive | ₹ 25.88 Lakh | Electric |
| Excite | ₹ 21.99 Lakh | Electric |
MG ZS EV 2022 Price
Version
All Versions
City
Not Selected
Select Version
Avg. Ex-Showroom price
ZS EV starting EMI
₹52,475 for 5 Years
Ex-Showroom Price

This price includes GST and any state/city entry tax. However, the ex-showroom price does not include RTO, Insurance, Fast tag, and other accessories cost

₹

0

Registration Charges

Road Tax or registration tax This varies from city to city.

₹

0

Insurance

The insurance cost on CarTrade covers 1-year comprehensive insurance cost with 95% IDV and 3-year third-party insurance cost.
IDV - it is the max amount you will receive if your vehicle is stolen or completely damaged.
Third-party insurance - If you met with an accident with another vehicle, third-party insurance covers cost against damages to the other vehicle or the owner/driver of the other vehicle. It is helpful in the event of an accident by your mistake.
Insurance is mandatory for every vehicle as per the Indian Govt laws.

₹

0

Other Charges

₹

0

On-Road price

The final price you will need to pay to purchase the car in your city. On-road price = ex-showroom price + RTO + Insurance + Fast tag and other accessory charges.

₹

0
Need help with Test Drive, Offers Resale Value, Wait Time or anything else?
Sponsored
Contact dealer for
Test Drives
Offers & Exchange
EMI Options
Insurance
MG ZS EV Key Specifications
| | |
| --- | --- |
| Price | ₹ 21.99 - 25.88 Lakh |
| Fuel Type | Electric |
| Driving Range (km) | 461 km |
| Seating Capacity | 5 People |
| NCAP Rating (Best - 5 Star) | 5 Star (Euro NCAP) star NCAP Rating |
| Warranty | 5 Years (Unlimited KMs) |
| Battery Warranty | 8 Years or 150000 km |
| Battery Capacity | 50.3 kWh |
| Charging time at home | 16 hours @ 230V |
| Size | 4323 mm L X 1809 mm W X 1649 mm H |
| Ground Clearance (mm) | 177 mm |
ZS EV Expert Review
Why would I buy it
Increased claimed range
Safety equipment
Nippy performance
Why would I avoid it
Range anxiety
Pricey top-end version
Limited charging stations
Engine and Performance
The highlight of the 2022 ZS EV update, of course, is the bigger battery and subsequently more range that it promises. You now get a 50.3 kwh battery pack instead of 44.5 kwh in the old ZS EV. As for the claimed range on a single charge, the ZS EV offers a certified range of 461 kilometers but that's under controlled testing facilities. In the real world, the new ZS EV should comfortably do over 320 kilometers before you need to plug it in again. Speaking of which, this car can be charged from zero to 80 per cent in sixty minutes but that's only possible with a fast charger. Plug it to any regular AC home charging port and you will need to wait for at least eight to nine hours for a full charge.
A bigger battery pack also means more power output than before. Not like the ZS EV ever felt slow but now with 176 horsepower and 353Nm of torque, the ZS EV is in a class of its own. The way it just takes off and gains speed under legal limit is just phenomenal and that's purely down to the instantaneous torque delivery from the electric motor. Although you may not feel the extra 33bhp all the time, this 2022 model just feels more effortless at highway speeds and the severe drop in acceleration that plagues mass market EVs is hardly felt in here.
Ride and Handling
The ride quality on the 2022 ZS remains good over broken surfaces. There's a nice balance between stiffness and comfort and it can take in even the sharpest of road creases without letting in the noise and vibrations from the road. As the speed increases, it remains flat and even over undulations, there's not much vertical movement. There is a lot of tire noise at high speeds but then again we are only nitpicking here since there is no engine noise intruding into the cabin and the latter is otherwise a hushed place to be in at city speeds.
Exterior
Basically, the ZS EV now looks a lot like the Astor but with a few details that you will only find in EVs. Stuff like this flat concealed grille since you don't need any air flowing in there because there is no engine. Then you also get a charging port besides the huge MG logo and lastly MG seems to have cleaned up the lines and creases on this bumper to make the whole front look like a single piece unit. Other changes include headlights and taillights which have been taken from the Astor and if you look closely you will notice a new, energy efficient design for the 17-inch alloys.
Comfort, Convenience and Features
There are two variants for the ZS EV and the more expensive trim that you see here comes with all the new-age features that are expected from a 25 lakh rupee crossover. You get a panoramic sunroof, 360-degree camera view, connected car features, leather layered dash electric driver's seat and some more. In this updated MG seems to have concentered on improving the back seat experience because all-new features include a rear center headrest, armrest with cup holders and rear AC vents. What's also new are the displays for the infotainment system and the instrument cluster.
The main 10.1-inch screen is the same that we have seen in the Astor and it gets all the bells and whistles including Android Auto and Apple CarPlay. The 7-inch LCD screen for the instrument cluster is also from the Astor and we are glad it's here because the old analogue dials on the earlier model looked way too basic for an EV.
For safety, the ZS EV gets six airbags, hill descent control, a tire pressure monitoring system and ESC. Now although it misses out on certain high-end ADAS features, the ZS EV does get blind spot monitoring, lane change assist and rear cross traffic alert. The latter feature helps in detecting cars that might be approaching from the rear left or right but are outside the range of the reverse camera and parking sensors.
Conclusion
The new MG ZS EV is available in two variants – Excite and Exclusive with ex-showroom prices ranging between Rs 22 lakh and Rs 25.88 lakh respectively. While the bookings for exclusive variant have already started, MG will start taking orders for the base excite variant from July onwards. At these prices, the new ZS EV comes in at a slight premium over the old model. For an extra 70,000 rupees for this top-spec variant you are getting pretty much more of everything. More range, more performance, more features and more importantly, better safety equipment. Now I know a lot of you might be eager to know about the improvement in real world range if any but unfortunately we had the car only for a couple of hours and we will be calling for it real soon to do a proper range and charging test.
Pictures by Kaustubh Gandhi
MG ZS EV Price List
Find a list of all 2 electric versions of MG ZS EV. This table includes on-road price which covers all costs like RTO and Insurance.
Filter By
Fuel type, Transmission and Seating Capacity
Electric
Automatic
5 Seater
ZS EV Versions
Ex-showroom Price
Compare

Electric

₹ 25.88 Lakh

Key features : Sunroof, Cruise Control, Push Button Start, Leather Seats, Wireless Charger

Electric

₹ 21.99 Lakh

Key features : Cruise Control, Push Button Start, Alloy Wheels, Steering Mounted Controls, Touch-screen Display
MG ZS EV Price in Popular Cities
About MG ZS EV
Summary
The British automaker MG launched the all-electric MG ZS facelift in India in March 2022. It now comes with a larger battery pack and an improved range. The ZS EV is available in four exterior colours across two trims: Excite and Exclusive.
Exterior
The new ZS EV gets new LED headlamps with integrated L-shaped DRLs, new L-shaped rear lights, unique front and rear bumpers, a panoramic sunroof, and redesigned 17-inch wheels. Further, MG has also moved the charging socket at the front, adjoining the brand logo.
Interior
The interior design of the ZS EV remains unchanged except for a new and larger 10.1-inch infotainment touchscreen with upgraded i-Smart connected car technology and a seven-inch digital instrument cluster. Other features include a wireless charging pad, power-adjustable front seats, blind-spot detection, lane change assist, rear-cross traffic alert, a 360-degree camera setup, six airbags, cruise control, electric parking brake, auto headlamps, and wipers.
Battery, range, and performance
MG has upgraded the battery pack with this update, thus the new ZS EV is powered by a bigger 50.3kWh battery pack – enabling an improved WLTP certified range of 461km, as against the previous 419km. Meanwhile, the ZS EV generates 173bhp and 280Nm of torque.
Read More
User Reviews for ZS EV
Very nice car, fair price, good driving experience, good look, environment Lover, less service charges

Mileage Details

Maintenance

1000 per month
View All ZS EV User Reviews
Write Review
ZS EV FAQs
MG ZS EV runs 461 km in a single charge.
MG ZS EV is a 5 seater car with 5 doors.
MG offers battery warranty for first 150000 km with all offered 2 versions. However, warranty expires after 8 years even if km is not achieved.
Quick Facts about
MG ZS EV
MG ZS EV, a SUV, is available from ₹ 21.99 - 25.88 Lakh in India. MG offers the latest ZS EV in 2 versions in India. The base model Exclusive starts at ₹ 25.88 Lakh in Delhi and the top model Exclusive priced at ₹ 25.88 Lakh in Delhi. If you are looking for 5 seater car then you should consider ZS EV.
ZS EV comes in 2 Electric version (s).
The Electric version comes with 50.3kWh battery and generates power. It can drive 461Km on full charge. Another electric version comes with 44.5kWh battery and generates power. It can drive 419Km on full charge.
MG ZS EV comes in 4 colors which include Currant Red, Ashen Silver, Sable Black, Ferris White.
Read More
Read Less
Compare ZS EV with Alternatives
| | | | | |
| --- | --- | --- | --- | --- |
| | MG ZS EV | Hyundai Kona Electric | Tata Nexon EV Max | MG Astor |
| Price | ₹ 25.88 Lakh | ₹ 23.84 Lakh | ₹ 18.34 Lakh | ₹ 10.22 Lakh |
| Fuel Type | Electric | Electric | Electric | Petrol |
| Engine Size | - | - | - | 1498 cc |
| Transmission | Automatic | Automatic | Automatic | Manual |
| Power | - | - | - | 108 bhp @ 6000 rpm |
| Torque | - | - | - | 144 Nm @ 4400 rpm |
| Safety Rating | 5 Star (Euro NCAP) | 5 Star (Euro NCAP) | 5 Star (Global NCAP) | Not Tested |
| Boot Space | 448 litres | 332 litres | 350 litres | 488 litres |
| Ground Clearance | - | 172 mm | 205 mm | - |
| Size | 4323 mm L X 1809 mm W X 1649 mm H | 4180 mm L X 1800 mm W X 1570 mm H | 3993 mm L X 1811 mm W X 1616 mm H | 4323 mm L X 1809 mm W X 1650 mm H |
| Compare | - | Compare ZS EV vs Kona Electric | Compare ZS EV vs Nexon EV Max | Compare ZS EV vs Astor |
MG ZS EV Videos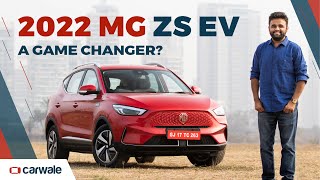 MG ZS EV 2022 | All You Need to Know | Game Changer? | CarWale
04/05/2022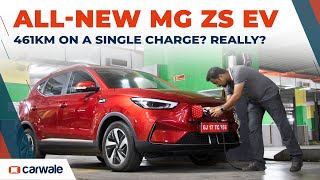 MG ZS EV 2022 Real-world Range Tested | How Close to 461km Claimed Range Can We Achieve? | CarWale
06/14/2022
Find New Cars of Your Choice
PRICE RANGE

FUEL TYPE

BODY TYPE

MAKE

MORE
Used MG Cars
View All Used MG Cars