- Cargo BYD to manage the new showroom
- Will cater to the E6 and Atto3 customers
BYD has inaugurated its first passenger car showroom in Surat, Gujarat. The new outlet will be run and managed by Cargo BYD and will continue to bring in technological innovations along with the sales of electric vehicles.
The new dealership spreads across 1,650 sq. ft. and it will provide access to the Atto3 and the E6. The new facility is equipped with all the necessary prerequisites required to run a showroom, including an attractive display area and well-trained sales advisors.
Sanjay Gopalakrishnan, Senior Vice President of Electric Passenger Vehicle Business, BYD India, said, 'Every electric vehicle we introduce is a step closer to reshaping the future of mobility and paving the way for a greener, cleaner tomorrow. This is the 16th year anniversary of BYD's dedication and commitment to India aiming for technological innovations for a better life. Our alliance with Cargo BYD in Surat is not just about selling cars; it's about igniting a sustainable revolution, where every journey becomes an act of environmental responsibility.'
Notably, the automaker is expanding its dealer network in India and along with this inauguration in Gujarat, has recently opened a new outlet in Goa as well. Though BYD India has newly brought in pure electric vehicles in the passenger car segment, it is a subsidiary of the world's leading new energy vehicles manufacturer BYD. In fact, the brand has been instrumental in bringing in new batteries along with new electric technology.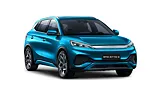 BYD
Atto 3
₹ 33.99 Lakh

Onwards
BYD
|
E6
|
BYD E6
|
Atto 3
|
BYD Atto 3