Opening
The arrival of the Volkswagen Tiguan isn't exactly going to set Indian car buyers' pulses blazing, but if you think about it, it's a car that warrants attention. How? Its VW India's second only SUV offering after the Touareg, one that caters at a much lower price point albeit in a segment with so many worthy contenders.
The Hyundai Tucson, BMW X1, Mercedes GLA, the list goes on. All brilliant in their own right, all worthy alternatives to similarly priced full-size SUVs like the Toyota Fortuner and the Ford Endeavour that shape up volumes in this segment. And it's in this market space wherein the new Tiguan has to fight. In essence, it ought to be good.
Appearance Exterior
Now in its second generation, the Tiguan is all-new from the ground up and it's difficult to think of an area where it isn't improved: performance, efficiency, features and design. About the latter bit, despite it being longer, wider and lower than the original model (for a meaner, more hunkered-down stance) the new Tiguan appears a little restrained in that typical VW fashion. Nonetheless, there are plenty of design highlights including the prominent horizontal body lines, the wide grille and flat-stamped metal around the wheel arches.
Speaking of the wide grille upfront, it mixes seamlessly with the flat LED headlights, giving the Tiguan a wider stance than its dimensions would have you believe. The other design highlight is the character line that extends over the entire silhouette of the car. The deep crease, upon which the door handles are positioned, is fairly pronounced and gives the Tiguan some character, especially in profile. To top off the sharp design details, the taillights with their three-dimensional design also feature a sharp horizontal cut – the brake lights look sleek when lit and unlike anything we have seen on previous VW models.
All in all, the Tiguan doesn't shout too loud and neither is it as striking to look at as the Tucson, but it's clean and fetching design will definitely age better than the Hyundai.
Appearance Interior
The cabin design of the Tiguan may be conservative at best, but there is no denying that the whole interior is made up of high quality bits. The car, in fact, uses plenty of bits and bobs from the VW Group parts bin - impressive touches include the beautifully finished steering wheel and soft-touch plastics over the dashboard and door pads.
The entire center panel (including the slim air vents, the infotainment system and the climate control panel) is angled towards the driver. Does it feel truly striking or premium? Striking? Not exactly, but if you consider certain rivals like the Toyota Fortuner or the Hyundai Tucson, the VW's fit and finish and overall quality is a step higher. The top-spec Highline Tiguan is also a lot better equipped than both the Fortuner and the Tucson – you get LED head lights and taillights, panoramic sunroof, 18-inch alloy wheels, 3-zone climate control, 8-way electrically adjustable driver's seat, an 8-speaker audio system with Apple CarPlay and Android Auto, different drive modes and some more. In terms of safety, the Tiguan is loaded with six airbags, ABS, EBD, disc brakes all around and even self-sealing tyres which reduces potential punctures.
Unlike the previous-gen Tiguan which was based off the Golf platform, this new model has been underpinned using VW's modular MQB architecture. This has allowed VW to package the interior more efficiently thereby liberating more passenger space. Headroom and legroom at the front, as a result, is excellent and the visibility outside, too, is wide and clear thanks to the thin A-pillar and a low window line. Back a row and things get even better – the headroom is more than adequate and even with the front seat pushed all the way back, there's decent legroom. Thanks to the lengthy seat base, the Tiguan's got the all-important under thigh support covered as well. Despite the all-black upholstery, the cabin doesn't feel claustrophobic thanks to the panoramic sunroof and the large side windows.
Being a soft-roader, you get the added benefit of a usable boot space. On offer is 615-litres of capacity which expands to 1655-litres when the second row is folded away.
Performance Drive
VW India has launched the Tiguan with a single diesel engine option, an engine that many will be familiar with from other VW products. Displacing 1968cc and 4-cylinder DOHC configuration, this motor develops 141bhp of power at 4,000rpm and 340Nm of torque between 1,750 and 2,750rpm. Mated to it is VW's 7-speed DSG gearbox and 4MOTION all-wheel drive system.
This four-cylinder motor remains a relatively sweet little unit that delivers torque in a surprisingly linear manner. This is despite the strong midrange surge that comes in at around 2,000rpm and stays on till 3,500rpm post which there is hardly any boost. The ideal way to make quick progress, then, is to upshift early and make the most of the strong midrange. With as many as 340 torques kicking in early, the Tiguan rarely feels hassled under normal driving condition. Its only when you floor it under full load, do you feel the need of extra grunt – it does 0-100kmph in 10.84 seconds and in-gear, hits 20-80kmph and 40-100kmph in 6.69 seconds and 8.75 seconds respectively. In comparison, the cheaper but more powerful Tucson is noticeably quicker flat-out. The Hyundai is also more refined of the two, especially when accelerating hard.
The 7-speed DSG, meanwhile, is typically decisive and complements the engine well. The Tiguan gets various drive modes and as one would expect, the gearbox reacts differently as you go through the modes - in Eco, it upshifts quite early and allows the engine to coast off throttle whereas in Sport, it hangs on to lower gears and upshifts at around 4,600rpm. The throttle response, too, is dull in Eco but gets suitably crisp in Sport mode. Lastly, in Normal it remained well behaved in the few moments of stop-start driving we were able to come across during our first drive.
As for the all-important ride quality, the Tiguan impresses big time. We will get around the only downside first which is the low speed firmness – some of the sharp-edged potholes do filter into the cabin but not to a degree that it gets uncomfortable. At higher speeds, the Tiguan shines through and displays composure and solid poise even across rutted roads. Except for a slight jiggly feel at the rear, the Tiguan shows remarkable composure at highway speeds and remains fully unfazed.
Tech Specs
| | |
| --- | --- |
| Make | Volkswagen |
| Model | Tiguan |
| Fuel | Diesel |
| Variant | Highline |
| Engine Capacity | 1968cc |
| Max. Power (bhp@rpm) | 141bhp @ 4000 |
| Max. torque (Nm@rpm) | 340Nm @ 1750 |
| Gears | 7 gears |
| Length mm | 4486mm |
| Width mm | 1839mm |
| Height mm | 1672mm |
| Wheelbase mm | 2677mm |
| Fuel Capacity (in litres) | 71 |
| Tyre size | 235/55 R18 |
Features
| | |
| --- | --- |
| Features | |
| Panoramic sunroof | Yes |
| Android Auto/Apple CarPlay | Yes |
| Climate control | Yes |
| Driving modes | Yes |
| All-wheel drive | Yes |
Competition All Specs
Specifications
Volkswagen
Tiguan

Hyundai
Tucson

Variant
Highline
GLS
Fuel
Diesel
Diesel
Engine Capacity
1968cc
1995cc
Max. Power (bhp@rpm)
141bhp @ 4000
182bhp @ 4000
Max. torque (Nm@rpm)
340Nm @ 1750
400Nm @ 1750
Gears
7
6
Length mm
4486mm
4475
Width mm
1839mm
1850
Height mm
1672mm
1660
Wheelbase mm
2677mm
2670
Fuel Capacity (in litres)
71
62
Tyre size
235/55 R18
225/55 R18
Conclusion
The Tiguan range is priced between Rs 27.98 lakh for the Comfortline trim whereas the top-spec Highline trim comes in at Rs 31.38 lakh. At this price point, the Tiguan finds itself in a mixed field of soft roaders and body-on-ladder SUVs. Its significantly more expensive than its direct rival – the Tucson, however, it justifies it somewhat by packing in more equipment and better quality all around.
All in all, the Tiguan is still deeply impressive and remains a quiet performer. It's a well-proportioned, tech-laden, classy offering with a European slant that will make for an appealing alternative to the Hyundai Tucson, Toyota Fortuner and the Ford Endeavour.
Pictures by : Kapil Angane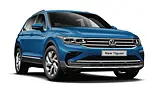 Volkswagen
Tiguan
₹ 35.17 Lakh

Onwards
Volkswagen
|
Tiguan
|
Volkswagen Tiguan