Force Motors Gurkha
₹

13.59 Lakh

Avg. Ex-Showroom price

₹

27,556

Starting EMI

EMI calculated for 20% of the ex-showroom price, for a tenure of 5 years at 8% interest rate.
Force Motors Gurkha
| | |
| --- | --- |
| Price | ₹ 13.59 Lakh |
| Engine | 2596 cc |
| Transmission | Manual |
| Fuel Type | Diesel |
| Seating Capacity | 4 Seater |
Force Motors Gurkha Price List
Find a list of all 1 diesel versions of Force Motors Gurkha. This table includes on-road price which covers all costs like RTO and Insurance.
Filter By
Fuel type, Transmission and Seating Capacity
Gurkha Versions
Ex-showroom Price
Compare

Diesel, 2596 cc, Manual

Fuel Type: Diesel
Engine: 2596 cc (Higher engine size helps to generate more power)
Transmission: Manual (In a manual transmission car, the driver has to manually shift gears)


₹ 13.59 Lakh

Key features: Android and Apple Smart Connectivity, LED Headlights, Steering Adjustment, 2 Airbags, Front Only Power Windows
Force Motors Gurkha Price in Popular Cities
Force Motors Gurkha Images
Force Motors Gurkha Expert Review
2021 Force Motors Gurkha First Drive Review
This Gurkha is much better than before - in terms of refinement, features, and on-road dynamics. But, it is not perfect. Read on to find out more.
Read More
Force Motors Gurkha Expert Review
2021 Force Motors Gurkha First Drive Review
Large four-seater SUV, 500-litre boot space
Capable off-roader
Tough build
Uncomfortable seating ergonomics
Utilitarian build quality
Small sales and service network
Powering the Gurkha is an updated, BS6 version of the familiar Mercedes-sourced 2.6-litre, four-cylinder, turbo-diesel motor. It now develops 90bhp of maximum power (+6bhp than before) and 250Nm of peak torque (+20Nm than before), but the focus for Force Motors was to make it more refined. Unless you open the front windows, the engine is not as noisy and the vibrations on the move are limited too – a big improvement from before. Even the five-speed manual gearbox has been worked upon to reduce the vibrations being felt on the gear lever and improve the shift action. Force Motors does not have any plans to offer an automatic gearbox for added convenience.
With its slow-revving nature and short gear ratios, the Gurkha is best driven using its torque curve which starts at a low 1,400rpm. With all that torque, the Gurkha can easily cruise at speeds around 80-100kmph, though overtakes will require some planning. Its utilitarian origins are evident thanks to the long throw, rubbery shifts of the gearbox – but at least the clutch is light and the bite point is easy to work with.
The ride quality has been improved, especially on the tarmac. The Gurkha now rolls less, is less fussy over broken patches or when encountering sudden road imperfections. But don't expect this to match the ride quality offered by monocoque chassis pseudo-SUVs. The Gurkha is still more at home over broken tarmac or when the roads disappear completely – the way it smoothens the undulations out is unmatched and you can confidently drive fast over broken roads.
However, rear-seat passengers will not find the ride of the Gurkha to be too pleasing as they sit directly over the rear axle and feel even the slightest movement. The ride is thankfully much better on smooth tarmac, but if they are being driven by an enthusiastic driver, the body roll and constant micro-movements could make them nauseous.
The legends about the Gurkha's ability off the road will continue to be made – the terrain this one can handle even when in two-wheel drive mode is amazing for an off-road rookie like me. Add the 205mm of ground clearance, 700mm water-wading capacity, 35-degrees of gradeability, and manually activated front and rear locking differentials and the Gurkha achieves mountain-goat like surefootedness; making you feel like a driving hero.
Step inside the new Gurkha and you find that the design of the dashboard is much more cohesive than before and the materials used are better too.
It's better, but not so good that it can take on compact SUVs like the Kia Sonet. There are rough edges and utilitarian material is used all around the cabin. Welcome changes in terms of equipment include large analogue dials in the instrument cluster and a small digital driver information display, an extremely useful tyre pressure monitor, and the brand new seven-inch Kenwood touchscreen infotainment system. While the addition of a touchscreen makes the cabin look more upmarket and then it has the smartphone mirroring including Android Auto and Apple CarPlay, the interface is slow and the sound from the four-speaker system leaves much to be desired. The good thing is that you have a display for Google maps in your field of vision, hence, there are fewer chances of you getting lost in the urban and the actual jungle.
The new Force Gurkha is a proper four-seater and unlike the Thar, this can actually seat four with reasonable comfort. The ingress and egress into the front seats have improved massively thanks to the larger doors. The passengers can use the rear sideways opening door to access the rear seats rather than try and clamber over the front passenger seat. However, this access may be restricted if you utilise the massive 500-litres boot space available behind the rear seats completely. This can be rectified by getting the roof rack from the official accessories list.
Apart from the easier ingress/egress, the rake and reach adjustable steering wheel improves the ergonomics for shorter drivers. Those with larger frames like me will find the gap between the seat and the steering still a bit tight, and the almost Muzhumandu (Bharatnatyam) posture you have to adopt because of the tightly placed pedals means you don't sit very comfortably, with long drives requiring more stops to stretch out.
The view out is amazing thanks to the large windows all around, especially for the rear passengers wherein that massive rear side window lets in a lot of light to brighten up the cabin. You cannot open the window at all, so the front occupants will need to be disturbed to let in some fresh air on the move. With the one-touch down front windows, they should be able to comply with this request easily. There are no dedicated AC vents for the rear occupants, but the AC felt more than capable of cooling the cabin quickly during the short hot spells we encountered while shooting. But, we will have to test the Gurkha for a longer period to ascertain if those large fixed rear side windows make the cabin less comfortable in the summer.
The rear seats cannot be adjusted to improve legroom, though seating two six-footers one behind the other shouldn't be an issue. The seatback can be adjusted for recline and there's a handy foldable armrest too. Passengers here will have to make do with lap belts though. The rear seats also feature ISOFIX child seat mounting points, which is a welcome addition for those looking to take their infants on adventures.
Force Motors has developed the Gurkha extensively so that it complies with the latest crash test and pedestrian safety norms. This means the panels at the front are not made of metal anymore and there are crumple zones both at the front and rear. Equipment like ABS and EBD, seat-belt reminders, dual front airbags, speed-sensing door locks, central locking, and rear parking sensors are offered as standard too.
There's no denying the fact that the Gurkha looks like the modern take on a utilitarian version of the Mercedes-Benz G-Class. But, unlike the previous-gen model, the new Gurkha looks unique when looked at from the side and the rear.
At the front, the Gurkha now gets all-LED headlights which instantly make it look more premium while providing excellent illumination at night. The grille now proudly features the Gurkha nameplate on it rather than the Force Motors logo; saving some owners the trouble of getting one from the aftermarket.
The new Gurkha is 22mm wider, 20mm taller, and 124mm longer than before – and it shows. In spite of this, it looks more hunkered down than before. This is because of the bigger front bumper, better-integrated wheel fenders, lower wheel well gap, and less fussy design overall. On that note, we should mention that the alloy wheels and the 16-inch Apollo Apterra all-terrain tyres you see here are part of the official accessories list. Other accessories on this test unit include the front windshield guard and the roof rails.
The new window design all around, including the flush-fitting front windshield, large rear side-window, and the rear windshield, which merges seamlessly with the smaller glass elements at the rear, make the Gurkha look larger and more premium. And that should help the Gurkha fit in better in an urban environment and match the expectations of urban users that Force Motors hopes to attract.
The previous generation Gurkha three-door Explorer model cost Rs 13 lakh on-road in Delhi by the time it was discontinued. Now, if its replacement is priced close to Mahindra Thar whose AX Diesel MT Hardtop costs about Rs 16 lakh on-road in Delhi, we don't see the Gurkha offering enough to tempt their target customers away from the Mahindra.
This Gurkha is much better than before - in terms of refinement, features, and on-road dynamics. It is at home both in the urban jungle and in the real one. But for this to become the sales success that Force Motors hopes it will be – the company has to get the right price and service network, as well as make sure more people get to see this SUV on the road. All in all, it needs to be more than just the stuff of legends.
Photographs by Kapil Angane
Gurkha FAQs
Force Motors Gurkha is a 4 seater car with 3 doors.
Quick Facts about
Force Motors Gurkha
Force Motors Gurkha, a SUV, is available from ₹ 13.59 Lakh to ₹ 13.59 Lakh in India. Force Motors offers the latest Gurkha in 1 versions in India. The base model 4X4 starts at ₹ 13.59 Lakh in Delhi and the top model 4X4 priced at ₹ 13.59 Lakh in Delhi. If you are looking for 4 seater car then you should consider Gurkha.
Gurkha comes in 1 Diesel version(s).
The Diesel version comes with 2596 cc engine capacity and Manual transmission mode(s). It generates 90 bhp @ 3200 rpm.
Force Motors Gurkha comes in 5 colors which include Red, Green, White, Orange, Grey.
Read More
Read Less
Similar Cars To Force Motors Gurkha
Force Motors Gurkha Colors
Gurkha Specifications
Note: Specifications for Gurkha 4X4 have been mentioned
Transmission
Manual - 5 Gears
4x4 or All Wheel Drive
Manual Shift - Lever
Engine
2596 cc, 4 Cylinders Inline, 4 Valves/Cylinder, DOHC
Engine Type
F M 2.6 CR CD BS VI
Peak Power (bhp@rpm)
90 bhp @ 3200 rpm
Peak Torque (Nm@rpm)
250 Nm @ 1400 rpm
Turbo / SuperCharger
Turbocharged
Steering, Tyres, & Suspnsions
Steering Type
Power assisted (Hydraulic)
Minimum Turning Radius
5.6
Suspension - Front
Independent Double Wishbone with Coil Spring
Suspension - Rear
Multi-link with Pan Hard Rod & Coil Spring
Tyres Size - Front
245 / 70 R16
Tyres Size - Rear
245 / 70 R16
Size, Weight, & Dimensions
Bootspace / Dicky Capacity (L)
500
Fuel Tank Capacity (L)
63
Force Motors Gurkha Videos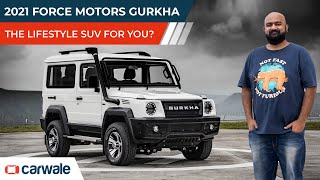 2021 Force Gurkha SUV | The Lifestyle SUV You Have Been Waiting For? 4-Seater SUV Review | CarWale
09/28/2021
Force Motors Gurkha News
2021 Force Gurkha launched; Priced at Rs 13.59 lakh
Force Motors has launched the all-new Gurkha in India at Rs 13.59 lakh (ex-showroom).
2021 Force Gurkha revealed
2021 Force Gurkha revealed
New Force Gurkha teased; launch imminent
New Force Gurkha teased; launch imminent
2021 Force Gurkha unveiled; prices to be announced on 27 September
Force Motors has revealed the all-new Gurkha in the country. It is powered by a 2.6-litre Diesel engine and a five-speed manual gearbox.
New Force Gurkha to be unveiled in India on 15 September, 2021
New Force Gurkha to be unveiled in India on 15 September, 2021