Maruti Suzuki has updated the safety features list of the Grand Vitara by introducing Acoustic Vehicle Alerting System (AVAS). This new feature is only available with the hybrid variants of the SUV. With this, the carmaker has also hiked the prices of the hybrid versions by up to Rs. 4,000.
The hybrid tech is offered with the Zeta Plus and Alpha Plus variants of the Grand Vitara. The new AVAS works when the SUV is running completely in electric mode with no engine noise. The system alerts the drivers and pedestrians on the road by emitting a low-level continuous sound alert within five feet of range. This is a very useful feature, as it can help ongoing traffic, motorist, and pedestrian, to be alert about the whereabouts of the hybrid SUV.
The Grand Vitara hybrid variants source power from the 1.5-litre petrol engine coupled with an electric motor. The engine is tuned to produce 91bhp and 122Nm of torque. The electric motor, on the other hand, generates 79bhp. An e-CVT gearbox is standard across the hybrid range of the SUV.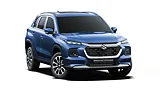 Maruti Suzuki
Grand Vitara
₹ 10.70 Lakh

Onwards
Maruti Suzuki
|
Grand Vitara
|
Maruti Suzuki Grand Vitara