Why would I buy it?
Mild butch looks
Spacious despite compact footprint
Why would I avoid it?
Skewed ergonomics
Uninteresting to drive
Engine and Performance
Earlier, the KUV100 NXT was available with the now-defunct 77bhp/190Nm 1.2-litre diesel mill and what's on offer today; an 82bhp/115Nm 1.2-litre petrol motor. This review is all about the former, just in case you were interested in picking up a used one. It's a five-speed manual, this three-cylinder diesel, and considering how Mahindras usually are, it's interestingly unobtrusive at idle. As you get on the move, it remains fairly refined unless one revs it past 3,500rpm. Which in any case is understandable bearing in mind a three-cylinder mill could never match the refinement of a four-cylinder one.
Off the mark, power delivery is adequate and smooth right from the word go. And making this possible is the rather tiny turbo. It makes sense too. A small turbo dampens the turbo lag effectively, resulting in seemingly linear power delivery from lower revs even under hard acceleration. Nevertheless, you simply can't ignore the narrow torque band because it more or less loses steam by the 3,500rpm mark. We eventually learnt that the best way to maintain progress is to keep the motor spinning between 2,000-3,000rpm. Although these personas largely make the KUV ideal for city runs, the short-throw gearbox, too, lightens the experience through crisp shifts via well-defined gates. On the downside though, the clutch pedal suffers from both a springy action and extensive pedal travel which can seem like a burden at times.
Ride Quality and Handling
Thanks to its compact dimensions, responsive diesel motor, and good all-round visibility, the KUV feels right at home within city limits. However, the steering isn't up to the mark. Although light, it feels slow with four turns from lock-to-lock and vague too, overall. These make parking in tight spots, especially, feel more like an arm chore than anything else. As for the ride quality, the KUV has been tuned purely for comfort and as a result, the setup feels soft. At low speeds, this compact Mahindra takes on bad roads with ease, delivering a comfortable ride even while going over bumps and potholes. At high speeds, however, it isn't as comfortable as you'd expect owing to the soft nature which gives away constant vertical floating movements; more so under full load.
Comfort, Convenience, and Features
The cabin of the KUV100 NXT is a surprisingly spacious and fairly modern one. It's got a sporty all-black theme and like with most new cars, there's both piano black and silver trim for the centre console. It's a clean layout so to say too. Otherwise, the only snag we encountered was the blower speed knob being needlessly firm to operate. A highlight though is the seven-inch touchscreen infotainment system that's home to regular functions such as USB, GPS navigation, and video playback.
Meanwhile, our test car you see here has a unique six-seat layout which is a result of the dash-mounted gear/handbrake lever. Although an interesting approach to squeeze in a front middle seat, the sad part is that the bottom portion of the centre console fouls with the middle seat occupant's knee room. Nevertheless, the front middle backrest folds down to showcase some storage/cup holders and amusingly doubles up a centre armrest.
Back in the rear, you sit high with a flat floor, there's ample space for two occupants with plenty of headroom, along with adequate knee-room and thigh support. And, because I love to nitpick, it's the complete absence of seat contours that makes for literally no lateral support. When it comes to the boot, it's good for some slim baggage and a few shopping bags at best.
Features-wise, the KUV100 NXT we have here comes with electrically foldable door mirrors, front under-seat trays, and a generously sized floor mounted storage bin at the rear for knick-knacks. It also gets climate control, puddle lamps, height-adjustable driver's seat, rear parking sensor, door-pad mood lighting, stop-start function, and drive modes such as 'Eco' and 'Power'.
Safety Features
In terms of safety equipment, the KUV100 NXT gets dual front airbags, ABS with electronic brake distribution, a collapsible steering column, and child safety locks on the rear doors. It's also equipped with speed-sensing auto door locks, auto hazard warning lamps on crashing/panic braking/bonnet opening, anti-theft security alarm, and ISOFIX rear child seat mounts.
Exterior
Well, this quirky Mahindra certainly wears a love it/hate it cloak. And admittedly, I'm more of the latter kind. It reminds me of those dudes who're into body-building but don't pay attention to their legs and end up like a rooster! Jokes apart, the Mahindra family grille finds its way onto the KUV's nose, which is a good thing, right? Yes, because that's the only portion that gives it any character. But in profile and at the rear, there isn't much to brag about. I mean seriously, what were you expecting from me?
Conclusion
So, there you have it, apart from the indigestible appearance, the Mahindra KUV100 NXT has plenty going for it as a result of its spacious cabin, comfortable low-speed ride, light controls, a decent set of features, and a reasonable asking price that ranges from Rs 7.10 lakh to Rs 9.16 lakh (OTR Mumbai). For those who find the KUV's shapeliness pleasing or just do not care much about it, there are very few options left in case the hunt is on for a spacious city car that can handle bad roads with aplomb.
Pictures: Kaustubh Gandhi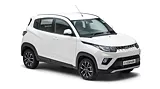 Mahindra
KUV100 NXT
₹ N/A

Onwards
Mahindra
|
KUV100 NXT
|
Mahindra KUV100 NXT