Hyundai Elite i20 [2019-2020] has been discontinued.
Below details of Hyundai Elite i20 [2019-2020] are as of time of discontinuation.
Hyundai Elite i20 [2019-2020]
₹

5.57 - 9.38 Lakh

Avg. Ex-Showroom price

Mileage

22.5 kmpl
Hyundai Elite i20 [2019-2020]
| | |
| --- | --- |
| Price | ₹ 5.57 Lakh onwards |
| Mileage | 19.8 to 22.5 kmpl |
| Engine | 1197 to 1396 cc |
| Transmission | Manual, Automatic (CVT) |
| Fuel Type | Petrol, Diesel |
| Seating Capacity | 5 Seater |
About Hyundai Elite i20 [2019-2020]
Summary
Hyundai Elite i20, the premium hatchback from the Korean car manufacturer is available in four variants - Era, Magna Plus, Sportz Plus and Asta (O). The latest model continues to be powered by existing petrol and diesel engine options while changes are limited to cosmetic upgrades. The Hyundai Elite i20 competes against the Maruti Suzuki Baleno, the Honda Jazz and the Volkswagen Polo in the premium hatchback segment in the Indian car market.
Exterior
The body shell is the same as its predecessor, but the bumpers, both fore and aft are all-new. While the headlamps and tail lamps haven't changed much in their shapes, the internals have been completely reworked for a fresh look. The stance is forward leaning and thanks to the flared wheel arches the car now looks more modern and sportier than ever. Moreover, Magna Plus and above variants get chrome grille along with LED DRLs near the fog lamps.
Interior
The Elite i20 is feature rich from inside which is a norm for all Hyundai cars now. The cabin now looks better with the redesigned dashboard in beige-black combination. The Elite i20 gets all the features like automatic climate control, rear AC vents, all-four power windows, electrically adjustable wing mirrors et al. While we are yet to see if it gets the distance to empty and average fuel consumption read outs on the MFD, it does get an in-built service reminder.
The three-spoke steering wheel gets integrated audio and Bluetooth controls. It gets height adjustable driver's seat, 2-DIN touchscreen audio system, climate control system, cooled glovebox, cruise control, reverse parking assist, gear shift indicator and electro-chromatic rear view mirror. The top-end Asta features automatic headlights, rear wash and wipe, clutch lock and a second power outlet. The boot capacity at 285 litres is the second best in the segment after the Polo which has a capacity of 294 litres. In terms of safety, you have dual front airbags, rear parking sensors, central locking, ABS and EBD as standard across the range while the top-spec i20 offers six airbags as well.
Engine and gearbox
The Elite i20 gets the same petrol and diesel engines from the previous car. The petrol is a four-cylinder 1.2-litre Kappa engine producing 83bhp and 113Nm of torque mated to a five-speed manual gearbox. Instead of the 1.4-litre automatic, Hyundai will add a CVT to the 1.2-litre mill which will make the petrol-automatic efficient as well as affordable. The diesel variant is powered by the 1.4-litre CRDI mill churning out 89bhp and 219Nm of torque mated to a six-speed manual gearbox.
Read More
Hyundai Elite i20 [2019-2020] Price List
Find a list of all 13 petrol and 5 diesel versions of Hyundai Elite i20 [2019-2020]. This table includes on-road price which covers all costs like RTO and Insurance.
Hyundai Elite i20 [2019-2020] Images
User Reviews for Elite i20 [2019-2020]
Whats Good

Driving, display,

What Can Improve

Pick up, software, map,

Only significant disturbing factor I have noticed when I start the car after a long gap, say overnight the car is difficult to control for the first 5 minutes, it accelerates too fast without pressing the accelerator pedal. I asked about this in the service center, the engineer explained that this is normal as during the time it takes to reach a certain Temperature the car behaves like this. Though I find this explanation a little hard to digest, I am now driving in first gear only for the first 5 minutes as it becomes very frightening to shift the gear to 2 or 3rd. Is anybody else facing the same problem, this is the new i20 Asta O.

Whats Good

Exterior & Ride Quality.

What Can Improve

improvement Providing HIDs, leather seats for the top variant.

Beautiful car and very comfortable driving in Bangalore city & highway too. I have purchased in Mar 2017 new Asta O petrol & it's very good car is too much better then swift and Baleno. its look is very attractive in this price there is no one car for compare with it accept Honda Jazz. I am enjoining too much my i20 elite and this car is so smooth in driving. Looks like sporting car, catchy look. As far as exterior goes it's a subject of one's view. Well for me the exterior is really amazing from the side profile and back the front profile is good but I preferred the front drl of the Baleno Interior (Features, Space) Interior hands down its Hyundai all the way. Very pleasant look at and quite good for its class. Engine Performance, Fuel Economy and Gearbox Ya its true that the engine is not so an eager one to rev u up fast but it will do very good at the higher rev ranges. Only way to get the most out of this engine is to shift it down and the floor it, then it sure will put a smile on your face. Gear box no problems there its at par with its rivals. fuel economy (now i have seen many b**** about it but the truth is u know it gives less economy than its rival prior to your purchase right so don't just say that the economy is not good) I gets around 10.5 km in Bangalore city & highway 13.5 km till now 1290 km drive. It just delivers proportionate to what its rivals accomplish based on their ARAI figures. I might get some improvement in mileage after first service but need to say mileage is always concern of Hyundai car. Ride Quality & Handling are good in the city and even low speeds too but on the highway once u cross the triple digit speed there may be a bit of body roll. Final Words a very good product from Hyundai if not an amazing one. Areas of improvement Providing HIDs, leather seats for the top variant like Asta O 1.2 petrol model at least as an accessories and providing turbo petrol with sportier suspension and ride quality may make the package interesting.

Whats Good

1)excellent car from hyundai and a great performer. 2)great highway ride 3)great quality plastics 4)good mileage 5)easy to drive 6)good 16" diamond cut alloy 7)great overall features

What Can Improve

1) very poor service from hyundai 2) no response from customer care team for the complaints(even after 6 months) 3) no resale value in india, 4) poor customer support 5) worst service engineers(in my area) 6) poor after sales service. 7) most service persons are not trained.

I use to change cars every 2 years. I nearly changed 7 cars in last 10 years. SANTRO xing - 2007 i10 - 2009 SUZUKI Swift - 2011 FLUIDIC Verna - 2011 SUZUKI Wagon r -2014 ELITE i20 - 2014 When i went to hyundai showroom for exchanging my elite with creta, no one respond to me when i went in, i go and asked for the details of creta the sales rep laughed at me and said you are coming here often (he thinks am not capable of buying a car), then he just gave me the quotation and not even told anything about the car's spec and not even told about the offers that hyundai provide for exchange, and he dont even offer me a testdrive. last time i went to service that time the mixed the normal servo oil with the shell synthetic oil that i bought(50-50 ratio), and the gear shift became harder after the service, when i asked them they said that they will recover the problem but till now no steps have taken(nearly 4 months passed) i complained about this to hyundai customer care, and i got a call from hyundai saying that steps will be taken in next 24 hours, after that no calls from hyundai. i nearly sent 10-15 mails to hyundai cus ser and to the service manager of the showroom but no response. before 3 months when i went to that showroom to book i20 active for my friend, the sales person told there is no testdrive car, then after 15 minutes he offer a testdrive for another customer in the testdrive car parked in front of the showroom. my hyundai car exchange rate has been valuated only 50% cost of the new car(from ex-showroom rate) but my maruti cars i have exchanged it for nearly 75% cost of the new car(on road rate) and the customer support from maruti cus care center is good when compared to hyundai.

Whats Good

I'm a Elite i20 Asta-Petrol owner (New Car). Now this is 7 times I complainted to Hyundai dealer service center (Popular Hyundai, Vyttila, Kochi) But they could not rectify this serious problem. Me and my family members are afraid to travel in this car. Bonnet parts are in over heated. They provided a pad under the bonnet, but there is no use. This was a foolish decision.

What Can Improve

Should appoint expert service engineers and should improve manufacturing qualities.

Very poor dealings of the service people. They are trying to convincing that Engine over heat problem is normal. What a foolish convincing
View All Elite i20 [2019-2020] User Reviews
Write Review
Elite i20 [2019-2020] FAQs
Quick Facts about
Hyundai Elite i20 [2019-2020]
Hyundai Elite i20 [2019-2020], a Hatchback, is available from ₹ 5.57 Lakh to ₹ 9.38 Lakh in India. Hyundai offers the latest Elite i20 [2019-2020] in 18 versions in India. The base model Era 1.2 starts at ₹ 5.57 Lakh in Delhi and the top model Asta 1.4 (O) CRDi priced at ₹ 9.38 Lakh in Delhi. If you are looking for 5 seater car then you should consider Elite i20 [2019-2020].
Elite i20 [2019-2020] comes in 13 Petrol version(s) and 5 Diesel version(s).
The Petrol version comes with 1197 cc engine capacity and Manual,Automatic (CVT) transmission mode(s). It generates 82 bhp @ 6000 rpm.
The Diesel version comes with 1396 cc engine capacity and Manual transmission mode(s). It generates 89 bhp @ 4000 rpm.
Hyundai Elite i20 [2019-2020] comes in 5 colors which include Polar White, Fiery Red, Polar White / Black, Typhoon Silver, Star Dust.
Read More
Read Less
Similar Cars To Hyundai Elite i20 [2019-2020]
Hyundai Elite i20 [2019-2020] Colors
Elite i20 [2019-2020] Specifications
Note: Specifications for Elite i20 [2019-2020] Era 1.2 have been mentioned
Transmission
Manual - 5 Gears
Mileage - ARAI Reported
19.8
Engine
1197 cc, 4 Cylinders Inline, 4 Valves/Cylinder, DOHC
Engine Type
1.2 Kappa petrol with dual VTVT, 16 Valves, 4 Cylinder
Peak Power (bhp@rpm)
82 bhp @ 6000 rpm
Peak Torque (Nm@rpm)
115 Nm @ 4000 rpm
Steering, Tyres, & Suspnsions
Steering Type
Power assisted (Electric)
Minimum Turning Radius
4.7
Suspension - Front
McPherson strut with coil spring
Suspension - Rear
Coupled torsion beam axle with coil spring
Tyres Size - Front
185 / 70 R14
Tyres Size - Rear
185 / 70 R14
Size, Weight, & Dimensions
Bootspace / Dicky Capacity (L)
285
Fuel Tank Capacity (L)
40
Ground Clearance (mm)
170
Hyundai Elite i20 [2019-2020] Videos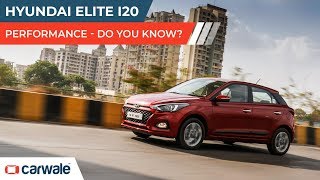 Hyundai i20 Engine Performance Explained
06/03/2019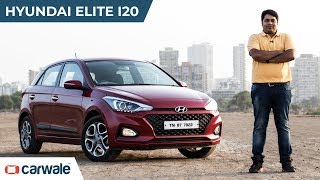 Is The Hyundai i20 Still An Ideal Buy?
06/03/2019
Used Hyundai Cars
₹ 1.15 Lakh

Starting Price

View All Used Hyundai Cars