Volkswagen Ameo has been discontinued.
Below details of Volkswagen Ameo are as of time of discontinuation.
Volkswagen Ameo
₹

5.67 - 10.00 Lakh

Avg. Ex-Showroom price

Mileage

21.73 kmpl
Volkswagen Ameo
| | |
| --- | --- |
| Price | ₹ 5.67 Lakh onwards |
| Mileage | 18.71 to 21.73 kmpl |
| Engine | 999 to 1498 cc |
| Transmission | Manual, Automatic |
| Fuel Type | Petrol, Diesel |
| Seating Capacity | 5 Seater |
About Volkswagen Ameo
Summary
Volkswagen has rolled out its first India-specific product - the Ameo. This is a compact sedan built to compete in the sub-four-metre sedan segment that has been tailor-made for the Indian car market and Volkswagen is looking at getting its share in the pie as well. Based on the Polo platform, the new compact sedan is being manufactured in the company's Chakan plant. While it started as a petrol only car, Volkswagen has introduced the awaited 1.5-litre diesel mill in October 2016.
The Volkswagen Ameo competes with sub-four metre compact sedans unique to our country and which include the Maruti Suzuki Swift Dzire, the Hyundai Xcent, the Ford Aspire, the Honda Amaze and the Tata Zest. Also, it is the only compact sedan that offers a dual-clutch automatic for the diesel mill.
Further to this, read Volkswagen Ameo Road Test details by our expert.
Interiors
On the inside, we have the familiar black and beige dashboard from the Polo with the flat-bottom steering wheel. It gets a touch-screen infotainment system for the top-spec car along with rain sensing wipers, cruise control and electrically adjustable and retractable wing mirrors. All four power windows are standard with auto-up and down functions. The driver seat is also height adjustable and the cabin gets AC vents for the rear passengers as well.
On the safety front, the Ameo gets ABS and dual front airbags standard across the variants like all other VW cars in the country.
Exteriors
The front fascia of the Ameo looks exactly like the Polo with the twin horizontally slatted front grill and the chrome strip at the bottom. The fog lamps are rectangular with chrome accents. As you move on to the sides, you can see the stubby boot added after the rear axle. The boot lid creases remind us of the Skoda Rapid and the Vento-ish tail lamps have a kink on the inner side.
Engine & Performance
For now, Volkswagen is offering the Ameo with the 1.2 MPI petrol engine only. The three cylinder naturally aspirated petrol engine that will churn about 74bhp of power and 110Nm of maximum torque. The engine drives the front wheels through a five-speed manual transmission. The 1.2 TSI turbo-petrol from the Polo GT TSI may also be offered with the Ameo in future. As for the diesel engines, Volkswagen has offered their 1.5-litre turbocharged diesel engine that powers the Polo as well as the Vento. The Ameo 1.5-litre diesel engine churns out 108bhp of power and 250Nm of torque and gets the DSG automatic option with the standard five-speed manual gearbox.
Mileage
The 1498 cc Diesel - powered variant delivers a fuel economy of 18 kmpl in city and 20 kmpl on highways, while the Petrol variant offers a mileage of 16 kmpl on urban roads and 18 kmpl and freeways, respectively.
Read More
Volkswagen Ameo Price List
Find a list of all 12 petrol and 10 diesel versions of Volkswagen Ameo. This table includes on-road price which covers all costs like RTO and Insurance.
Volkswagen Ameo Expert Review
VW Ameo diesel review
Volkswagen initially reeled the India-specific petrol Ameo into our market, and while that iteration did not have the engine to match the rest of the package, the recently launched diesel avatar is all set to change that. We need to understand that the In
Read More
Volkswagen Ameo Expert Review
VW Ameo diesel review
Volkswagen initially reeled the India-specific petrol Ameo into our market, and while that iteration did not have the engine to match the rest of the package, the recently launched diesel avatar is all set to change that. We need to understand that the Indian market is attracted to compact saloons due to the status symbol attached to it. Consequently, this segment also hits an attractive price point that usually accommodates hatchbacks which is primarily due to the excise benefit tagged to sub-four metre cars.
Eyeing the Indian market's affinity for diesel power, VW hasnow pushed the envelope further through their diesel variant that will be offeredin both a manual and DSG transmission. We drove this iteration and here's what we felt.
From the front end, VW's Ameo looks quite impressive thanksto the similarity with the Polo's nose. However, move on to the rear section ofthe car and it manages to look unbalanced especially when viewed in profile. Let'sface it, VW engineers had to trade off with a substantial amount of the boot toget the car under four metres, and it shows.
Designers had to use the Polo's front bumper after shavingoff 35mm, lengthen the roof line which tapers towards the rear, and retain the Polo's quarter glass to get the overall look that one sees today. At the rear, thedesign lines incorporated into the sheet metal between the tail lamps alongwith the integrated boot spoiler make it look contemporary.
Being similar to the earlier launched petrol version means that the interiors of the Ameo diesel gets the same dual toned dashboard thatspells an elegant design. The feel good factor is easily the best in the segment, andthings that contribute to this is the buttons and stalks, chromeinserts, and the leather flat bottomed steering.
That said, the air-con controls, dashboard anddoor plastic could have been better finished to mirror the quality levels ofthe rest of the cabin.One will find the light beige fabric front seats to offergood cushioning and support, along with ample thigh support. Even tall occupants will find the knee room and head room in the front portion of the cabin to be adequate. With this in mind and as a result of the adjustable driver seat, and steering column (rake and reach), a comfortable driving position is easy to achieve.
The rear section of the Ameo is a totally different story as it feels cramped especially for tall occupants and the front seats are just too close which makes it feel a bit claustrophobic too. Nevertheless, the well cushioned rear seat does offer a good amount of thigh support and the backrest is angledslightly upright. With a boot that can swallow only 330litres, it can be decently accommodating thanks to the design of the bay and boot opening.
Just like the manual gearbox will be available in the Trendline, Comfortline and Highline variants, the DSG is offered inthe Comfortline andHighline trims. Expect the top-end variant to get central locking, tilt andtelescopic steering, cruise control, height adjustable driver's seat, tripcomputer, power windows with auto up and down for all windows, music system, MirrorLinkand Voice command capability, auto dimming inner mirror, and climate control.There's also electric mirrors with folding function, alloy wheels, rain sensingwipers, reverse camera with sensors, fog lamps, two airbags (standard) and ABS (standard).Unique to the DSG variant is the ESP (Electronic Stabilisation Program) and Hill Hold Control.
Powering the Ameo diesel is the same 1.5-litre, four-cylinder TDI motor that's seen in the Polo and Vento, albeit in adifferent state of tune. So, while this iteration makes a healthy 110bhp at 4000rpmand 250Nm between 1500rpm and 3000rpm, it is as noisy asit was in the other applications but you can't hear much of it in this cabin as the insulation has improved. Useable power slides in from as low as 1600rpm on the manual variant and once the turbo spools up, there's a nice mid-range punch that lets one take advantage of especially when overtaking or making anyspirited manoeuvres.
The surge in performance can be felt between 2300rpm and 4400rpm after which it begins to slow down below 5000rpm and lose steam at the 5500rpm limiter. We did notice that the rpm while cruising in top cog at 110kmph was well around 3000rpm. Flat-out, this iteration did the 0-100kmph dash in 10.85sec and the runs for 20-80kmph in third gear and 40-100kmph in fourth gear were clocked at 9.72sec and 11.08sec. Thanks to the spirited mid-range, it is entertaining to work the five-speed manual gearbox with its precise and narrow gates to keep it in that range. However, the overall gear shifting experience is slightly let down by the long clutchpedal travel.
This brings us to the seven-speed DSG automatic transmission that's got two modes called 'D' and 'S'. Once on the move in D mode, the extra two gears become apparent as the shifts are carried out in a timely manner to keep the momentum going. In part throttle, the D mode allows the current gear to pull the revs up and it's only after depressing the pedal further that the downshift happens. Though shifts are smooth and quick, it doesn't feel as hurried as the manual version and revs to its limit of 4600rpm unless you slot into manual mode which then lets you see the rpm raise to 5000rpm. Nevertheless, you tend to miss the manual gearbox's ability to bounce off the 5500rpm limiter. Make no mistake, there's no discounting the speeds that this DSG iteration rakes up. Downshifts are marginally quicker than the upshifts and the S mode will bring even more enthusiastic times and thrills to your drive by holding gears all the way to the limiter and also cling on to them when you get off the throttle. While the 0-100kmph sprint took 11sec, the 20-80kmph and 40-100kmph runs took 6.08sec and 8.20sec respectively. VWclaims that the fuel efficiency for the manual and DSG version is 21.66kmpl and21.73kmpl.
With the VW Ameo, buyers will get a slightly firm low speedride and also hear the suspension bits working away while encountering arough patch. Pick up the pace and the suspension soaks up road unevenness withaplomb, but it is over the sharper bumps that there's a fair bit of vertical movement and the front end even tends to bottom out especially on large bumps. Straight line stabilityis good and the Ameo holds its poise despite a shade of body roll when pushed hard. We noted that while the steering responds accurately to inputs, it also tends to weigh up nicely as speeds rise, however, drive it spiritedly and you'd be left wanting more feedback especially around bends. That said the brakes bite sufficientlyand offer just about the right feedback in return to give one enough confidence evenunder panic braking situations.
| | |
| --- | --- |
| Make | Volkswagen |
| Model | Ameo |
| Fuel | Diesel |
| Variant | Highline |
| Engine Capacity | 1498cc |
| Max. Power (bhp@rpm) | 110 @ 4000 |
| Max. torque (Nm@rpm) | 250 @ 1500-3000 |
| Gears | 5 speed manual/ 7 speed DSG |
| Length mm | 3995 |
| Width mm | 1682 |
| Height mm | 1483 |
| Wheelbase mm | 2470 |
| Fuel Capacity (in litres) | 45 |
| Tyre size | 185/60 R15 |
| | |
| --- | --- |
| Features | |
| Tilt and telescopic steering | Yes |
| Central locking | Yes |
| Height adjustable driver's seat | Yes |
| Cruise control | Yes |
| Power windows with auto up and down for all windows | Yes |
| MirrorLink and Voice command capability | Yes |
| 2 airbags | Yes |
| ABS | Yes |
| ESP (Electronic Stabilisation Program) | Yes |
| Hill Hold Control | Yes |
Specifications
Volkswagen
Ameo
Maruti
Swift Dzire
Variant
Highline
ZDi
Fuel
Diesel
Diesel
Engine Capacity
1498cc
1248
Max. Power (bhp@rpm)
110 @ 4000
75 @ 4000
Max. torque (Nm@rpm)
250 @ 1500-3000
190 @ 2000
Gears
5 speed manual/ 7 speed DSG
5 speed manual/ 5 AMT
Length mm
3995
3995
Width mm
1682
1695
Height mm
1483
1555
Wheelbase mm
2470
2430
Fuel Capacity (in litres)
45
42
Tyre size
185/60 R15
185/65 R15
The best part about the Ameo is that you get affordable German engineering in a great diesel compact saloon package. However, one will have to set their priorities straight, as, though the rear seats offer inadequate space and comfort, this salooncomes with a decent ride, lots of comfort features, feel good interiors, premium quality and a diesel engine that satisfies those hungry forperformance and the dieselinduced frugality.
So there you have it, the VW Ameo should suit those lookingfor a premium diesel compact saloon who can discount it for not being as practicalas the competition, and if there's anything about the Ameothat will strongly attract, it will be this DSG gearbox variant.
Pictures: Ameya Dandekar
User Reviews for Ameo
Whats Good

Nothing is good from VW ..

What Can Improve

Quality of all models from Volkswagen noisy engine quality less build interior exterior quality less services qualityless body work and repairs ... vw cheats people just for money ... people should send out vw from India.. I have tried explaining them in all the possible ways... but vw doesn't care any concerns .. I still drive the car and I still can prove all the above facts are true.. do not buy VW product

Do not buy Volkswagen ...

Mileage Details

Mileage (City)

8 kmpl

Mileage (Highway)

10 kmpl

Maintenance

10000 per month

Whats Good

NOTHING

What Can Improve

QUALITY SO WE CAN DRIVE OUR 12LAKHS CAR IN MONSOON. FIX THE HOLES SO WATER DOES NOT GOES INSIDE ENGINE/GEARBOX

I request all new customers not to buy Volkswagen vehicles in India. As VW and the dealers consider Indian sector a garbage sector and compromise on the quality. Not worth value to your money. I was a VW customer since 2011 and was planing to continue by changing to POLO GT from Ameo next year. But now NO. Existing customers: PLEASE DONT DRIVE YOUR VOLKSWAGEN IN MONSOON AS THE WATER GOES INSIDE THE ENGINE/GEARBOX AND NOT COVERED UNDER WARRANTY. ALSO THEY DONT AGREE TO THEIR MANUFACTURING FAULT. AS WE ARE INDIANS AND FROM INDIAN MARKET.

Mileage Details

Mileage (City)

9 kmpl

Mileage (Highway)

14 kmpl

Maintenance

2500 per month

Whats Good

All is good like handling, driving fun,and ground clearance and not any panic in top model. This is fulfilled car. I research all cars in segment. But not any car not near to this.i am very very happy to buying this car.

What Can Improve

When driving to see left hand side get problem. Because car height is low so rear view inside mirror is create troubling to seeing left hand side. No other things I observed.

My previous car is Dzire vdi. I recommend all others guy's please one moment to see and test drive Ameo before purchasing any other car. You not got sadnesses.

Mileage Details

Mileage (City)

18 kmpl

Mileage (Highway)

21 kmpl
View All Ameo User Reviews
Write Review
Quick Facts about
Volkswagen Ameo
Volkswagen Ameo, a CompactSedan, is available from ₹ 5.67 Lakh to ₹ 10.00 Lakh in India. Volkswagen offers the latest Ameo in 22 versions in India. The base model Trendline 1.2L (P) starts at ₹ 5.67 Lakh in Delhi and the top model GT Line (D) priced at ₹ 10.00 Lakh in Delhi. If you are looking for 5 seater car then you should consider Ameo.
Ameo comes in 12 Petrol version(s) and 10 Diesel version(s).
The Petrol version comes with 1198 cc engine capacity and Manual transmission mode(s). It generates 74 bhp @ 5400 rpm. Another petrol version comes with 999 cc engine capacity and Manual transmission mode(s). It generates 75 bhp @ 6200 rpm.
The Diesel version comes with 1498 cc engine capacity and Manual,Automatic transmission mode(s). It generates 109 bhp @ 4000 rpm.
Volkswagen Ameo comes in 6 colors which include Reflex Silver, Toffee Brown, Candy White, Carbon Steel, Lapiz Blue , Sunset Red.
Read More
Read Less
Similar Cars To Volkswagen Ameo
Ameo Specifications
Note: Specifications for Ameo Trendline 1.2L (P) have been mentioned
Transmission
Manual - 5 Gears
Mileage - ARAI Reported
17.83
Engine
1198 cc, 3 Cylinders Inline, 4 Valves/Cylinder, SOHC
Engine Type
1.2L MPI Engine
Peak Power (bhp@rpm)
74 bhp @ 5400 rpm
Peak Torque (Nm@rpm)
110 Nm @ 3750 rpm
Steering, Tyres, & Suspnsions
Steering Type
Power assisted (Electric)
Minimum Turning Radius
4.97
Suspension - Front
McPherson Strut with Stabiliser Bar
Suspension - Rear
Semi-independent Trailing Arm
Tyres Size - Front
175 / 70 R14
Tyres Size - Rear
175 / 70 R14
Size, Weight, & Dimensions
Bootspace / Dicky Capacity (L)
330
Fuel Tank Capacity (L)
45
Ground Clearance (mm)
165
Volkswagen Ameo Videos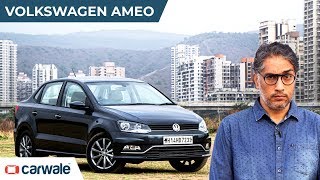 The Good and Bad of the Volkswagen Ameo
06/10/2019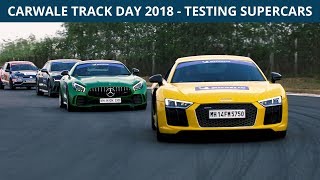 Carwale Track Day Supercars
05/14/2018
Volkswagen Ameo News
Volkswagen launches Cup Editions of Polo Vento and Ameo
Volkswagen has launched Cup Editions of the Polo, Ameo and Vento respectively. As the name suggests, they were brought out in time for the cricket world cup fever that will grip India from tomorrow
Inaugural round two race of Ameo Cup 2018 won by Saurav Bandhyopadhay
Ameo Cup 2018 Second Round Ameo Cup 2018, is the premium one-make series is organised by Volkswagen Motorsport India at the Madras Motor Race Track in Chennai. Saurav Bandhyopadhay from Thane,
Volkswagen to adopt a sportier image for its India makeover
by
CarTrade Editorial Team
Volkswagen India, as part of its 'India 2.0' plan wants to adopt a sportier image for its cars as it tries to connect with car buyers on an emotional level. Speaking to CarWale, Steffen
Registration for 2019 Volkswagen Ameo Cup commences
Volkswagen Motorsports India has commenced the driver's registration process for the 2019 season of the Ameo Cup. Registration for 2019 Volkswagen Ameo Cup commences This is the 10th
Volkswagen Ameo Pace debuts in India, priced at Rs 6.10 lakhs
German car manufacturer, Volkswagen, has launched the Ameo Pace in India at Rs 6.10 lakhs (ex-showroom, Delhi). The new model joins the line-up alongside Volkswagen India's recently launched