Why would I buy it?
Stands apart from the competition
Hybrid adds to fuel efficiency
Toyota brand's reliability
Why would I avoid it?
Tight headroom in second row
No diesel option
Engine and Performance
The Toyota Urban Cruiser Hyryder is the first mid-size SUV in India to get a strong hybrid powertrain. This is besides the 1.5-litre K-Series petrol mill that comes mated to either a five-speed manual or six-speed automatic transmission. It will also get a first-in-segment AWD option. But the one in question here is this Toyota's self-charging strong hybrid electric version. Under its hood is the brand's 1.5-litre TNGA four-cylinder petrol engine mated to an electric motor. This, in turn, is paired to a battery which gets charged on the run and doesn't require external charging, as in pure electric vehicles.
Start the car and you'll instantly realise the NVH levels are quite good. It is very silent when it starts in EV mode. Even when it switches to the engine drive, the noise levels are moderate with the windows up and the AC on. Now, the Hyryder uses the engine power for medium to substantial throttle inputs or if the charge is depleted. Out on the highway, it has enough grunt to hit triple-digit speeds even though a 115bhp output might not make it feel so on paper. Then, the e-Drive transmission makes it a seamless process as against a conventional gearbox where gearshifts are noticeable. The normal drive mode is 'D' and the car coasts off the throttle. However, when you shift to 'B', you can feel the engine brake helping in regen.
Most importantly, the hybrid tech uses the charge from the battery to power the motor. It also recharges on its own through regen and the engine, keeping the process simple for you and still adding to the fuel efficiency and overall range. The claimed fuel efficiency is 29kmpl, quite outrageous for a vehicle of this size. But, given the battery assists in adding to the range, we won't be surprised to see similar real-world city and highway fuel economy figures.
Ride and Handling
The suspension set-up is nicely tuned and even the roads with potholes were dealt with ease. Also, on the highway run, it remained nicely planted and stable at triple-digit speeds. Now, combating rough roads and uneven terrain, that's one trait that SUVs in this segment are popular for. The Hyryder, in addition, is even easy to drive with a compact footprint. The steering with two and a half turns lock-to-lock is predictable. It never felt vague and it was never a struggle to judge the amount of steering for sharp turns at low speeds. It even weighs up adequately as you dial up the speed. And when it comes to dropping the anchor, there's a good bite from the brakes and the tyres grip well to confidently bring the SUV to a halt.
Exterior
Toyota unveiled this Hyryder SUV at the beginning of last month and it does stand out well from its competition. So, is it good-looking? Well, I like its proportions and its styling is quite different. Yes, I know you'd say that this and the upcoming Maruti Suzuki Grand Vitara look the same. Well similar, yes, but not the same. The top hat is different and I like this one. It even managed to turn many heads while we were traversing the Bangalore streets.
Comfort, Convenience and Features
Getting in and out of this SUV is easy, there's enough space, there's a good use of leather on the dash, and things are well laid out. This does make it a good place to be in with good forward and rearward visibility. Now, the second row is comfortable for two occupants though the headroom is limited. But when you try accommodating three adults, it's a tight space and there's some shoulder overlap. Then, the floor hump and the centre console vents intrude into the leg space for the middle occupant. But as we'd said earlier, it has plenty of storage and stowage places, including big bottle holders in the door pads. That said, the boot space is a little compromised as it's raised to accommodate the battery. There's enough space to hold four to five medium-sized bags for the four/five passengers.
Also, as with most SUVs in this segment, the Hyryder does manage to pamper with comfort and features. Be it ventilated seats, wireless charger, automatic climate control, touchscreen infotainment system with connected car tech, 360-degree camera, digital instrument cluster, head-up display, well, you name it and Toyota has made sure to provide it. Even for the safety suite, there are six airbags, a tyre pressure monitoring system, ESP, and hill-hold assist, amongst many usual others that are provided by this brand. Another USP is that it's got a huge panoramic sunroof which opens even further than its rivals. Then, apart from your usual setting of the backrest, there's a one-step reclining option adding to the comfort of the rear occupants.
Conclusion
So, the Toyota Urban Cruiser Hyryder has good looks, a spacious cabin with good quality materials, and comes packed with modern-day features. Toyota is offering a choice of engine options with the hybrid being its forte. Hence, it most certainly has an edge over its rivals. Yes, the tight space in the second row might be a cause of concern to fit in three individuals with comfort or even tall passengers. Also, there's no diesel option, which anyway should be taken care of by this frugal hybrid for it is quite fuel-efficient. Not to forget, Toyota as a brand has established itself as a pioneer in hybrid electric technology. Its electrification journey started back in 1995 with self-charging hybrid vehicles. Now, the Hyryder will push this forward in the trending and expanding SUV segment. We just hope it's not very expensive and accessible to even conventional SUV buyers.
Pictures by Kapil Angane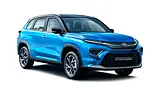 Toyota
Urban Cruiser Hyryder
₹ 10.86 Lakh

Onwards
Toyota
|
Urban Cruiser Hyryder
|
Toyota Urban Cruiser Hyryder