Volvo XC40 Recharge
The new Volvo XC40 Recharge, a SUV from Volvo, was launched in India in Jul 2022. XC40 Recharge has received 93% rating score from our users. XC40 Recharge is preferred for its styling and comfort.
Volvo XC40 Recharge price starts from ₹ 56.90 Lakh in India. XC40 Recharge is available in 5 colours - Crystal White, Fjord Blue, Onyx Black, Thunder Grey, and Sage Green. XC40 Recharge seating capacity is 5 People. XC40 Recharge has received 5 Star (Euro NCAP) star NCAP Rating safety rating.
XC40 Recharge is available in 1 versions and 1 fuel options - Electric.
XC40 Recharge competes with Kia EV6, Hyundai Ioniq 5 and Volvo XC40 in India.
Volvo XC40 Recharge Model List
| XC40 Recharge Model | Price | Key Specs |
| --- | --- | --- |
| P8 AWD | ₹ 56.90 Lakh | Electric |
XC40 Recharge Price
Version
All Versions
City
Not Selected
Avg. Ex-Showroom price
XC40 Recharge starting EMI
₹1,15,373 for 5 Years
Ex-Showroom Price

This price includes GST and any state/city entry tax. However, the ex-showroom price does not include RTO, Insurance, Fast tag, and other accessories cost

₹

0

Registration Charges

Road Tax or registration tax This varies from city to city.

₹

0

Insurance

The insurance cost on CarTrade covers 1-year comprehensive insurance cost with 95% IDV and 3-year third-party insurance cost.
IDV - it is the max amount you will receive if your vehicle is stolen or completely damaged.
Third-party insurance - If you met with an accident with another vehicle, third-party insurance covers cost against damages to the other vehicle or the owner/driver of the other vehicle. It is helpful in the event of an accident by your mistake.
Insurance is mandatory for every vehicle as per the Indian Govt laws.

₹

0

Other Charges

₹

0

On-Road price

The final price you will need to pay to purchase the car in your city. On-road price = ex-showroom price + RTO + Insurance + Fast tag and other accessory charges.

₹

0
Need help with Test Drive, Offers Resale Value, Wait Time or anything else?
Sponsored
Contact dealer for
Test Drives
Offers & Exchange
EMI Options
Insurance
Volvo XC40 Recharge Key Specifications
| | |
| --- | --- |
| Price | ₹ 56.90 Lakh |
| Fuel Type | Electric |
| Driving Range (km) | 418 km |
| Seating Capacity | 5 People |
| NCAP Rating (Best - 5 Star) | 5 Star (Euro NCAP) star NCAP Rating |
| Warranty | 3 Years or Not Applicable km |
| Battery Warranty | 8 Years (Unlimited KMs) |
| Battery Capacity | 78 kWh |
| Size | 4440 mm L X 1863 mm W X 1647 mm H |
| Ground Clearance (mm) | 175 mm |
XC40 Recharge Expert Review
Good Things
Ballistic acceleration and drivability
Good claimed range
Could be Better
Apprehension of EV adaptability
Limited dealer network
Engine and performance
The Volvo XC40 Recharge is an electric version of the luxury compact SUV and the carmaker's first big step to venture into the electric car segment. This is in line with its ambition to become a fully electric car company by 2030. Now, this car is based on the Compact Modular Architecture (CMA) platform, looks very similar to the XC40 crossover, and also packs all the good things from its ICE powered sibling.
Hence, we straight got behind its wheel and the biggest difference between the petrol/diesel derivatives was quite apparent. Of course, it's super silent, but what's more interesting, is how quickly it gets off the mark. Volvo claims that the car does 0-100kmph in 4.9 seconds! Well, our V-Box will ascertain this claim soon. But for now, it feels quite believable. There's instantaneous torque at your disposal, and with the one-speed gearbox working flawlessly, short sprints are going to be fun! Also, it doesn't feel snappy with its throttle response. One can make good progress to attain triple-digit speeds within no time. Its top speed is limited to 180kmph though.
The XC40 Recharge uses two 150kW electric motors mounted on the front and rear axles. The combined output is more than 400bhp and 660Nm of torque. That's quite a lot of power for this compact vehicle that gets all-wheel-drive as standard. Moreover, the electric motors are powered by a 78kWh battery. The latter is claimed to offer a maximum range of around 418km on a single charge, which is substantially good. This battery can be recharged from 10 per cent to 80 per cent in just 33 minutes using a fast 150kW charger. However, this one's not available in India yet. Still, a 50kW fast charger will take about 2-2.5 hours to charge the crossover completely.
Ride and Handling
The car gets an off-road mode which can be activated through the settings on the infotainment screen. Given the short time we had, we didn't take the car off-road, but still got an idea of what this crossover is capable of. It rides high on 19-inch wheels and we never felt nervous, even while taking the diversions and broken sections of the road. The suspension soaks up the thunks and thuds well, not compromising on passengers' comfort.
Another interesting system is the one pedal handling which enables the accelerator pedal to do all the work. The car moves ahead when you press it and as you release it, the car's brakes are automatically applied. It feels alarming at the start, but once you get a hang of it, it's even more fun to use. The steering is light, precise, and well-weighted. Still, you can firm it up a notch higher through a button on the screen. Then chucking this crossover in corners will induce some body roll. That said, its straight-line stability is impressive, and it will even take the long fast bends without making you feel nervous. It remains planted all the time. Even the all-disc brakes do a fantastic job of stopping this vehicle that is ever enthusiastic to sprint.
Exterior
The XC40 has already won many awards and accolades for its design and styling. This Recharge is not very different, apart from the grille change at the front. Buyers will appreciate its looks. It's a compact offering from Volvo which is similar to the size of the Audi Q3, BMW X1, and Mercedes-Benz GLA. And as we've said earlier, the Swedish luxury carmaker had stepped up the game with the XC40 T4 R-Design and this one's no different. Its distinct nose gets a different grille, still flanked by LED headlamps. These are Volvo's signature Thor's hammer LED headlamps, albeit with a different rendition. Then, the modern Scandinavian styling is portrayed right from its alloy wheels to its rear end. This makes it look very different as compared to other SUVs in its segment. In comparison to the non-electric crossover, there are two other major changes that you will see here. Firstly, instead of the fuel-filler cap, there's a charging port. Secondly, under the hood, since there's no engine, this space can be utilised for more cargo space. It is 31 litres to be precise.
Comfort, Convenience, and Features
In continuation to the afore-mentioned cargo space, there's a boot space identical to that of the standard XC40 which stands at 452 litres. Its tailgate is electrically powered and can be actuated by placing your foot under the rear bumper.
Now the interior is again like the standard XC40, meaning plush and luxurious for a compact SUV. It's a Volvo after all. So, it's an all-black cabin with leather-free upholstery, a panoramic sunroof, Harmon Kardon audio system, and a vertically placed infotainment system taking centre stage. It houses most of the controls too. Then, there's a 12-inch instrument cluster with a full display of the map with navigation. It also shows vital bits pertaining to the electric charge. Other details can be seen on the screen on the dashboard paired with google services and Volvo's car app. The seats remain comfortable with power-adjustable front seats with memory function. This along with a dual-zone climate control takes care of your comfort, a 13-speaker Harman Kardon set-up takes care of your entertainment needs, and an air purifier and a wireless charger of your convenience. Also, there's enough legroom in the second row, but it's still a tight space for three. Besides, a little more under-thigh support and a slightly reclined backrest would have made it more relaxing for rear occupants.
And then, it's needless to say, Volvos are known for safety and this one, too, comes equipped with many such features. This includes driver and passenger airbags, side-impact protection system (SIPS) airbags, inflatable curtains, and a driver-side knee airbag as well. Furthermore, a new 360-degree camera provides surround view, obstruction detection with automatic emergency braking, Park Assist, Pilot Assist, and run-off road mitigation as well. Then, there's adaptive cruise control, cross-traffic alert, lane keep assist, road sign information, and even oncoming lane mitigation. All these help it score high in terms of safety standards.
Conclusion
Expected to be priced over Rs 70 lakh, ex-showroom, it might look like an expensive option. But then consider the other EVs in the luxury segment and this compact one will make sense for its price. Also, do note that this is being imported as a CBU or completely built unit. Yes, the XC40 Recharge isn't something that will excite you in terms of driving dynamics but will surely impress with its outright acceleration and sufficient range. It will receive praise like its other siblings for its styling, build quality, refinement, and, of course, high safety standards. Volvo plans to announce its pricing and start bookings in July this year. The deliveries are expected to begin by October.
Pictures by Kaustubh Gandhi
Volvo XC40 Recharge Variants
Find a list of all 1 electric versions of Volvo XC40 Recharge. This table includes Volvo XC40 Recharge on-road price which covers all costs like RTO and Insurance.
Filter By
Fuel type, Transmission and Seating Capacity
Electric
Automatic
5 Seater
XC40 Recharge Versions
Ex-showroom Price
Compare

Electric

₹ 56.90 Lakh

Key Features : 7 Airbags, Sunroof, Cruise Control, Push Button Start, Wireless Charger
Volvo XC40 Recharge Price in India
Volvo XC40 Recharge Images
About Volvo XC40 Recharge
Introduction
Volvo launched its first all-electric car, the long-due XC40 Recharge, in India in July 2022. The carmaker has brought in the MY2023 updated model of this electric SUV to the country. It is available in a single trim, the XC40 Recharge P8 AWD, and Volvo assembles the XC40 recharge at its facility in Hoskote, Karnataka.
Exterior
The electric XC40 Recharge bears the design language similar to the combustion-powered XC40. With the MY2023 update, however, the XC40 Recharge comes with redesigned and slimmer daytime driving lights and a new front bumper. Additionally, it distinguishes itself with a closed-off grille painted in body colour and new 19-inch alloy wheels. Besides this, Volvo has given it a few ADAS features with the electric crossover, namely lane-keeping assist and adaptive cruise control.
Interior
Inside, the XC40 Recharge is identical to its combustion-powered sibling in terms of interior design. The cabin features a 12-inch driver display, Android-based nine-inch touchscreen infotainment in portrait orientation, 13-speaker Harman Kardon sound system, two-zone temperature control, electric sunroof, wireless charging pad, and powered front seats with memory settings.
Electric powertrain
Volvo offers the XC40 Recharge P8 AWD with a dual electric motor setup and a 78kWh battery producing 402bhp and 660Nm of torque. With this, it provides a WLTP-certified travel range of 418km on a full charge. Plus, the owners of the Volvo XC40 Recharge get an 11kW AC home wall box charger.
Read More
XC40 Recharge FAQs
Volvo XC40 Recharge runs 418 km in a single charge.
Volvo XC40 Recharge is a 5 seater car with 5 doors.
Considering ₹5/unit to be the electricity cost, it generally cost around ₹1 to ₹1.5 per km to drive an electric car.
Quick Facts about
Volvo XC40 Recharge
Volvo XC40 Recharge, a SUV, is available from ₹ 56.90 Lakh in India. Volvo offers the latest XC40 Recharge in 1 versions in India. The base model P8 AWD starts at ₹ 56.90 Lakh in Delhi and the top model P8 AWD priced at ₹ 56.90 Lakh in Delhi. If you are looking for 5 seater car then you should consider XC40 Recharge.
XC40 Recharge comes in 1 Electric version (s).
The Electric version comes with 78kWh battery and generates power. It can drive 418Km on full charge.
Volvo XC40 Recharge comes in 5 colors which include Crystal White, Fjord Blue, Onyx Black, Thunder Grey, and Sage Green.
Compare XC40 Recharge with Alternatives
| | | | | |
| --- | --- | --- | --- | --- |
| | Volvo XC40 Recharge | Kia EV6 | Hyundai Ioniq 5 | Volvo XC40 |
| Price | ₹ 56.90 Lakh | ₹ 60.95 Lakh | ₹ 44.95 Lakh | ₹ 45.85 Lakh |
| Fuel Type | Electric | Electric | Electric | Mild Hybrid(Electric + Petrol) |
| Engine Size | - | - | - | 1969 cc |
| Transmission | Automatic | Automatic | Automatic | Automatic |
| Power | - | - | - | 197 bhp @ 5000 rpm |
| Torque | - | - | - | 300 Nm @ 1300 rpm |
| Safety Rating | 5 Star (Euro NCAP) | 5 Star (Euro NCAP) | 5 Star (Euro NCAP) | 5 Star (Euro NCAP) |
| Boot Space | 419 litres | 572 litres | 531 litres | 432 litres |
| Ground Clearance | 175 mm | 178 mm | - | 211 mm |
| Size | 4440 mm L X 1863 mm W X 1647 mm H | 4695 mm L X 1890 mm W X 1550 mm H | 4635 mm L X 1890 mm W X 1625 mm H | 4440 mm L X 1863 mm W X 1652 mm H |
| Compare | - | Compare XC40 Recharge vs EV6 | Compare XC40 Recharge vs Ioniq 5 | Compare XC40 Recharge vs XC40 |
Volvo XC40 Recharge Colors
Volvo XC40 Recharge Videos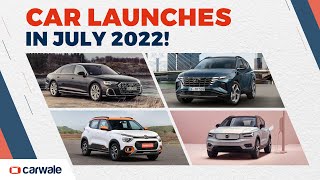 New Car Launches in India in July 2022 | Hyryder, C3, Tucson, A8L and XC40 Recharge | CarWale
07/11/2022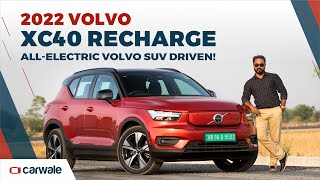 Volvo XC40 Recharge Driven | New All-electric SUV with 400+km Range! | CarWale
04/18/2022
Volvo XC40 Recharge News
Volvo commences deliveries of XC40 Recharge in India
Volvo launched the new XC40 in India in July 2022.
All-new Volvo XC40 Recharge launched in India at Rs 55.90 lakh
The XC40 Recharge is assembled at Volvo's Hoskote facility in Karnataka.
Volvo XC40 Recharge to be assembled locally in India
Volvo XC40 Recharge to be assembled locally in India
Volvo rolls out locally assembled XC40 Recharge from Bangalore plant
The Volvo XC40 Recharge provides a WLTP-certified range of 418km.
Volvo XC40 Recharge India launch tomorrow
The XC40 recharge gets a dual-motor setup and a 78kWh battery pack.
Find New Cars of Your Choice
PRICE RANGE

FUEL TYPE

BODY TYPE

MAKE

MORE
Used Volvo Cars
₹ 27.75 Lakh

Starting Price

₹ 8.65 Lakh

Starting Price

View All Used Volvo Cars