Volvo XC60
The latest Volvo XC60, a SUV from Volvo, was launched in India in Oct, 2021. XC60 has received 96% rating from our users. XC60 is preferred for its Styling and Comfort.
Volvo XC60 price starts from ₹ 65.90 Lakh in India. XC60 is available in 5 colours - Onyx Black, Denim Blue, Pine Grey, Crystal White, Thunder Grey. XC60 seating capacity is 5 People. XC60 mileage is 12.1 km/l. XC60 has received 5 Star (Euro NCAP) safety ratings.
XC60 is available in 1 versions and 1 fuel options(s) - Mild Hybrid(Electric + Petrol). Mild Hybrid(Electric + Petrol) models comes with 1969cc engine which generates peak power of 250 bhp @ 5500 rpm .
XC60 competes with Volvo XC90, Volvo XC40 and Audi Q5 in India.
Volvo XC60 Model List
| XC60 Model | Price | Key Specs |
| --- | --- | --- |
| B5 Inscription | ₹ 65.90 Lakh | Mild Hybrid(Electric + Petrol), 1969 cc, Automatic (TC) |
Volvo XC60 2022 Price
Version
All Versions
City
Not Selected
Select Version
Avg. Ex-Showroom price
XC60 starting EMI
₹1,33,621 for 5 Years
Ex-Showroom Price

This price includes GST and any state/city entry tax. However, the ex-showroom price does not include RTO, Insurance, Fast tag, and other accessories cost

₹

0

Registration Charges

Road Tax or registration tax This varies from city to city.

₹

0

Insurance

The insurance cost on CarTrade covers 1-year comprehensive insurance cost with 95% IDV and 3-year third-party insurance cost.
IDV - it is the max amount you will receive if your vehicle is stolen or completely damaged.
Third-party insurance - If you met with an accident with another vehicle, third-party insurance covers cost against damages to the other vehicle or the owner/driver of the other vehicle. It is helpful in the event of an accident by your mistake.
Insurance is mandatory for every vehicle as per the Indian Govt laws.

₹

0

Other Charges

₹

0

On-Road price

The final price you will need to pay to purchase the car in your city. On-road price = ex-showroom price + RTO + Insurance + Fast tag and other accessory charges.

₹

0
Need help with Test Drive, Offers Resale Value, Wait Time or anything else?
Sponsored
Contact dealer for
Test Drives
Offers & Exchange
EMI Options
Insurance
Volvo XC60 Key Specifications
| | |
| --- | --- |
| Price | ₹ 65.90 Lakh |
| Fuel Type | Mild Hybrid(Electric + Petrol) |
| Mileage | 12.1 km/l |
| Seating Capacity | 5 People |
| Safety Rating | 5 Star (Euro NCAP) |
| Warranty | 2 Years (Unlimited KMs) |
| Engine Size | 1969 cc |
| Transmission | Automatic (TC) |
| Size | 4688 mm L X 1902 mm W X 1658 mm H |
| Fuel Tank | 71 litre |
| Ground Clearance (mm) | 216 mm |
About Volvo XC60
Summary
Volvo Car India has launched the 2021 iteration of the XC60. While the luxury SUV looks pretty much the same on the outside, it's the new petrol+hybrid powertrain and latest tech that makes the XC60 more competent to the modern-day SUVs.
Exterior
With the update, the refreshed XC60 gets a slightly tweaked front grille with prominent vertical chrome ribs that are further accentuated by the chrome strips at the bottom of both the bumpers. The bumpers itself have been redesigned and now get body-coloured elements. Lastly, the hidden tail pipes gives the luxury SUV a sophisticated and clean look.
Interior
The 2021 XC60 gets a 360-degree camera, adaptive cruise control, blind-spot detection with cross traffic alert, 15-speaker Bowers and Wilkins sound system, front seats with massage function, and Nappa leather upholstery. The vertically-placed Android-powered touchscreen infotainment system gets built-in google apps and services along with connected car tech that can be accessed through Volvo Cars app.
Engine and Transmission
The XC60 is petrol offering only. It is powered by a 2.0-litre petrol mill linked to a 48V electric motor which puts out 247bhp and 350Nm of peak torque. The transmission duty is handled by an eight-speed automatic transmission that sends power to all four wheels.
Read More
Volvo XC60 Price List
Filter By
Fuel type, Transmission and Seating Capacity
Mild Hybrid(Electric + Petrol)
Automatic (TC)
5 Seater
XC60 Versions
Ex-showroom Price
Compare

Mild Hybrid(Electric + Petrol), 1969 cc, Automatic (TC), 12.1 kmpl

Fuel Type: Mild Hybrid(Electric + Petrol)
Engine: 1969 cc (Higher engine size helps to generate more power)
Transmission: Automatic (TC)
Mileage: 12.1 kmpl (ARAI reported mileage)

₹ 65.90 Lakh

Key features : Sunroof, Cruise Control, Push Button Start, Leather Seats, Wireless Charger
Volvo XC60 Price in Popular Cities
User Reviews for XC60
Whats Good

Where and how we met is what is vital... we met in Bhopal during the NDTV-Volvo XC60 Adventure Challenge and that is where I fell in love with a 40 L car! So the first good thing about the XC60 is that it makes you fall in love with it. The rest of the good things follow in a line, never falling out or being raucous or boisterous, such is the effect of the car. So whether it is the smooth automatic transmission of the car, or it's impeccable safety features, or the spacious boot opening and closing hydraulically, or the intelli-bending lights, or a central console that initially intimidates you with the number of touch controls and button controls there, or the sun roof, or the range of colour choices... you really have no option but to admit that you're finally in love with a machine. But hey! the XC60 isn't a mere machine. It purrs like a woman (though at time it does purr more aggressively and louder), gallops like a horse in a race, turns like a dolphin in a performance, adopts the right gear like there was an Einstein sitting inside... and manages to give a 56 inch chest that some leader recently boasted about! Let me add here that I drove the XC60 in the city, then on the highway, did off-roading, went up and down the hillls near Pachmarhi, drove throughout the day stopping only for very short breaks, and even slept inside the car. It's 212 hp engine did not register a single complaint... in fact, it was going hoarse warning me whenever I went too close to a jutting rock or careless humans trespassing on Indian roads. The air conditioning was simply superb and it was a pleasure to test it's efficacy by stepping out in the scorching heat of Bhopal and then dive back to see how fast the sweat dried... and it always did in a matter of nano-seconds! Driving on the road within city limits is where I loved this car most... it's advanced reversing controls made parking easier than it always was, and the proximity warnings that it gave must have saved us a number of times. It is good that the rough and tough driving fortnight for me was intrinsically connected to the XC60... it wouldn't have been easy had it been any other car, I'm sure.

What Can Improve

It is tempting to write that Volvo needs to improve it's pricing by scaling it downwards by a few lacs... but then seriously, I wouldn't like to enter the slushy and mushy fiscal arena. This, however, reminds me of the awry swishes, lost traction, and a confused steering while negotiating slush and slippery ground during the off-roading experience. It was scary at times but it probably needed more expertise than I had, so I wouldn't really go overboard complaining about it all. In fact, one of my friends says that 'the car lacks a limited slip differential or diff locks, so it seems it isn't practical as a full-time, serious off-roader...' I agree with him. The digital controls and all the memory functions are not easy to remember but once you get a hang of them, they do make life inside the car much more lovable. There is very little that is sloppy or deserving the cane, so to say... though there will still be improvements and the newer models in the future will have things we cannot even imagine. One thing that bugged me was my not being able to get enough height to stand confidently and out of the open sun roof. This leads me on to the ticklish bump that makes life for the third passenger sitting in the rear seat in the centre far from comfortable. In fact, we took turns to sit in that position whenever three of us were inside one car and sitting in the rear seat. So if this vulgar bump can go, it'll be very fine.

Well, this is one car that is, for sure, poetry in motion... and will make people stop and wonder: 'Well, isn't this the car that has been appearing in my dreams all these years?' And there will be quite a few of these romantics who will go ahead and buy this one... no, despite being being a hopeless romantic and a poet, I cannot buy it. I'm not rich enough to afford a car that costs more than 40 lacs! But this doesn't deter me from talking about it... from praising it... and from dreaming about owning it some time in the future!

Mileage Details

Mileage (City)

11 kmpl

Mileage (Highway)

15 kmpl

Maintenance

5000 per month

I recently purchased the Volvo D5 AWD, which was a pending decision. Crossovers had always fascinated me as I am an adventurous person. This car is loaded with a five-cylinder turbo charged diesel engine, which delivers high power and torque. The 2400 cc, 5 cylinder engine of this car delivers power of 205 hp at 4000 rpm. High power of this car helps in dealing with all types of on road obstruction. I was surprised when I was able to cross the 100 kmph mark in 8.9 seconds. Apart from the power, I am also satisfied with the mileage of the car. It is able to deliver mileage of 9 kmpl in the city and 12 kmpl on highways. Being a diesel car, Volvo D5 AWD, provides relief to the customers in the present situation, when fuel prices are constantly increasing. When I decided to purchase the Volvo D5 AWD, the look of the car has impressed me a lot. The vehicle looks like an urban machine, which has muscular design. Grille of the car has company logo, which symbolises trust and faith. The headlamps and the fog lamps of the car together complement its external looks. Body coloured rear view mirrors, door handles and lead indicators are highlighting features of this car.

I am a proud owner of Volvo XC 90 for some time now and this car is one of the best premium luxury family car. The car has been reasonably prices as per the brand name and model type of the car. The exterior has a distinguished and futuristic look that has high durability and looks brand new even after a year of usage. The family car may look compact from outside; however, it is very spacious and comfortable inside. The cabin has every required comfort driven features like air-conditioner with air quality system and multi-active sensor, heated front seats, remote control for audio system and middle row with three split backrest. The driver has convenience with features such as adjustable power steering, central locking, remote controlled boot and fuel lid, rear defogger, electrically adjustable driver's seat with memory and advanced instrument panel. Moreover, there are equipments like 6 speed automated Geartronic, headlight washer, sun-roof, driver passenger illuminated vanity mirrors, 12 outlet luggage compartment and a lockable glove compartment. Volvo XC 90 is the best crossover family size SUV which not only provides a comfortable cabin experience but also has proven to be very favourable in terms of ride quality, performance and mileage.

This surely is a very good car for India, but at over 40 Lakhs on the road price it is too expensive due to the horrendous taxes imposed by the government on import of these machines and those manufacturers who have units being assembled in India such as Toyota have a much more competitive edge in offering better value for money
View All XC60 User Reviews
Write Review
XC60 FAQs
Volvo XC60 is a 5 seater car with 5 doors.
Ground clearance of Volvo XC60 is 216 mm.
Quick Facts about
Volvo XC60
Volvo XC60, a SUV, is available from ₹ 65.90 Lakh in India. Volvo offers the latest XC60 in 1 versions in India. The base model B5 Inscription starts at ₹ 65.90 Lakh in Delhi and the top model B5 Inscription priced at ₹ 65.90 Lakh in Delhi. If you are looking for 5 seater car then you should consider XC60.
Volvo XC60 comes in 5 colors which include Onyx Black, Denim Blue, Pine Grey, Crystal White, Thunder Grey.
Read More
Read Less
Compare XC60 with Alternatives
| | | | | |
| --- | --- | --- | --- | --- |
| | Volvo XC60 | Volvo XC90 | Volvo XC40 | Audi Q5 |
| Price | ₹ 65.90 Lakh | ₹ 93.90 Lakh | ₹ 44.43 Lakh | ₹ 59.88 Lakh |
| Fuel Type | Mild Hybrid(Electric + Petrol) | Mild Hybrid(Electric + Petrol) | Petrol | Petrol |
| Engine Size | 1969 cc | 1969 cc | 1969 cc | 1984 cc |
| Transmission | Automatic (TC) | Automatic (TC) | Automatic (TC) | Automatic (DCT) |
| Power | 250 bhp @ 5500 rpm | 300 bhp | 187 bhp @ 5000 rpm | 249 bhp @ 5000 rpm |
| Torque | - | 420 Nm | 300 Nm @ 1300 rpm | 370 Nm @ 1600 rpm |
| Safety Rating | 5 Star (Euro NCAP) | 5 Star (Euro NCAP) | 5 Star (Euro NCAP) | 5 Star (Euro NCAP) |
| Boot Space | 505 litres | 530 litres | 432 litres | 520 litres |
| Ground Clearance | 216 mm | 238 mm | 211 mm | - |
| Size | 4688 mm L X 1902 mm W X 1658 mm H | 4953 mm L X 2008 mm W X 1776 mm H | 4425 mm L X 1863 mm W X 1652 mm H | 4682 mm L X 1893 mm W X 1655 mm H |
| Compare | - | Compare XC60 vs XC90 | Compare XC60 vs XC40 | Compare XC60 vs Q5 |
Volvo XC60 Videos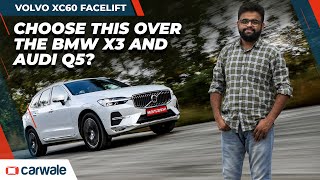 Volvo XC60 2021 India Review | New Mild-Hybrid Powertrain | Better Than BMW X3 and Audi Q5? CarWale
12/14/2021
Volvo XC60 News
Volvo Car India to hike prices up to Rs 3 lakh from January 2022
Volvo Car India has announced an increase in the ex-showroom prices of its cars with effect from 1 January, 2022. The company is hiking the prices, which ranges from Rs 1 lakh to Rs 3 lakh (ex-showroom), due to the rise in input costs.
Upcoming Volvo cars to get 25 per cent recycled plastics by 2025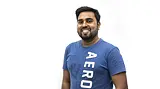 By 2025, Volvo plans to utilise a minimum of 25 per cent of recycled plastic in every new car. To present its future plans to the world, the Swedish car manufacturer revealed a specially built
Volvo India mulls local assembly for more models
Volvo has said that it is looking at local assembly for models in its India range. The Swedish automaker began assembly of the XC90 in October and had hinted at more models joining the ranks of their
2021 Volvo XC60 and S90 launched in India; both priced at Rs 61.90 lakh
2021 Volvo XC60 and S90 launched in India; both priced at Rs 61.90 lakh
Volvo XC60 scores highest safety rating at Euro NCAP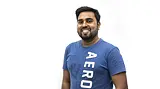 Volvo XC60 has emerged as the best performing large off-roader, and the car with the best overall performance of 2017 in the Euro NCAP 2017 Best in Class safety awards. The SUV has scored 98 per cent
Find New Cars of Your Choice
PRICE RANGE

FUEL TYPE

BODY TYPE

MAKE

MORE