Volvo C40 Recharge price in India starts from ₹ 61.25 Lakh. C40 Recharge is available in 8 colours - Crystal White, Onyx Black, Fjord Blue, Sage Green, Fusion Red, Cloud Blue, Vapour Grey, and Silver Dawn. Volvo C40 Recharge seating capacity is 5 People. Volvo C40 Recharge has received 5 Star (Euro NCAP) star NCAP Rating safety rating.
Volvo C40 Recharge car is available in 1 versions and 1 fuel options - electric.
The new Volvo C40 Recharge, a SUV from Volvo, was launched in India in Sep 2023. C40 Recharge has received a 100% rating score from our users.
Volvo C40 Recharge competes with Volvo XC40 Recharge, BMW iX1 and Kia EV6 in India.
Volvo C40 Recharge Model List
| C40 Recharge Model | Price | Key Specs |
| --- | --- | --- |
| E80 | ₹ 61.25 Lakh | Electric |
Volvo C40 Recharge Price
Volvo C40 Recharge price starts from ₹ 61.25 Lakh. Volvo C40 Recharge EMI starts from ₹ 1,24,193. Select city to check Volvo C40 Recharge on-road price.
Version
All Versions
City
Not Selected
Avg. Ex-Showroom price
Volvo C40 Recharge Monthly EMI
₹ 1,24,193 for 5 Years
Ex-Showroom Price

This price includes GST and any state/city entry tax. However, the ex-showroom price does not include RTO, Insurance, Fast tag, and other accessories cost

₹

0

Registration Charges

Road Tax or registration tax This varies from city to city.

₹

0

Insurance

The insurance cost on CarTrade covers 1-year comprehensive insurance cost with 95% IDV and 3-year third-party insurance cost.
IDV - it is the max amount you will receive if your vehicle is stolen or completely damaged.
Third-party insurance - If you met with an accident with another vehicle, third-party insurance covers cost against damages to the other vehicle or the owner/driver of the other vehicle. It is helpful in the event of an accident by your mistake.
Insurance is mandatory for every vehicle as per the Indian Govt laws.

₹

0

Other Charges

₹

0

On-Road price

The final price you will need to pay to purchase the car in your city. On-road price = ex-showroom price + RTO + Insurance + Fast tag and other accessory charges.

₹

0
Need help with Test Drive, Offers Resale Value, Wait Time or anything else?
Sponsored
Contact dealer for
Test Drives
Offers & Exchange
EMI Options
Insurance
Volvo C40 Recharge Key Specifications
| | |
| --- | --- |
| Price | ₹ 61.25 Lakh |
| Fuel Type | Electric |
| Driving Range (km) | 530 km |
| Seating Capacity | 5 People |
| NCAP Rating (Best - 5 Star) | 5 Star (Euro NCAP) star NCAP Rating |
| Warranty | 3 Years or Not Applicable km |
| Battery Warranty | 8 Years or 160000 km |
| Battery Capacity | 78 kWh |
| Size | 4440 mm L X 1873 mm W X 1591 mm H |
| Ground Clearance (mm) | 171 mm |
| Avg. Waiting Period | 8 - 18 Weeks |
About Volvo C40 Recharge
Model launch date
The Volvo C40 Recharge was launched on 4 September, 2023.
Feature list
The C40 Recharge comes equipped with features such as a nine-inch touchscreen infotainment system, panoramic sunroof, wireless charging, fully digital instrument console, ADAS capability, and a 360-degree camera.
On the outside, it gets Volvo's signature Thor's Hammer-shaped LED DRLs, LED headlamps, vertically stacked LED taillights, 19-inch alloy wheels, sloping roofline, and a boot-mounted spoiler.
Battery pack, performance, and specifications
The Volvo C40 Recharge gets a 78kWh battery pack that's paired with two electric motors. The combined output is rated at 405bhp and 660Nm of torque, with a WLTP-certified range of 530km on a single full charge. A 150kW charger enables the battery to be juiced up from 10 to 80 per cent in 27 minutes.
Variants
The Volvo C40 Recharge is available in a single, fully loaded variant.
Safety
The Volvo C40 Recharge has a five-star safety rating in the Euro NCAP crash test. It comes with all the advanced active safety features, including a full suite of ADAS.
Competition
The C40 Recharge competes against other mid-size EVs, including the Kia EV6 and the Hyundai Ioniq 5.
Last updated on 6 September, 2023.
Read More
Volvo C40 Recharge Variants
Find a list of all 1 electric versions of Volvo C40 Recharge. This table includes Volvo C40 Recharge on-road price which covers all costs like RTO and Insurance.
C40 Recharge Electric price in India is ₹ 61.25 Lakh.
C40 Recharge Automatic price is ₹ 61.25 Lakh.
C40 Recharge Sunroof price is ₹ 61.25 Lakh.
Filter By
Fuel type, Transmission and Seating Capacity
Electric
Automatic
5 Seater
Volvo C40 Recharge Versions
Ex-showroom Price
Compare

Electric

₹ 61.25 Lakh

Key Features : 7 Airbags, Sunroof, Cruise Control, Push Button Start, Wireless Charger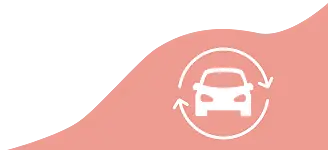 Explore Used Cars
Explore thousands of used cars at best prices
Volvo C40 Recharge Price in India
Volvo C40 Recharge Images
Volvo C40 Recharge Expert Review
Good Things
Coupe-SUV styling
Higher claimed range
Blistering quick acceleration
Could be Better
Compromised second-row space
Engine and Performance
Underpinning the C40 Recharge is the same CMA platform you get in the XC40 Recharge. And unlike the XC40 Recharge which also gets an ICE version, the C40 is available only as an EV. What we get here in India is the dual-motor version. There's one motor on each axle with a combined output of 402bhp and 660Nm.
The 78kWh battery pack has a claimed range of 530kms on a single charge (under WLTP cycle) which is more than the XC40 Recharge's 418kms. It also supports 150kW of DC fast charging capable of getting the charge from 10 to 80 per cent in just 27 minutes.
What the specification won't tell you is that this is a fast car. Sprint time of 0-100kmph comes up in just 4.7 seconds! It's even quicker by a few milliseconds compared to the XC40 thanks to the more aerodynamic body style. And the way it catapults ahead is neck-snapping. Be it any speed, one quick dab on the throttle and the digital instrument cluster fails to keep up with the lighting quick-way the C40 mounts up speed.
One change over the XC40 Recharge here is the Auto Mode for one pedal. It intelligently controls when and how you'd need the one-pedal setup which we weren't able to test out completely in the limited time we had the car. But otherwise, the one-pedal setup on the C40 works brilliantly.
Ride and Handling
The steering is quick and responsive as well and there's also a way to add stiffness to the steering feel via a setting in the touchscreen. In terms of ride quality, the C40 is well-absorbent and goes over all the bumps and creases without sending any of them inside the cabin. It doesn't crash or thuds even on the worst of the potholes and the ride only gets better as the speed increases. There are no drive modes here but there's ADAS and that's another thing we'll have to check once we get the C40 back home.
Exterior Design
Up front, the design of the C40 is identical to the MY2023 XC40 Recharge. But move to the back and the sloping roofline makes for an awe-inspiring sight. Unlike some other coupe-SUV designs which appear afterthought and shoddily done, this one is quite well executed. Out in the wild, the C40 Recharge does grab a second look which is something the XC40 isn't able to do.
The sloping roofline is like a proper coupe silhouette and the taillamps are quite tastefully designed around the whole pillar and the tailgate. And there are spoilers too; two to be precise. One is mounted on the roof with a double-bubble vent design while the other one is lower down the belt-line done up in gloss black. The 19-inch dual-tone alloy wheels are the only choice for now, but you can have the C40 in six colour options.
Comfort, Convenience and Features
No animals were harmed in the making of this Volvo. All materials you see inside the cabin are vegan and leather-free. Extending its eco-friendly nature is the extensive use of recycled materials all around. Now personally I am a huge fan of minimalistic cabins, and that's why Volvo's cabin is one of my favourites. You get the same layout across the model range and the touchscreen system you see here is also the same. It runs Google's Android-based OS and has a good response and simple interface. But there's the party piece of the C40 cabin – the dashboard insert here has backlit topography of Abisko National Park in Sweden. The contours of the topography are traced to create this abstract design in a 3D effect. It's like a new Mahindra or Tata EV sporting the topography of Ranthambore National Park. How cool is that?!
Now the most significant trade-off with a coupe SUV is the compromised headroom here in the second row. But we saw it during the walk-around video as well; the space here isn't too bad. Sure the windows are narrow and the view outside is hampered. But the scoop in the roof doesn't brush your head on top. Taller passengers sure might rub their heads on top, but for someone with my frame, longer journeys shouldn't be a hassle. That said, I wish the seat back wasn't as upright as it is here. It makes for an awkward seating position.
Now that aside, the C40 is high on practicality. Let's take a look at all the clever solutions one by one. First up is the built-in trash can that's integrated into the centre console and is removable as well to empty once it's full. Secondly, there's a hook inside and over the glove-box so you can hang your grocery bags. And that's not all; the glove-box also has a pen holder.
There's a plastic ticket holder on the windscreen where you can even hang your toll receipts. Then there's an additional flexible tray with hooks to hold your extras which also creates a separate compartment within your boot space. Apart from the boot space, this being an EV, there's an additional 31 litres of frunk as well.
Conclusion
Volvo will launch the C40 in India on 4 September and bookings are set to commence the next day on 5 September. When it goes on sale in India, the C40 Recharge will be sold alongside the XC40 Recharge. It is targeted at people with finer taste in wines, who prefer calling the chauffeur instead of a driver, and those who know the taste of caviar. And since it will carry a premium over the XC40 Recharge it should lighten your pocket by around Rs 60 lakh (ex-showroom).
At this price, the C40 Recharge is entering a space that has other premium EVs like the BMW i4 which is a sedan, Mercedes-Benz EQB which is a seven-seater crossover, and the Korean pair of Hyundai Ioniq 5 and the Kia EV6 – which are the biggest threat to the C40. They offer almost everything the Volvo has on offer and some more. They are also equally good to drive while being spacious and practical too.
But you know the Volvo brand, and you know what it stands for. And the C40 gives you all of that with extra oomph in the style department. It's surely quite handsome looking than the XC40 and is blisteringly quick as well. Over the XC40, it claims to offer more range too. So the C40 Recharge delivers everything you come to expect from a Volvo, and we think it will be worth the extra money it will demand over its sibling.
Pictures by Kapil Angane and Volvo India
C40 Recharge FAQs
The
on-road price of the Volvo C40 Recharge in Delhi
starts at ₹ 61.25 Lakh for the electric engine.
Volvo C40 Recharge runs 530 km in a single charge.
Volvo C40 Recharge is a 5 seater car with 5 doors.
Volvo offers battery warranty for first 160000 km with all offered 1 versions. However, warranty expires after 8 years even if km is not achieved.
Volvo C40 Recharge Dealers in India
Quick Facts about
C40 Recharge
Volvo C40 Recharge price in India goes from ₹ 61.25 Lakh in India.Volvo C40 Recharge being a SUV comes in 1 variants.The base model of Volvo C40 Recharge - E80 starts at ₹ 61.25 Lakh in Delhi and the top model of Volvo C40 Recharge - E80 is priced at ₹ 61.25 Lakh in Delhi. If you are looking for a 5 seater car then you should consider Volvo C40 Recharge.
Volvo C40 Recharge car comes in 1 electric versions. The Volvo C40 Recharge electric version comes with 78kWh battery and generates 408bhp power. It can drive 530Km on full charge.
Volvo C40 Recharge comes in 8 colors which include Crystal White, Onyx Black, Fjord Blue, Sage Green, Fusion Red, Cloud Blue, Vapour Grey, and Silver Dawn.
Compare C40 Recharge with Alternatives
| | | | | |
| --- | --- | --- | --- | --- |
| | Volvo C40 Recharge | Volvo XC40 Recharge | BMW iX1 | Kia EV6 |
| Price | ₹ 61.25 Lakh | ₹ 56.90 Lakh | ₹ 66.90 Lakh | ₹ 60.95 Lakh |
| Fuel Type | Electric | Electric | Electric | Electric |
| Engine Size | - | - | - | - |
| Transmission | Automatic | Automatic | Automatic | Automatic |
| Power | 408 bhp | - | - | - |
| Torque | 660 Nm | - | 494 Nm | - |
| Safety Rating | 5 Star (Euro NCAP) | 5 Star (Euro NCAP) | - | 5 Star (Euro NCAP) |
| Boot Space | 413 litres | 419 litres | - | 572 litres |
| Ground Clearance | 171 mm | 175 mm | - | 178 mm |
| Size | 4440 mm L X 1873 mm W X 1591 mm H | 4440 mm L X 1863 mm W X 1647 mm H | - | 4695 mm L X 1890 mm W X 1570 mm H |
| Compare | - | Compare Volvo C40 Recharge vs XC40 Recharge | Compare Volvo C40 Recharge vs iX1 | Compare Volvo C40 Recharge vs EV6 |
Volvo C40 Recharge Colors
Volvo C40 Recharge Videos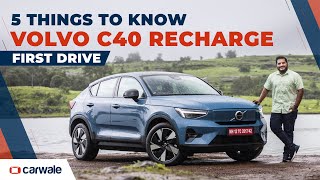 Volvo C40 Recharge | 5 Things You Need To Know about Volvo's Newest Electric SUV | CarWale
09/01/2023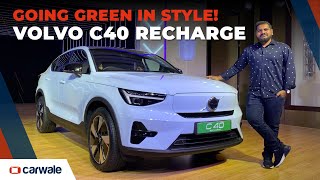 Volvo C40 Recharge Electric SUV Launch in August 2023, Range, Interior, Space Explained | CarWale
06/17/2023
Find Similar Cars of Your Choice
Popular Volvo Cars
View All
Avg. Ex-Showroom price

Avg. Ex-Showroom price

Avg. Ex-Showroom price

Avg. Ex-Showroom price

Avg. Ex-Showroom price
Used Volvo Cars
₹ 8.75 Lakh

Starting Price

₹ 29.75 Lakh

Starting Price

View All Used Volvo Cars