Toyota Camry
₹

41.18 Lakh

Avg. Ex-Showroom price

₹

83,505

Starting EMI

EMI calculated for 20% of the ex-showroom price, for a tenure of 5 years at 8% interest rate.

Mileage

19.16 kmpl
Toyota Camry
| | |
| --- | --- |
| Price | ₹ 41.18 Lakh |
| Mileage | 19.16 kmpl |
| Engine | 2487 cc |
| Transmission | Automatic (CVT) |
| Fuel Type | Hybrid (Electric + Petrol) |
| Seating Capacity | 5 Seater |
About Toyota Camry
Summary
This latest generation Toyota Camry that is underpinned by the Japanese automaker's TNGA platform was launched for the Indian car market in early 2019. The updates for this 12th generation Camry includes the likes of a completely new cabin and a wide variety of comfort and driving features. The Japanese automaker has given the car a sporty design which it has dubbed the 'Keen Look' design language. The Camry is a CBU and is only available in a single top-of-the-line hybrid version for the Indian car market.
Exterior
This eighth-generation Camry's exterior design highlights include the likes of swept-back LED headlamps with very distinctive three-bar boomerang-shaped DRLs that help the car's face stand out from the crowd. The large grille on the face lends a much more aggressive stance over its predecessor making sure that you notice the car in a crowd. Given its massive size, the sleek and elongated sides with 17-inch multi-spoke alloy wheels do well to complement the sporty fascia. The rear gets a sleek pair of tail lights which gives it a very European premium sedan appearance.
Interior
In terms of design and layout not much has changed from the seventh generation car because it was quite good, to begin with. What Toyota has done is updated the feature list that includes an all-black cabin, ambient lighting, multi-zone climate control, power driver's seat, ability to control and a nine-speaker JBL music system, a leather-wrapped steering wheel with audio controls, cruise control and wireless charging. The centre console is highlighted by a new eight-inch touchscreen system. Safety features include 10 airbags, ABS with EBD and traction control.
Engine & Transmission
Under the hood, the new Toyota Camry is powered by a 2.5-litre hybrid-petrol powertrain that produces a combined power output of 215bhp and 221Nm of torque. The engine comes mated to a six-speed CVT transmission and the power is sent to the front wheels.
Read More
Toyota Camry Price List
Filter By
Fuel type, Transmission and Seating Capacity
Hybrid (Electric + Petrol)
Automatic (CVT)
5 Seater
Camry Versions
Ex-showroom Price
Compare

Hybrid (Electric + Petrol), 2487 cc, Automatic (CVT), 19.16 kmpl

Fuel Type: Hybrid (Electric + Petrol)
Engine: 2487 cc (Higher engine size helps to generate more power)
Transmission: Automatic (CVT) (In an automatic car, there are no gears or clutch, so the driver just needs to handle the brake and accelerator. It is really helpful when you are driving in peak traffic)
Mileage: 19.16 kmpl (ARAI reported mileage)

₹ 41.18 Lakh

Key features: 9 Airbags, Sunroof, Push Button Start, Android and Apple Smart Connectivity, Steering Mounted Controls
Toyota Camry Price in Popular Cities
Toyota Camry Expert Review
2019 Toyota Camry First Drive Review
The Camry is one of Toyota's highest selling sedans in the world. But sales have been slow for the model in India. More so, after the GST on hybrids went up almost a year and half ago. Toyota though is soldiering on with the car.
Read More
Toyota Camry Expert Review
2019 Toyota Camry First Drive Review
The Camry is one of Toyota's highest selling sedans in the world. But sales have been slow for the model in India. More so, after the GST on hybrids went up almost a year and half ago. Toyota though is soldiering on with the car.
However, the carmaker believes that, for a country like ours which is still so heavily dependent on coal for power generation, a hybrid is the best bet in the short and mid term. And so, to show its intent, Toyota has launched the latest generation Camry Hybrid in India. And this is what we thought of it after driving it.
The Camry is long and low. And it has traditional sedan proportions - a long hood and a relatively stubby boot. In its eighth generation now, the Camry's design has finally gotten some spunk.
It's still more luxurious than sporty in its design. And, with those LEDs, the chrome highlights, and the gaping front bumper, it has its fair share of bling as well. The 18 inch wheels shod with low profile tyres further add to the car's visual appeal.
Just to throw in some facts - the new Camry measures 4,885mm in length, 1,840mm in width, and 1,455mm in height. This makes it both longer and wider than the diesel powered and similarly priced Volkswagen Passat. What's more, at 2,825mm, the Camry has a significantly longer wheelbase as well.
It comes as no surprise then that the new Camry is extremely spacious, particularly in the rear. There's enough and more kneeroom for even the tallest adults. And the shoulder room is handsome too; excessive for two and roomy enough for three. Also, with the battery stack now placed under the rear seat, Toyota claims the boot is both bigger and more usable.
We, meanwhile, fell in love with the rear seats on the new Camry. To begin with, these are supremely comfortable. They are large, cushy and supportive and feel great to touch. And, they have electrical adjustment for the back rest.
Besides that, there's a dedicated climate control zone for the rear passengers. And the rear central armrest now gets capacitive touch operation for audio, seat-back adjustment, and climate control. Furthermore, the left rear passenger also has the option to adjust the front passenger's seat; the perfect feature for those being chauffeur-driven.
Upfront, the dash design is refreshing. There's a large touchscreen surrounded by aircon and shortcut buttons for the audio. And, the choice of colours and materials give the Camry's interior an air of opulence.
Additionally, the front seats, much like the ones at the back, are big, comfy, and rich to the touch. These are also electrically adjustable for reach, recline and height. And, they also have memory function, and are vented!
Other telling features include, in-built navigation, a head-up display, three-zone climate control, rear power shade and a sunroof. For safety, the Camry gets nine airbags, stability control, traction control, and tyre pressure monitoring.
However, a closer examination brings up chinks in the Camry's interior. Now, these aren't those make-or-break type of flaws, but they do fall a little short of our expectations for the car. The power window switches, the matte black finish on the steering, the choice of fonts for both the touchscreen and the driver MID, leave a little to be desired. These lack that luxury and quality feel that Camry is selling.
The new Camry is powered by a four cylinder, 2.5-litre petrol engine. On its own, it develops a little under 180bhp and 221Nm of peak torque. But, this one is a parallel hybrid, which means there's electric power to help things along as well.
That electric help comes in the form of a permanent magnet motor with output figures reading 88kw (120bhp) and 202Nm. However, the engine and the electric motor never deliver their maximum at the same time. The combined power output, as a result, is more like 220bhp and not almost 300bhp as simple mathematics would have you believe.
The two powerhouses channel their outputs via a CVT which drives the front wheels. Now, on the new Camry, this CVT also offers paddleshifters, and there are three driving modes as well - Eco, Normal and Sport.
Normal is the default mode, while Eco nudges the drivetrain to use as much e-power as often as possible. In Sport, the throttle response becomes more immediate, the steering weighs up ever so slightly, and the manual mode and the paddle shifters finally feel relevant.
Having said that, the difference is anything but dramatic. In fact, nothing about the way the Camry drives screams sporty. It's more of a quiet, easy-going, mile-muncher.
Don't hurry it along, and it's almost effortless to drive. It rides well over small undulations, tiny potholes, and road joints. It remains flat and poised. Add to it, the good visibility, courtesy the low dashboard, and the relatively thin pillar, and there's really very little that bothers you about the Camry.
But, it doesn't feel at its best when wrestled around or driven hard. At higher speeds, its rear begins to wallow, which is anything but comfortable. It also doesn't like being thrown around from corner to corner. Its length and soft suspension setup get in the way. And, even though it has a quick steering rack, there's hardly any feel at the wheel to talk about.
And, lest we forget, the engine, although rev-happy, does get loud when revved. And then there's the CVT's innate ability to hold the revs constant near the redline when driven with a heavy foot. That and the loud engine isn't a great combo.
The Camry is one of its kind. It's the only luxury sedan under 40 lakhs to come with a hybrid drivetrain. Which, was true earlier as well, sure, but the previous model lacked desirability beyond the 'green tag.
That changes with the new Camry. It's desirable to look at, it is well-appointed on the inside, and it is fantastic when it comes to rear seat comfort. It's also packed with features.
Yes, it's still not a car one would buy for driving pleasure. And, yes, it could do with better materials at places. But overall, it is a significant step-up from the car it replaces. And, one that is easier to recommend now.
Photographs by Kapil Angane
User Reviews for Camry
Whats Good

comfortness, trustworthy

What Can Improve

city riding

Mileage Details

Mileage (City)

13 kmpl

Mileage (Highway)

17 kmpl

Maintenance

3000 per month

My recent purchase Toyota Camry A/T has enhanced my image among my friends. The car is loaded with a 2362 cc engine, which is supported by 16 valves. Power generated by the engine of this car is 166 hp at 600 rpm, whereas the torque churned by the engine of this car is 224 Nm at 4000 rpm. Due to this power, I can face any kind of on-road challenges. The company has provided MacPherson strut/ MacPherson strut (Dual-link strut) suspension, which assures smooth journey. I have never felt any kind of jerks, while driving this car on rough terrains. There are numerous comfort features in the Toyota Camry A/T, which makes journey comfortable. I find the seats of this car quite comfortable, whenever I travel in it. Automatic climate control is provided in the car for maintaining adequate temperature in it. Headrests are provided in the car for maximum comfort, which also minimises the risk of any kind of injury. Apart from the interior design, the external looks of the car is also amazing. The company has provided a sleek look to this luxury sedan, which makes it a headturner. Regarding the speed and acceleration, I have no problem with this car.

I have had a good experience with my Toyota Camry which I bought around a month ago. It has a fuel-efficient engine and provides a good mileage. The Camry is available in the market with two variants, one is automatic and the other is manual. By paying a little more I decided to buy the automatic variant. It comes with a 2.4L A/T (W2), 16 valve, DOHC WT-I, petrol engine that generates a power of 122 hp at 6000 rpm. While driving in the city the Camry manages a mileage of around 8.3 kmpl and on the highway it reaches around 12.5 kmpl. This car is suitable for a long journey as it has spacious interiors and comfortable seating. It is equipped with a dual zone automatic air conditioner with plasmacluster and minus ion generator, which helps in adjusting the temperature inside the car. Camry also has quite a few safety features which include 6 airbags, vehicle stability control, brakes with ABS (Anti-locking Braking System) and high intensity discharge headlamps. The anti-locking braking system helps the car from skidding while braking on rough roads. It is quite an essential safety feature. All in all the features available in Toyota Camry definitely makes up for the price paid.

Being a fan of Toyota Car, I have purchased Toyota Camry 2.4L A/T (W2), which is a luxury sedan. I cannot stop admiring the exterior design of this master piece. It feels that the designers of the company have delivered their best efforts to create this master piece. I have received many complements from my colleagues, who are impressed by the sleek design of this car. The headlights, grille and fog lamps together make Toyota Camry 2.4L A/T (W2) a style icon. Apart from the style and beauty of this car, I am also satisfied by its on-road performance. The vehicle comes with 16 valve DOHC 2362 cc engine, which delivers power of 167 hp at 6000 rpm, whereas the torque churned by the engine of this car is 224 Nm at 4000 rpm. Due to the high power, the vehicle is able to attain high speed. I find the 5-speed manual transmission quite effective as it contributes towards the speed and acceleration of this car. The comfort features of Toyota Camry 2.4L A/T (W2) make it a true luxury car. It has spacious interior, which provides enough leg room and head room. Cup holders, large glove box and seat back pockets are also present in this vehicle. Due to the front console side pockets, I can store necessary items conveniently
View All Camry User Reviews
Write Review
Quick Facts about
Toyota Camry
Toyota Camry, a Sedan, is available from ₹ 41.18 Lakh to ₹ 41.18 Lakh in India. Toyota offers the latest Camry in 1 versions in India. The base model Hybrid starts at ₹ 41.18 Lakh in Delhi and the top model Hybrid priced at ₹ 41.18 Lakh in Delhi. If you are looking for 5 seater car then you should consider Camry.
Camry comes in .
Toyota Camry comes in 7 colors which include Attitude Black, Burning Black, Graphite Metallic, Phantom Brown, Platinum White Pearl, Red Mica, Silver Metallic.
Read More
Read Less
Similar Cars To Toyota Camry
Camry Specifications
Note: Specifications for Camry Hybrid have been mentioned
Fuel Type
Hybrid (Electric + Petrol)
Transmission
Automatic (CVT) - CVT Gears, Paddle Shift, Sport Mode
Mileage - ARAI Reported
19.16
Engine
2487 cc, 4 Cylinders Inline, 4 Valves/Cylinder, DOHC
Engine Type
Petrol-Hybrid
Peak Power (bhp@rpm)
176 bhp @ 5700 rpm
Peak Torque (Nm@rpm)
221 Nm @ 3600 rpm
Peak Engine Performance
215 bhp @ 5700 rpm, 221 Nm @ 3600 rpm
Electric Motor
Permanent magnet synchronous Placed At Front Axle
Peak Motor Performance
119 bhp 202 Nm
Battery
Nickel Metal Hydride, 245 Volt,Battery Placed Under Floor Pan
Others
Regenerative Braking, Idle Start/Stop
Steering, Tyres, & Suspnsions
Steering Type
Power assisted (Electric)
Minimum Turning Radius
5.8
Suspension - Front
MacPherson Strut
Suspension - Rear
Double Wishbone
Tyres Size - Front
235 / 45 R18
Tyres Size - Rear
235 / 45 R18
Size, Weight, & Dimensions
Fuel Tank Capacity (L)
50
Toyota Camry Videos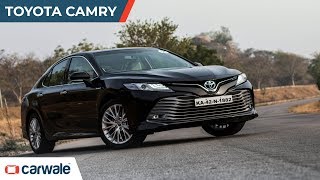 Toyota Camry Why You Need A Hybrid? Test 5 Minute Review
05/23/2019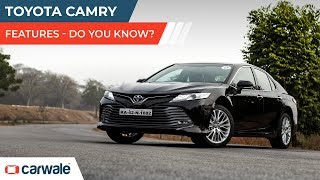 Toyota Camry Features Do You Know? 1 Minute Test Review
05/26/2019
Toyota Camry News
Toyota retails 9,284 vehicles in September 2021
Toyota retails 9,284 vehicles in September 2021
Toyota now offering eight year warranty on hybrid electric batteries
This is the longest warranty in the segment
2019 Toyota Camry arrives at dealerships
2019 Toyota Camry arrives at dealerships Ahead of its anticipated launch on 18 January, the new-gen Toyota Camry has been spotted at the dealership. This eighth-generation Camry is based on the
Toyota cars to become expensive from 1 October, 2021
Toyota cars to become expensive from 1 October, 2021
Toyota launched the new Camry in India at Rs 36.95 lakhs
Toyota has launched the new-gen Camry in India for the price of Rs 36.95 lakhs (ex-showroom Delhi). The eight-generation Camry is now based on Toyota's global platform. The flagship sedan has
Used Toyota Cars
₹ 1.75 Lakh

Starting Price

View All Used Toyota Cars