BMW X5
The new BMW X5, a SUV from BMW, was launched in India in May, 2019. X5 has received 94% rating score from our users. X5 is preferred for its Styling and Comfort.
BMW X5 price starts from ₹ 79.89 Lakh in India. X5 is available in 5 colours - Black Sapphire Metallic, Mineral White Metallic, Phytonic Blue Metallic, Carbon Black, Arctic Grey. X5 seating capacity is 5 People. X5 mileage is 11.2 - 13.3 km/l. X5 has received 5 Star (Euro NCAP) safety ratings.
X5 is available in 4 versions and 2 fuel options(s) - Petrol, Diesel. Petrol models comes with 2998cc engine which generates peak power of 335 bhp @ 5500 rpm .
X5 competes with Mercedes-Benz GLE, Jeep Grand Cherokee and Audi Q7 in India.
BMW X5 Model List
| X5 Model | Price | Key Specs |
| --- | --- | --- |
| xDrive40i SportX Plus | ₹ 79.89 Lakh | Petrol, 2998 cc, Automatic (TC) |
| xDrive30d SportX Plus | ₹ 81.49 Lakh | Diesel, 2993 cc, Automatic (TC) |
| xDrive30d xLine | ₹ 94.73 Lakh | Diesel, 2993 cc, Automatic (TC) |
| xDrive40i M Sport | ₹ 95.73 Lakh | Petrol, 2998 cc, Automatic (TC) |
X5 Price
Version
All Versions
City
Not Selected
Avg. Ex-Showroom price
X5 starting EMI
₹1,61,998 for 5 Years
Ex-Showroom Price

This price includes GST and any state/city entry tax. However, the ex-showroom price does not include RTO, Insurance, Fast tag, and other accessories cost

₹

0

Registration Charges

Road Tax or registration tax This varies from city to city.

₹

0

Insurance

The insurance cost on CarTrade covers 1-year comprehensive insurance cost with 95% IDV and 3-year third-party insurance cost.
IDV - it is the max amount you will receive if your vehicle is stolen or completely damaged.
Third-party insurance - If you met with an accident with another vehicle, third-party insurance covers cost against damages to the other vehicle or the owner/driver of the other vehicle. It is helpful in the event of an accident by your mistake.
Insurance is mandatory for every vehicle as per the Indian Govt laws.

₹

0

Other Charges

₹

0

On-Road price

The final price you will need to pay to purchase the car in your city. On-road price = ex-showroom price + RTO + Insurance + Fast tag and other accessory charges.

₹

0
Need help with Test Drive, Offers Resale Value, Wait Time or anything else?
Sponsored
Contact dealer for
Test Drives
Offers & Exchange
EMI Options
Insurance
X5 Offers
1. Pay Just Rs.99999/-Month And Nothing Else
2. Insurance & Registration Charges Included
3. Service & Repair Charges Included
4. Assured Buyback Up To 55%
5. Additional Benefits For Corporates
Offer Valid Till : 30 Nov, 2022
T&C's Apply
BMW X5 Key Specifications
| | |
| --- | --- |
| Price | ₹ 79.89 - 95.73 Lakh |
| Fuel Type | Petrol, Diesel |
| Mileage | 11.2 - 13.3 km/l |
| Seating Capacity | 5 People |
| Safety Rating | 5 Star (Euro NCAP) |
| Warranty | 3 Years (Unlimited KMs) |
| Engine Size | 2998 cc, 2993 cc |
| Transmission | Automatic (TC) |
| Size | 4922 mm L X 2004 mm W X 1745 mm H |
| Fuel Tank | 83L, 80L |
| Ground Clearance (mm) | 214 mm |
X5 Expert Review
Opening
2015 BMW X5M Review
We are all well versed with the utility aspect of an SUV as its larger dimensions effectively mean squeezing more people along with more luggage space. They are the perfect solution for the weekend getaways or the occasional commute to a particular point where you need to haul great deal of luggage. While everything about them is good, functional and wise, they lack the enthusiasm of a fast car.
"Fast car?" Now that surely raises a question on my sensibility to compare two different types of vehicles but luckily, there is a company which supports my belief. BMW, a brand associated with premium cars, has an M – Motorsport division and their responsibilities are as simple as a typical teenager. They take normal cars and inject them with an extreme dose of performance, adrenaline and enthusiasm to make them go fast…real fast.
The X5M is one such vehicle endorsing a fact that SUVs can be made to behave like sports cars provided they have an 'M' badge etched on them. So how does a family mover feel when the ambience goes blur at eye wetting speeds, we find out in our first impression report.
Appearance Exterior
With a virtue of being an M car, there are some familiar traits that you see on all the beings of its high performance portfolio. The front face has an aggressive profile and looks extremely busy with those sharply cut headlights. The flared kidney grille, with a chrome surround, gets vertical slats done in gloss black. The fog lamps are placed neatly just beneath the grille. Making a larger impact on the front profile has to be the large intakes with the central zone occupying the maximum space followed by the smaller side air pockets. They not just look smashing indeed but also contribute to the cooling of the engine.
To the side, it gets a mono volume window line with a constant profile. The wheel arches have a distinct profile with a slightly protruding type design. It also features a side gill blade with a chrome garnish along with the model branding and this too is a functional addition. The X5 M boldly sits on M-specific 20-inch light-alloy wheels and they make the silhouette look extremely dynamic.
The wedge line running across the length slits the side profile and joins the rear at the tail light. The ride height sits tall at 195mm of ground clearance. Since it is based on the X5, the reminiscence is striking which except for the addition of side skirts, fancy wheels and side blades look the same. Even when seen from the rear quarter view, the power stance of the BMW X5M is impressive as it stands upright and tall.
The upper half of the rear profile plainly mimics the standard X5, it is the lower half which sets it apart. Firstly, it gets vertically placed rear reflectors which is also seen on the other M SUV and secondly, it gets the quintessential quad pipes to play the dreamy hoarse orchestra of power music. The rear air diffuser also adds to the functionality aspect.
Appearance Interior
The interiors of BMW X5M do great justice to the gorgeous outside. They are meant to be premium and with the use of upmarket materials and trims, BMW has managed to strike the right chords. Surely, the target audience will love it provided they want the best of both worlds of performance and luxury.
The wide running dashboard has been divided with multiple layers, The layer on top featured the large infotainment screen that displays a world of options including setting the right drive mode, navigation, accessing vehicle information, changing settings and also has a performance display mode showing the real time power and torque produced by means of a digitally created analog display. The only hold up is that the operation of this can only be done by the iDrive jog dial. If only this was touch screen, it would have been so better.
Coming to the comfort of the BMW X5M, the seats are bolstered well and if you choose the M-edition seats, you might have to hit the gym if you are on the healthy side. The support and bolsters on the side hold the occupants with a proper grip taking care of not letting them slip away during tight maneuvers. The headroom and legroom for taller passengers is comfortable. Moving to the rear, the knee room is just adequate but the generous headroom makes a lot of difference. In addition, sun roof comes as standard on the X5M for that airy cabin feel.
The rich quality of Alcantara leather leave an impression unlike any other as the well stitched seats in red highlighting the performance side along with the M badging make it feel adventurous from inside as well. This can be seen on the cluster and also on the three-spoke steering wheel with multifunction controls on it.
They have also taken care of the practicality aspect by giving sufficient storage options thought the cabin be it the large glove box, central console, door trims or even the large boot space. In fact, the boot space is very generous and can swallow a long weekend worth luggage without any hesitation.
Performance Drive
They all look carved out of enthusiasm and feel absolutely great inside but what separates the M cars from the usual bunch are the insane figures churned out under the long muscular hood. Strapped inside the bay is a 4.4-litre V8 motor that uses M TwinPower Turbo technology.
This beasty of a motor which is again shared with its sports coupe sibling makes a mind numbing 575 hp available at a peak engine speed of 6000 to 6500 rpm. If that piece of information has not impressed you already, then the foot thumping torque of 750 Nm made available at a mere 2200 rpm will surely do the needful.
Get the motor cranked up by the electric start button mounted on the dashboard and the growling engine note is cautioning of the exciting scheme of things lined ahead. BMW claims to have worked extensively on the new exhaust manifolds giving it a power bump of four percent and raising the torque further up by ten percent.
Now that the new motor makes use of a TwinTurbo unit, there is no lag felt as the mouthful of 750 Nm of torque is available at a low rpm which holds on to its peak until it reaches 5000 rpm, making the drive experience extremely engaging and enthusiastic. Though, the X5 M weighs considerably higher but the abundant power delivery hauls this 2.3-tonne SUV from standstill to fast motion in no time.
The aspect that we loved the most about this zippy family mover is the potential of the engine to keep revving all the way across the red line. This offers a wide range of engine speed to play around with. Unlike the typical thought about TwinTurbo units, there is lag of any sort felt on this unit.
Also, this time the task of controlling all that massive amounts of power and torque has been endowed on a eight-speed M Steptronic transmission with drivelogic. This unit has amazing shift quality and makes shifting from one cog to another a breezy job. The shift points can be altered manually with a setting which allows the engine to hold on to a particular engine speed for really long.
Tech Specs
| | |
| --- | --- |
| Make | BMW |
| Model | X5M |
| Fuel | Petrol |
| Engine | V8 - TwinTurbo |
| Engine Capacity | 4395 |
| Power in Hp/RPM | 575 / 6000 - 6500 |
| Torque in Nm/RPM | 750 / 2200 - 5500 |
| Gears | 8-Speed Steptronic |
| Length mm | 4880 |
| Width mm | 1985 |
| Height mm | 1754 |
| Wheel base mm | 2933 |
| Ground clearance mm | 195 |
| Fuel tank capacity L | 85 |
| Fuel Consumption Kmpl | 9 |
| Tyres F | 285/40 R20 |
| Tyres R | 325/35 R20 |
Features
| | |
| --- | --- |
| Features | BMW X5M |
| Automatic Start Stop Function | Yes |
| Brake Energy Regeneration | Yes |
| Park Distance Control (PDC) - Front & Rear | Yes |
| Harman Kardon Surround System(600W) | Yes |
| Active Protection with Attentiveness Assist | Yes |
| Airbags (Driver, Fr. Passenger, Front & Rear Head, Side) | Yes |
| Anti Lock Braking System With Brake Assist | Yes |
| Cornering Brake Control (CBC) | Yes |
| Dynamic Stability Control (DSC) | Yes |
| Dynamic Traction Control (DTC) | Yes |
| Electric Parking Brake with Auto Hold | Yes |
| Hill Descent Control | Yes |
| Run Flat Indicator | Yes |
| Side Impact Protection | Yes |
| Auto Tail Gate Operation | Yes |
| Panorama Sun roof | Yes |
| Multi Function Sport Steering Wheel | Yes |
Competition All Specs
Specifications
BMW
X5
Mercedes Benz
M Class
Variant
M
ML 63 AMG
Fuel
Petrol
Petrol
Engine
V8 - TwinTurbo
V8
Engine Capacity
4395
5461
Power in Hp/RPM
575 / 6000 - 6500
525 / 5250
Torque in Nm/RPM
750 / 2200 - 5500
700 / 1750
Gears
8-Speed Steptronic
7-Speed Automatic
Length mm
4880
4804
Width mm
1985
2141
Height mm
1754
1796
Wheel base mm
2933
2915
Ground clearance mm
195
NA
Fuel tank capacity L
85
93
Fuel Consumption Kmpl
9
8.47
Tyres F
285/40 R20
NA
Tyres R
325/35 R20
NA
Conclusion
So to conclude our first impression report of the 2015 BMW X5M, it looks very sporty and has also the M-badges you need to make it look fast. Inside, the interiors blend in comfort and performance with the right levels of practicality and the 4.4-litre V8 engine, with an acceleration timing of 0 to 100 kmph in 4.2 seconds, screams of its performance side. All of which translates into one things viz., if you want a practical car to go to office on weekdays and want to pull out crazy doughnuts on weekends, the BMW X5M is made for your kinds.
BMW X5 Variants
Find a list of all 2 petrol and 2 diesel versions of BMW X5. This table includes on-road price which covers all costs like RTO and Insurance.
Filter By
Fuel type, Transmission and Seating Capacity
Petrol
Diesel
Automatic (TC)
5 Seater
X5 Versions
Ex-showroom Price
Compare

Petrol, 2998 cc, Automatic (TC), 11.2 kmpl

Fuel Type: Petrol
Engine: 2998 cc (Higher engine size helps to generate more power)
Transmission: Automatic (TC)
Mileage: 11.2 kmpl (ARAI reported mileage)

₹ 79.89 Lakh

Key Features : Turbocharged, 6 Airbags, Sunroof, Cruise Control, Push Button Start

Diesel, 2993 cc, Automatic (TC), 13.3 kmpl

₹ 81.49 Lakh

Extra Features over xDrive40i SportX Plus versions : Wireless Charger, Alloy Wheels, Steering Mounted Controls, Reverse Camera with Guidance Parking Assist, Rear AC

Diesel, 2993 cc, Automatic (TC), 13.3 kmpl

₹ 94.73 Lakh

Extra Features over xDrive30d SportX Plus versions : Leather Seats, LED Headlights, Parking Sensors - Rear, Integrated Music System, Steering Adjustment

Petrol, 2998 cc, Automatic (TC), 11.2 kmpl

₹ 95.73 Lakh

Extra Features over xDrive30d xLine versions : Average Fuel Consumption Display, Gear Shift Indicator Display, Front & Rear Power Windows, Power Steering
BMW X5 Price in Popular Cities
About BMW X5
Summary
BMW has launched the Fourth-generation BMW X5 in India with more features and equipment as compared to its predecessor. The SUV is available in three variants – Sport, xLine and M Sport. Currently, it is available in xDrive 30d Sport and xDrive 30d xLine variant, while the xDrive40i M Sport variant will be introduced later this year.
Engine
Mechanically, the new-gen X5 is only available with a diesel engine at the moment, which will later be joined by a petrol motor as well. The xDrive30d has the same old 3.0-litre turbocharged straight-six diesel producing 261.5bhp and 620Nm, but now this motor is compliant with the BS-VI emission norms. The X5 xDrive40i will be introduced with a 335bhp/450Nm of peak torque. The eight-speed Steptronic transmission and xDrive all-wheel-drive come as standard.
Exterior
The new X5 is based on the CLAR platform, the SUV is now longer by 36mm measuring 4,922mm in length, width is up by 66mm to 2,004 mm and height by 19mm to 1,745mm. The wheelbase has been extended by 42mm to 2,975mm. BMW's iconic Kidney grille on the new X5 is larger than before, lending it an imposing character. The sleek LED headlamps are newly designed and have the BMW Laser light with adaptive LED signature. The front bumper gets large air vents surrounded by black inserts. The taillights are sleek and have a 3D lighting signature.
Interior
The cabin has been furnished along the lines of all new generation BMWs. There's a 12.3-inch floating infotainment touchscreen, horizontal centre console and now a fully-digital instrument cluster called the BMW Live Cockpit Professional display. The updated iDrive now supports a customisable display, touchscreen panel and gesture/voice commands. The cabin comes with standard leather upholstery, multifunction seats, four-zone climate control, panoramic sunroof, dynamic ambient lighting, passenger screens and wireless charging. The X5 also debuts the newly designed glass gear-selector lever.
Read More
User Reviews for X5
Whats Good

all good

What Can Improve

studie

Mileage Details

Mileage (City)

25 kmpl

Mileage (Highway)

25 kmpl

Maintenance

10000 per month
View All X5 User Reviews
Write Review
X5 FAQs
The
on-road price of the BMW X5 in Delhi
starts at ₹ 79.89 Lakh for the petrol engine. Meanwhile, the top end model (
X5 xDrive40i M Sport
) with petrol engine is priced at ₹ 95.73 Lakh.
The
on-road price of the BMW X5 in Delhi
starts at ₹ 81.49 Lakh for the diesel engine. Meanwhile, the top end model (
X5 xDrive30d xLine
) with diesel engine is priced at ₹ 94.73 Lakh.
BMW X5 is a 5 seater car with 5 doors.
Ground clearance of BMW X5 is 214 mm.
Quick Facts about
BMW X5
BMW X5, a SUV, is available from ₹ 79.89 - 95.73 Lakh in India. BMW offers the latest X5 in 4 versions in India. The base model xDrive40i SportX Plus starts at ₹ 79.89 Lakh in Delhi and the top model xDrive40i M Sport priced at ₹ 95.73 Lakh in Delhi. If you are looking for 5 seater car then you should consider X5.
X5 comes in 2 Petrol version (s) and 2 Diesel version (s).
The Petrol version comes with 2998cc engine capacity and Automatic (TC) transmission mode(s). It generates 335 bhp @ 5500 rpm.
The Diesel version comes with 2993cc engine capacity and Automatic (TC) transmission mode(s). It generates 262 bhp @ 4000 rpm.
BMW X5 comes in 5 colors which include Black Sapphire Metallic, Mineral White Metallic, Phytonic Blue Metallic, Carbon Black, Arctic Grey.
Read More
Read Less
Compare X5 with Alternatives
| | | | | |
| --- | --- | --- | --- | --- |
| | BMW X5 | Mercedes-Benz GLE | Jeep Grand Cherokee | Audi Q7 |
| Price | ₹ 79.89 Lakh | ₹ 85.73 Lakh | ₹ 77.50 Lakh | ₹ 83.30 Lakh |
| Fuel Type | Petrol | Diesel | Petrol | Petrol |
| Engine Size | 2998 cc | 1950 cc | 1995 cc | 2995 cc |
| Transmission | Automatic (TC) | Automatic (TC) | Automatic (TC) | Automatic (TC) |
| Power | 335 bhp @ 5500 rpm | 241 bhp @ 4200 rpm | 268 bhp @ 5200 rpm | 335 bhp @ 5200 rpm |
| Torque | 450 Nm @ 1500 rpm | 500 Nm @ 1600 rpm | 400 Nm @ 3000 rpm | 500 Nm @ 1370 rpm |
| Safety Rating | 5 Star (Euro NCAP) | 5 Star (Euro NCAP) | Not Tested | 5 Star (Euro NCAP) |
| Boot Space | 650 litres | 630 litres | 1068 litres | 295 litres |
| Ground Clearance | 214 mm | 215 mm | 215 mm | - |
| Size | 4922 mm L X 2004 mm W X 1745 mm H | 4924 mm L X 2157 mm W X 1772 mm H | 4914 mm L X 1979 mm W X 1792 mm H | 5064 mm L X 1970 mm W X 1703 mm H |
| Compare | X5 base vs top model | Compare X5 vs GLE | Compare X5 vs Grand Cherokee | Compare X5 vs Q7 |
BMW X5 Videos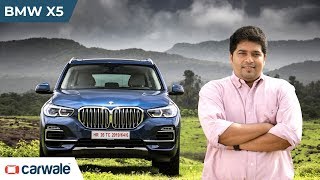 BMW X5 Luxury Can Be Fun!
08/05/2019
BMW X5 Features Explained
08/05/2019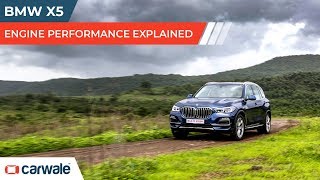 BMW X5 Engine Performance Explained
08/05/2019
Find New Cars of Your Choice
PRICE RANGE

FUEL TYPE

BODY TYPE

MAKE

MORE
Used BMW Cars
₹ 3.55 Lakh

Starting Price

View All Used BMW Cars