Audi Q7
The latest Audi Q7, a SUV from Audi, was launched in India in Feb, 2022. Q7 has received 93% rating from our users. Q7 is preferred for its Styling and Value for Money.
Audi Q7 price starts from ₹ 82.48 Lakh in India. Q7 is available in 5 colours - Carrara White, Mythos Black, Navarra Blue, Samurai Grey, Floret Silver. Q7 seating capacity is 7 People. Q7 mileage is 11.2 km/l. Q7 has received 5 Star (Euro NCAP) safety ratings.
Q7 is available in 2 versions and 1 fuel options(s) - Petrol. Petrol models comes with 2995cc engine which generates peak power of 335 bhp @ 5200 rpm .
Q7 competes with BMW X5, BMW X7 and Volvo XC90 in India.
Audi Q7 Model List
| Q7 Model | Price | Key Specs |
| --- | --- | --- |
| Premium Plus 55 TFSI | ₹ 82.48 Lakh | Petrol, 2995 cc, Automatic (TC) |
| Technology 55 TFSI | ₹ 89.89 Lakh | Petrol, 2995 cc, Automatic (TC) |
Audi Q7 2022 Price
Version
All Versions
City
Not Selected
Select Version
Premium Plus 55 TFSI
Technology 55 TFSI
Avg. Ex-Showroom price
Q7 starting EMI
₹1,67,236 for 5 Years
Ex-Showroom Price

This price includes GST and any state/city entry tax. However, the ex-showroom price does not include RTO, Insurance, Fast tag, and other accessories cost

₹

0

Registration Charges

Road Tax or registration tax This varies from city to city.

₹

0

Insurance

The insurance cost on CarTrade covers 1-year comprehensive insurance cost with 95% IDV and 3-year third-party insurance cost.
IDV - it is the max amount you will receive if your vehicle is stolen or completely damaged.
Third-party insurance - If you met with an accident with another vehicle, third-party insurance covers cost against damages to the other vehicle or the owner/driver of the other vehicle. It is helpful in the event of an accident by your mistake.
Insurance is mandatory for every vehicle as per the Indian Govt laws.

₹

0

Other Charges

₹

0

On-Road price

The final price you will need to pay to purchase the car in your city. On-road price = ex-showroom price + RTO + Insurance + Fast tag and other accessory charges.

₹

0
Audi Q7 Key Specifications
| | |
| --- | --- |
| Price | ₹ 82.48 - 89.89 Lakh |
| Fuel Type | Petrol |
| Mileage | 11.2 km/l |
| Seating Capacity | 7 People |
| Safety Rating | 5 Star (Euro NCAP) |
| Warranty | 2 Years (Unlimited KMs) |
| Engine Size | 2995 cc |
| Transmission | Automatic (TC) |
| Size | 5064 mm L X 1970 mm W X 1703 mm H |
| Fuel Tank | 85 litre |
Q7 Expert Review
Engine and gearbox
Why I would buy it?
Performance
Interior space
Why I would avoid it?
The third row is inadequate
No diesel option
The engine on offer is Audi's 3.0-litre V6 petrol in the 55TFSI guise. This engine produces 340bhp and 500Nm of torque. An eight-speed automatic has been the mainstay of the Q7 range and now Audi's Quattro AWD system is standard for both trim levels. s extremely smooth and very refined with hardly any sound coming out of the engine bay. The only time it gets vocal is when you floor it and it gives off that signature V6 snarl and even that sounds quite a bit distant.
On the go, it's a little slow off the line with some lag between you dabbing the throttle and the car moving but you once get going, the 500Nm of torque is quite well placed to mask the bulk of the Q7. The eight-speed gearbox when left to do it thing in the background works well to keep you in the meat of the torque band and ensures that you need to make quick overtakes, you are not short of motivation.
Such a large engine also afford you cruising ability with almost no effort to get up to three-digit speeds, stay there and go back if you suddenly have to drop speed. This eight-speed gearbox also gets paddle shifters which are instant to respond to and add a fun element to the driving when you want a more involved driving experience. Altering the drive modes also alters the way the throttle responds with it being the dullest in the eco mode. Finally, enabling the all-road mode automatically raises the air suspension. It's not particularly efficient and during our test drive averaged between 5-7kmpl. However, that being said, the target buyers for this car will have fuel efficiency lower down their priority list.
Ride and handling
The Audi Q7 is underpinned by an air suspension which when activated lends suppleness to the ride quality masking out most bumps and imperfections but does induce some noticeable vertical movement if the imperfection is too deep or rutted. It will perform its best in normal road conditions at both high speeds and low speeds. The insulation is also fantastic with most of the outside world being filtered out including the snarl of the V6 motor upfront.
There's no doubt that the Q7 is a large car with a high centre of gravity that affects its handling abilities. There's a noticeable roll in the corners and do feel the weight of the car if you get carried away behind the wheel. It's best then to plan your moves and keep your momentum constant, something the V6 engine should no trouble in helping you doing whatever be the scenario.
The steering is light, easy and quite accurate at low speeds masking the bulk of the car when you need to do things U-Turns and parallel parking. However, up the speed and the steering weighs up nicely allowing you to cruise effortlessly for long distances. This combined with the large torque figure from the V6 motor makes this car a potent highway kilometre-muncher.
Interior and features
Inside is where Audi's spent a big part of its budget to update the Q7 and that's quite visible the instant you step in the cabin is a beige and black affair with lots of silver inserts and a lot of glossy black plastics that lend a premium appearance to the look and feel of the cabin but in the long run, will become a finger-print magnet if you don't wipe it down regularly. In terms of ergonomics, everything falls easily to hand and is quite intuitive to operate.
What's completely new is the three-screen layout that dominates this shiny dashboard. This one on the right runs the latest version of Audi's virtual cockpit and has been a mainstay since the car was launched here in 2017 the Q7 is the car that debuted the virtual cockpit system in India back then. It's got everything you want from an instrument cluster and now even has a head-up display system.
The top-screen on the left is a new 10.1-inch touchscreen unit with their latest MMI infotainment system that's got all the usual like Apple CarPlay, Android Auto, in-built maps, vehicle information and of course doubles up as the display for the auto park and reverse camera system. Since it's become a touchscreen system Audi's done away with its control dial on the dashboard.
This third screen is to control the four-zone climate control system and incorporates all the functions into a touchscreen system. It's comprehensive, looks very high quality and helps in adding a large dollop of minimalism to the overall appearance of the dashboard. However, it is still a screen and that means spending more time looking away from the road while working the functions.
The Q7 features high on the list for those looking to be chauffeured driven and ticks off quite a few boxes to match up those requirements. There's more than enough headroom and legroom for both occupants and even if you decide to bring in a third person, the transmission tunnel, AC vents are not an issue due to the size of the car. The seats are nice pattern and there's a large armrest with two cup holders.
The third row as you can see is more of an option than a USP and quite short on space. The only advantage of the third row is that it's the difference between carrying seven people and having to take an additional vehicle. The features in the third row are quite sparse and in fact, you only get cup holders as a part of the deal.
Features
This fully-loaded model that we are driving for the review today gets quite a few bells and whistles. This list includes the three-screen system, four-zone climate control, park plus, electric steering adjustment, ambient lighting, air suspension, wireless charging, memory function for the driver's seat, B&O sound system and Matrix LED headlamps. On the safety front, both variants get eight airbags, lane departure warning with steering assist, a 360-degree camera with a 3D view and hill ascent and descent control.
Exterior
The most significant change to the face of this updated Q7 is the addition of Audi's single-frame grille that has large vertical chrome elements onto which the logo has been adorned. Also updated are these full LED matrix headlamps that have a new design for the indicators.
In profile with its 5.06-meter length, the Q7 is long, muscular, imposing and will stand out in a crowd. The design for the alloy wheels have been updated and are these 19-inch units with a star design.
At the back, the updated Q7 gets this large chrome strip under the full LED tail lamps and while the layout and elements remain unchanged, the chrome strip does well to update the appearance here. The tail lamps, like the headlamps, get a new design within and look like an arrow pointing inwards.
Conclusion
The Audi Q7 had been out of the limelight in the big SUV fight since the advent of BS6 emission norms in India. In that time, its major rivals all entered a new generation or got major updates. Well, the Q7 is back now and as you can see Audi has ticked off most of the right boxes in terms of putting it back in the game.
It's fast, has effortless cruising ability and had been fitted with enough tech to induce buyers looking for the full Audi experience. On the flip side, it lacks some feel-good features for the rear occupants and is only available with petrol power. While the third row exists, it's short on space for adult occupants making it more of an extra feature than an outright useable element of the vehicle.
We expect Audi to price both versions of the Q7 in the range of Rs 1.00 crore to Rs 1.20 crore (All-India ex-showroom). It is a rival for the likes of the Mercedes-Benz GLS, BMW X7, Volvo XC90 and the Range Rover Sport.
Photography: Kaustubh Gandhi
Audi Q7 Price List
Find a list of all 2 petrol versions of Audi Q7. This table includes on-road price which covers all costs like RTO and Insurance.
Filter By
Fuel type, Transmission and Seating Capacity
Petrol
Automatic (TC)
7 Seater
Q7 Versions
Ex-showroom Price
Compare

Petrol, 2995 cc, Automatic (TC), 11.2 kmpl

Fuel Type: Petrol
Engine: 2995 cc (Higher engine size helps to generate more power)
Transmission: Automatic (TC)
Mileage: 11.2 kmpl (ARAI reported mileage)

₹ 82.48 Lakh

Key features : Turbocharged, Sunroof, Cruise Control, Push Button Start, Leather Seats

Petrol, 2995 cc, Automatic (TC), 11.2 kmpl

Fuel Type: Petrol
Engine: 2995 cc (Higher engine size helps to generate more power)
Transmission: Automatic (TC)
Mileage: 11.2 kmpl (ARAI reported mileage)

₹ 89.89 Lakh

Key features : Turbocharged, Sunroof, Cruise Control, Push Button Start, Leather Seats
Audi Q7 Price in Popular Cities
About Audi Q7
Summary
Audi India has launched the refreshed version of the Q7 SUV in India. The three-row luxury SUV is powered by a new gasoline powertrain and can be had in two trims.
Exterior
The exterior highlights of the new Audi Q7 include matrix LED headlamps, 19-inch five-spoke alloy wheels, a panoramic sunroof, and adaptive windscreen wipers with integrated washers.
Interior
On the inside, the Q7 facelift is loaded with features such as a digital driver's display, a 10.1-inch touchscreen infotainment system, four-zone climate control with touch-based controls, a Bang and Olufsen sound system, a wireless charger, powered front seats, 30-colour ambient lighting, and cricket leather upholstery. On the safety front, the Q7 is equipped with eight airbags, lane departure warning with steering assist, and a 360-degree camera with park assist.
Engine and Transmission
Under the long bonnet, the Q7 facelift is powered by a 3.0-litre petrol engine that generates 335bhp and 500Nm of peak torque. The motor is coupled with an eight-speed automatic transmission and Audi's Quattro all-wheel-drive as standard. The Q7 competes against the likes of the Mercedes-Benz GLS, Volvo XC90, Range Rover Sport, and BMW X7.
Read More
User Reviews for Q7
its a compilation of both luxury and performance, driving it was a great experience.

Aarogya Cares

thank you.

Mileage Details

Mileage (City)

9 kmpl

Mileage (Highway)

10 kmpl

Maintenance

5000 per month

Whats Good

i mostly love driving it and when i am at the back seat i like features and the comfortt provided by audi

What Can Improve

i think the looks can improve a bit and it can have a sporty effect

it is well on my expectations

Mileage Details

Mileage (City)

12 kmpl

Mileage (Highway)

15 kmpl

Maintenance

7500 per month

Whats Good

to drive

What Can Improve

nothing

kharid ke dekho pata chal jayega.

Mileage Details

Mileage (City)

12 kmpl

Mileage (Highway)

12 kmpl

Maintenance

10000 per month

my car is superb i love this car

For my first premium sports utility vehicle, I decided to go forth with the best luxury SUV available in India, Audi Q7. I purchased the vehicle in an understated black colour and offers premium exterior features, engine performance and cabin comfort. When I first saw Audi Q7 in India, I was instantly impressed with its distinguished looks and exterior features. According to me, there is no other premium SUV that looks as good as Q7 in the Indian car market. Moreover, adding function to its enthralling exterior are adjustable headlights, front fog-lamps, rain sensing wiper, rear window defogger and outside rear view mirror with turn indicator. I purchased the 3.0 TDI quattro version of Audi Q7. The variant is built on a 3.0-litre, V6 TDI diesel engine with automated transmission. The 2967 cc engine has an excellent power capacity of 232 bhp and a high torque of 500 Nm. Optimum luxury and passenger comfort is the unique selling preposition of Audi Q7. I found myself captivated by countless comfort features, the vehicle's spacious cabin offers. The cabin is powered with air-conditioning system with heater and 4-zone climate control, multi-functional leather wrapped 4-spoke steering wheel and front centre armrest, moreover, there are numerous features for back seat passengers as well.

Do you need showroom space in Chennai ?Ct:by sms only 98847 13960.
View All Q7 User Reviews
Write Review
Q7 FAQs
The
on-road price of the Audi Q7 in Delhi
starts at ₹ 82.48 Lakh for the petrol engine. Meanwhile, the top end model (
Q7 Technology 55 TFSI
) with petrol engine is priced at ₹ 89.89 Lakh.
Audi Q7 is a 7 seater car with 5 doors.
Quick Facts about
Audi Q7
Audi Q7, a SUV, is available from ₹ 82.48 - 89.89 Lakh in India. Audi offers the latest Q7 in 2 versions in India. The base model Premium Plus 55 TFSI starts at ₹ 82.48 Lakh in Delhi and the top model Technology 55 TFSI priced at ₹ 89.89 Lakh in Delhi. If you are looking for 7 seater car then you should consider Q7.
Q7 comes in 2 Petrol version (s).
The Petrol version comes with 2995cc engine capacity and Automatic (TC) transmission mode(s). It generates 335 bhp @ 5200 rpm.
Audi Q7 comes in 5 colors which include Carrara White, Mythos Black, Navarra Blue, Samurai Grey, Floret Silver.
Read More
Read Less
Compare Q7 with Alternatives
| | | | | |
| --- | --- | --- | --- | --- |
| | Audi Q7 | BMW X5 | BMW X7 | Volvo XC90 |
| Price | ₹ 82.48 Lakh | ₹ 79.89 Lakh | ₹ 1.18 Crore | ₹ 93.90 Lakh |
| Fuel Type | Petrol | Petrol | Diesel | Mild Hybrid(Electric + Petrol) |
| Engine Size | 2995 cc | 2998 cc | 2993 cc | 1969 cc |
| Transmission | Automatic (TC) | Automatic (TC) | Automatic (TC) | Automatic (TC) |
| Power | 335 bhp @ 5200 rpm | 335 bhp @ 5500 rpm | 262 bhp @ 4000 rpm | 300 bhp |
| Torque | - | 450 Nm @ 1500 rpm | 620 Nm @ 1500 rpm | 420 Nm |
| Safety Rating | 5 Star (Euro NCAP) | 5 Star (Euro NCAP) | Not Tested | 5 Star (Euro NCAP) |
| Boot Space | 295 litres | 650 litres | 326 litres | 530 litres |
| Ground Clearance | - | 214 mm | 221 mm | 238 mm |
| Size | 5064 mm L X 1970 mm W X 1703 mm H | 4922 mm L X 2004 mm W X 1745 mm H | 5151 mm L X 2000 mm W X 1805 mm H | 4953 mm L X 2008 mm W X 1776 mm H |
| Compare | Q7 base vs top model | Compare Q7 vs X5 | Compare Q7 vs X7 | Compare Q7 vs XC90 |
Audi Q7 Videos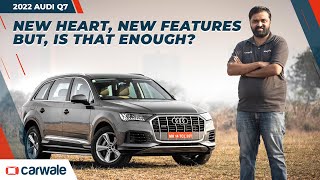 Audi Q7 2022 Review | Now With Petrol Engine and New Features - Is That Enough? | CarWale
02/17/2022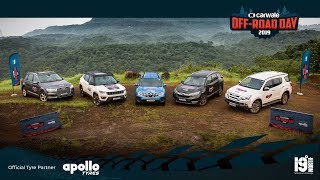 CarWale Off Road Day 2019 Top SUV Comparison
10/18/2019
Find New Cars of Your Choice
PRICE RANGE

FUEL TYPE

BODY TYPE

MAKE

MORE