Sponsored
Contact dealer for
Test Drives
Offers & Exchange
EMI Options
Insurance
Volvo XC40
| | |
| --- | --- |
| Price | ₹ 43.20 Lakh |
| Mileage | 14.49 kmpl |
| Engine | 1969 cc |
| Transmission | Automatic (Torque Converter) |
| Fuel Type | Petrol |
| Seating Capacity | 5 Seater |
About Volvo XC40
Summary
The Volvo XC40 is the Swedish carmaker's take on the Mercedes-Benz GLA, BMW X1, Range Rover Evoque and Audi Q3 in India. It is the entry-level crossover is positioned below the XC60 and XC90 as the third model in Volvo's SUV line-up.
Further to this, read Volvo XC40 Road Test details by our expert.
Exterior
The XC40 is unmistakably a Volvo. The new Volvo stays true to the 40.1 Concept. It has the signature Thor Hammer headlamps with a horizontal louvred grille. The hood is clamshell and the D-Pillar carries a floating roof design. Being a crossover, the necessary black cladding is present around the wheel arches, side skirts, front and rear bumper. The tail lights are vertically stacked similar to the one seen on its elder siblings. All in all, the XC40 expresses a lot through its design and is easily among the better-looking cars in its segment.
Interior
On the inside, Volvo's new cabin design is evident. The large nine-inch infotainment screen is present, flanked by vertical air-con vents. It comes with smartphone integration. The instrument cluster gets a 12.3-inch TFT digital display. The overall layout is subtle and classy with a good choice of materials used. The space inside the cabin also looks promising. There is ample storage space and also a provision for induction phone charging. The XC40 is one of the best-equipped crossovers in its segment.
Engin & Transmission
Under the muscular hood of the XC40 rests Volvo's 2.0-litre four-cylinder diesel engine paired to an eight-speed automatic. The motor produces 190bhp and 400Nm which is transferred to the Haldex AWD system. The XC40 gets a full suite of driving aids including lane-keep assist, lane departure warning and adaptive cruise control. Being a Volvo, the XC40 comes loaded with safety and equipment. Safety and driver assistance features on the XC40 include Volvo Cars' Pilot Assist system, city safety, run-off road protection and mitigation, cross traffic alert with brake support and the 360° camera.
Read More
Volvo XC40 Price List
Find a list of all 1 petrol versions of Volvo XC40. This table includes on-road price which covers all costs like RTO and Insurance.
Filter By
Fuel type, Transmission and Seating Capacity
Petrol
Automatic (Torque Converter)
5 Seater
XC40 Versions
Ex-showroom Price
Compare

Petrol, 1969 cc, Automatic (Torque Converter), 14.49 kmpl

Fuel Type: Petrol
Engine: 1969 cc (Higher engine size helps to generate more power)
Transmission: Automatic (Torque Converter)
Mileage: 14.49 kmpl (ARAI reported mileage)

₹ 43.20 Lakh

Key features: 7 Airbags, Sunroof, Cruise Control, Push Button Start, Leather Seats
Volvo XC40 Price in Popular Cities
Volvo XC40 Expert Review
Volvo XC40 T4 R-Design Petrol First Drive Review
This is the Volvo XC40 T4 R-Design, the petrol derivative of the company's entry-level luxury SUV. And this one comes packed with a BS6 2.0L petrol heart that is available only in the top-spec R-Design trim.
Read More
Volvo XC40 Expert Review
Volvo XC40 T4 R-Design Petrol First Drive Review
This is the Volvo XC40 T4 R-Design, the petrol derivative of the company's entry-level luxury SUV. And this one comes packed with a BS6 2.0L petrol heart that is available only in the top-spec R-Design trim. With the market transitioning to petrol-powered cars globally, it doesn't come as a surprise that Volvo has introduced the XC40 petrol in India. And to evaluate its real-world performance, we test it out in the sunny locales of Goa.
Unlike some of its rivals that feature a coupe-like design, the XC40 isn't pretentious in its appearance. It's more SUV-like, butch looking and upright in its stance. And it follows the same design philosophy as the XC60 and XC90. So, the signature elements include the T-shaped LED daytime running lights, sharp details and clean lines. And in this top-spec R-Design trim, it gets blacked-out detailing on the grille, ORVMs and the roof, which enhance the appeal of the car.
There's a heavy recess on the lower section of the doors, while the steep window line adds character to the muscular design. And then, there's the neatly done rear section with the signature L-shaped LED taillights, which look exquisite. Everything comes together to make it one of the best designed SUVs in its segment. No wonder that the Volvo XC40 has won so many laurels for its design.
The XC40 T4 R-Design's cabin is similar to its diesel sibling, with only one change to its trim. The funky orange felt lining on the door pads, foot well and central area, which may seem loud to some, has been replaced with a black material. While it may not look flashy anymore, if soiled, it won't look as dirty as it would have been. Otherwise, the cabin is ergonomic in its layout, with black and/or brushed metal finish on the various parts. The upper part of the dashboard uses soft touch materials, and while the lower bits get hard plastics, the fit and finish along with the quality are top notch. Unlike its rivals, the XC40's cabin features vertical design elements like the vertically-stacked touchscreen display and the air-con vents. Then, the gear knob, which isn't a knob but a stick, doesn't slot into the gears but clicks. Although it looks elegant, you need to double tap for selecting the drive/reverse modes; else it shifts into neutral which may get irritating if you aren't well acquainted with it.
The four-way electrically adjustable driver seat gets memory function with four-way lumbar adjustment, while the co-passenger seat gets four-way electric adjustability. The front seats are firm and supportive, come with manually-adjustable under thigh support and offer a good view of the surroundings. The doors open wide, so ingress or egress isn't an issue. However, the same cannot be said for the rear seats. While the seats are supportive, you sit at a very low position so the under-thigh support is lacking, although the knee and legroom are adequate. And with the cabin and seat base being narrow, seating three abreast wouldn't be a good idea as the rear bench is comfortable only for two occupants. Also, the high window line and the all-black interiors increase the helmed-in feeling. What's more, the rear door is woefully narrow, so getting in and out of the car becomes a hassle.
All said and done, Volvo cars are known for being feature packed and include various safety equipments, and the XC40 is no different. In this top-spec R-Design trim, it gets a vertically-stacked infotainment system, which offers crisp graphics and is intuitive to use, while there's also a digital instrument cluster that throws up a plethora of information. It also gets a 600W 14-speaker Harman Kardon music system, which sounds great. Volvo is also offering wireless charging, a fixed arm rest and a waste bin on the centre console. In terms of the safety net, besides the standard features like the front and rear parking sensors, ESP, traction control and seven airbags, it also gets various driver assistance systems like lane-keep assist, adaptive cruise control, lane departure warning and much more.
Under the hood, the Volvo XC40 T4 R-Design employs a 2.0-litre, BS6-compliant, turbocharged motor that belts out 190bhp and 300Nm of peak torque. These figures are on par with the Mercedes-Benz GLA and the BMW X1, but significantly higher than the Audi Q3. This motor is available with an eight-speed automatic transmission. However, unlike the diesel version which came with a Haldex AWD drive-train, the XC40 petrol variant is only offered in the front wheel drive layout.
At idle, the engine is silent and feels smooth, but it gets audible as the revs go past 2,500rpm. However, it doesn't feel unrefined at any point. This is also a very free revving motor, which redlines all the way up to 6,000 rpm. It offers ample torque lower down, so in-city low-speed tractability isn't an issue. However, the engine comes into its elements post the 2,000rpm mark when the turbo is on boost, and all you need to do is apply part throttle to make progress. This helps in highway cruising and making quick overtakes is fairly easy. That said, you won't feel the sudden burst of torque as power is delivered in a linear manner.
What's more, you also get five modes to choose from - Eco, Comfort, Dynamic, Off-road and Individual. These modes essentially alter the throttle response, steering feel and the ESP and traction control interventions to make it comfortable or sportier, depending on the mode selected. In Eco mode, the throttle response is dull and the gearbox upshifts early, which induces slower progress. Even the steering feels light here. Changing the mode to Comfort enhances the response time and the steering weighs up nicely. The Dynamic mode offers sharper throttle response and also allows the transmission to hold on to the gears for a longer duration and upshifts only around the 4,000 mark. While the motor gets a bit vocal in higher revs, you'll love the turbo whine and the agility with which the SUV lunges ahead is commendable. But it's the Individual mode that offers more driver control and allows you to individually adjust every setting as per your liking.
Then, there's the solid suspension setup. Now, it may not have the plush air suspension that other premium Volvo cars boast of, however, the independent setup on the XC40 is robust enough to not send any sudden jolts inside the cabin at city speeds. And at highway cruising speeds, the suspension flattens out road undulations nicely, thereby offering a pliant ride. We also got a chance to put the XC40 through a section of rough patches with no tarmac and small ruts. While the car didn't exactly glide through it, the ride wasn't jarring either. Engaging the Off-road mode did help here, as the steering felt lighter and the side to side movement was far lesser. That said, we could hear the suspension working during this section.
This butch SUV also impressed us with its handling. The steering is quick with less than three turns lock-to-lock, and the SUV changes directions with slightest of inputs. At low speeds, the light steering helps manoeuvrability, while it weighs up superbly as you build speeds or engage the Dynamic mode. It also induces confidence to take long sweeping curves with ease. However, pushing it further results in considerable body roll, so you have to be cautious with your inputs. And if you go hot into the sharp corners, owing to its FWD setup, it understeers quite a bit. But the good thing is that the ESP kicks in and the traction control cuts power to get the SUV back in its line. In terms of stopping power, the brakes offer good initial bite and progression.
Being a CBU (completely built unit), the Volvo XC40 T4 R-Design is priced at almost Rs 51 lakhs (on road), which is higher than its CKD rivals. Despite the high price, it is feature packed, gets active driving aids, offers a robust ride and drives well too. On the contrary, the rear seat comfort is a bit lacking. So if you can live with that, it's hard to not recommend the XC40 T4 R-Design.
Pictures by Kapil Angane
XC40 FAQs
Volvo XC40 is a 5 seater car with 5 doors.
Ground clearance of Volvo XC40 is 211 mm.
Quick Facts about
Volvo XC40
Volvo XC40, a SUV, is available from ₹ 43.20 Lakh to ₹ 43.20 Lakh in India. Volvo offers the latest XC40 in 1 versions in India. The base model T4 R-Design starts at ₹ 43.20 Lakh in Delhi and the top model T4 R-Design priced at ₹ 43.20 Lakh in Delhi. If you are looking for 5 seater car then you should consider XC40.
XC40 comes in 1 Petrol version(s).
The Petrol version comes with 1969 cc engine capacity and Automatic (Torque Converter) transmission mode(s). It generates 187 bhp @ 5000 rpm.
Volvo XC40 comes in 5 colors which include Crystal White Pearl , Bursting Blue Metallic, Glacier Silver, Onyx Black Metallic, Thunder Grey.
Read More
Read Less
Similar Cars To Volvo XC40
XC40 Specifications
Note: Specifications for XC40 T4 R-Design have been mentioned
Transmission
Automatic (Torque Converter) - 8 Gears, Manual Override, Sport Mode
Time for 0-100 kmph Acceleration
8.4
Mileage - ARAI Reported
14.49
Engine
1969 cc, 4 Cylinders Inline, 4 Valves/Cylinder, DOHC
Engine Type
Four-cylinder turbo-charged Petrol engine
Peak Power (bhp@rpm)
187 bhp @ 5000 rpm
Peak Torque (Nm@rpm)
300 Nm @ 1300 rpm
Turbo / SuperCharger
Turbocharged
Steering, Tyres, & Suspnsions
Steering Type
Power assisted (Electric)
Minimum Turning Radius
5.7
Suspension - Front
Independent
Suspension - Rear
Independent
Tyres Size - Front
235 / 55 R18
Tyres Size - Rear
235 / 55 R18
Size, Weight, & Dimensions
Bootspace / Dicky Capacity (L)
432
Fuel Tank Capacity (L)
54
Ground Clearance (mm)
211
Volvo XC40 Videos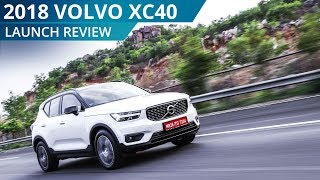 2018 Volvo XC40 | Launch Review | CarWale
07/06/2018
Volvo XC40 News
Volvo Car India to hike prices up to Rs 3 lakh from January 2022
Volvo Car India has announced an increase in the ex-showroom prices of its cars with effect from 1 January, 2022. The company is hiking the prices, which ranges from Rs 1 lakh to Rs 3 lakh (ex-showroom), due to the rise in input costs.
Volvo offers XC40 T4 R-Design at a special price of Rs 36.90 lakh
Volvo XC40 T4 R-Design Volvo XC40 T4 R-Design is now available at a special price of Rs 36.90 lakh (Rs 39.90 lakh without offer) along with complementary accessories worth Rs 1 lakh, under the
Volvo launches the XC40 in India at Rs 39.9 lakhs
by
CarTrade Editorial Team
Volvo launches the XC40 in India at Rs 39.9 lakhs Volvo has launched their all-new entry-level SUV for a price tag of Rs 39.9 lakhs ex-showroom India. The XC40 competes against the likes of the
Volvo launches XC40 Plug-in Hybrid T4 in UK
Volvo XC40 plug-in hybrid T4  The Swedish vehicle manufacturer, Volvo has launched the XC40 recharge plug-in hybrid T4 in the UK. Additionally, the company has added two new mild-hybrid
Volvo XC40 to soon be offered in two more variants
The Swedish car manufacturer, Volvo recently launched the XC40 in a single R-Design variant. This time around, fresh details have emerged that the company might introduce a new base and top spec
Find New Cars of Your Choice
PRICE RANGE

FUEL TYPE

BODY TYPE

MAKE

MORE