Volkswagen T-Roc
The Volkswagen T-Roc, a SUV from Volkswagen, was launched in India in Mar 2021.
Volkswagen T-Roc price starts from ₹ 21.35 Lakh in India. T-Roc is available in 6 colours - Kurkuma Yellow, Pure White, Ravenna Blue, Indium Grey, Flash Red, and Deep Black. T-Roc seating capacity is 5 People. T-Roc mileage is 17.85 km/l. T-Roc has received 5 Star (Euro NCAP) safety rating.
T-Roc is available in 1 versions and 1 fuel options - Petrol. Petrol models comes with 1498cc engine which generates peak power of 148 bhp @ 5000 rpm .
T-Roc competes with Volkswagen Tiguan, MG Hector and Volkswagen Taigun in India.
Volkswagen T-Roc Model List
| T-Roc Model | Price | Key Specs |
| --- | --- | --- |
| 1.5 TSI | ₹ 21.35 Lakh | Petrol, 1498 cc, Automatic (DCT) |
DISCONTINUED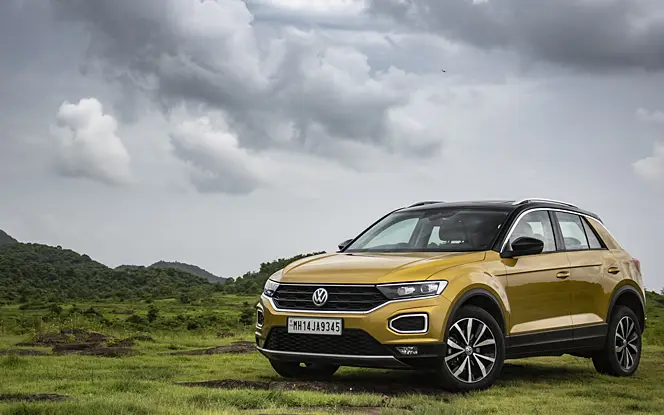 DISCONTINUED
DISCONTINUED
DISCONTINUED
DISCONTINUED
DISCONTINUED
DISCONTINUED
DISCONTINUED
T-Roc Price
Version
All Versions
City
Not Selected
₹21.35 lakh
Last Recorded Price
Volkswagen T-Roc has been discontinued in 2021. We are showing the last known price for T-Roc.
Volkswagen T-Roc Key Specifications
| | |
| --- | --- |
| Price | ₹ 21.35 Lakh |
| Fuel Type | Petrol |
| Mileage | 17.85 km/l |
| Seating Capacity | 5 People |
| Safety Rating | 5 Star (Euro NCAP) |
| Warranty | 4 Years or 100000 km |
| Engine Size | 1498 cc |
| Transmission | Automatic (DCT) |
| Size | 4234 mm L X 1819 mm W X 1573 mm H |
| Fuel Tank | 59 litre |
T-Roc Expert Review
Why would I buy it?
Silent engine and quick gearbox
Great dynamics
Safety tech
Why would I avoid it?
Lack of a diesel engine
Second row space
Engine and Performance
Powering the front wheels of the Volkswagen T-Roc is the 148bhp/250Nm 1.5-litre, four-cylinder TSI engine through a seven-speed DSG automatic gearbox. So, super-quick gear shifts are a given. It's also got what VW calls active cylinder technology (ACT) that allows it to shut down two of the four cylinders at low engine loads to reduce fuel consumption. Also, this engine is a silent one, making it barely audible within the cabin unless you rev north of 3,000rpm. Now, when slotted in D-mode, one can smoothly drive about all day with the gearbox shifting at about 2,000rpm to keep the momentum going.
You'll eventually figure out that the powertrain smartly uses its ample torque to hurriedly weave through the smooth cogs to sit at the tallest gear for best frugality. One of the highlights is that the turbo lag is hardly noticeable. But clearly, in Sport-mode, it displays a fierce persona as it upshifts close to the 6,500rpm redline and picks up speed feverishly; 0-100kmph in just under 10 seconds. Although we didn't clock the drivability tests of 20-80/40-100kmph in kick-down, it certainly has a rapid air about it. This makes overtaking chores a breeze, be it in the city or on the highway. And did I forget to reveal that the paddle-shifters spice things up when you're in the mood to drive fast?
Ride Quality and Handling
Just like how Volkswagen vehicles are generally tuned, the T-Roc's ride, too, feels a tad firm at slower speeds, but it never gets uncomfortable for the passengers. As the speeds rise though, the well-judged dampers go about absorbing most of the bumps and broken sections with aplomb, to the point where it feels rock-solid too. The slightly firm setup portrays very little roll, while also allowing this VW to stick fairly well to the intended line when you show it a set of bends. This trait is further complemented by a steering that's reasonably direct in spite of being slightly slow around the dead centre. If only it was a tad quicker, the T-Roc would have been mighty engaging to drive. Nevertheless, the brakes have good bite and feel progressive at the pedal.
Comfort, Convenience, and Features
To start off, the first thing you'll appreciate about its cabin is the commanding driving position. Now, although frontal and side visibility is almost spotless, the view out of the rear is restrictive. So, relying on the rearview camera footage of the contemporary 8.5-inch display, for the tighter situations, goes unsaid. Then, next on the list is my favourite virtual cockpit instrumentation which simply revels in the info-sharing department.
Another thing that needs pointing is the solid build quality along with the pristine fit and finish, both simply can't go amiss. Sadly, this cabin should have had more soft-touch materials in use. Nonetheless, optimum utilisation of space has made it possible for VW to carve out adequate storage spaces all across. As for the front seats, while they are large and supportive, electric seat adjustments would have made a world of difference here.
The rear bench, on the other hand, is firmly padded for apt support and the backrest is appropriately angled for comfort. As for seating three, one needs to be wary of the bulging centre seat and the restrictive transmission tunnel. Moreover, leg- and head-room seem concerningly inadequate, and this is in spite of the front seatback and roof being carved out, to begin with. Be that as it may, the 455-litre boot space is not only up to the mark, the 60:40 split-functionality swells the flexibility quotient a few notches.
Available in only one fully loaded variant, the T-Roc gets dual-zone climate control, front-seat heating functions, heat-insulating windshield, green heat-insulated windows, keyless entry, navigation, and a panoramic sunroof. It's also equipped with a customisable 10.25-inch 'virtual cockpit' instrument cluster and an 8.5-inch touchscreen infotainment system with Android and IOS device compatibility, and also boasts of VW's WeConnect Go app. That said, it surely misses out on trivial things like wireless charging and cruise control.
Safety Features
In terms of the safety net on the Volkswagen T-Roc, firstly, this compact SUV benefits from a five-star EURO NCAP rating for adult and child occupants. Additionally, it comes equipped with six airbags, ABS with EBD, electronic stability control, and a tyre pressure monitoring system. Then there are front and rear parking sensors with a reverse camera, lane assist, and head-on-collision warning (with braking).
Exterior
The T-Roc's overall design rhymes with what anyone can envision to roll out of Volkswagen's design studios. It is the German understated elegance at best. Sure, that fancy yellow shade can turn heads, but otherwise, it's the T-Roc's simplistic styling that attracts. Don't mistake me, its unfussy design language may not earn it the presence of a Compass, Hector, or maybe even the Creta. But it does matter to those who prefer exquisite subtleness.
Conclusion
The Volkswagen T-Roc succeeds in looking handsome, is adequately loaded with features and safety equipment, has a smooth engine along with an acclaimed transmission, is dynamically sorted, and also benefits from the great German build quality. On the downside, the second row could have been more accommodating and there are no 4x4 or diesel mills on offer for those who cover a lot of miles. That aside, the Rs 27.27 lakh (OTR Mumbai) price tag puts it in the Jeep Compass territory. What would I buy? Well, I'm the bling-bling kind, so it's the Jeep Compass for me any day!
Pictures by Kapil Angane and Kaustubh Gandhi
Volkswagen T-Roc Variants
Find a list of all 1 petrol versions of Volkswagen T-Roc. This table includes Volkswagen T-Roc on-road price which covers all costs like RTO and Insurance.
Filter By
Fuel type, Transmission and Seating Capacity
Petrol
Automatic (DCT)
5 Seater
T-Roc Versions
Ex-showroom Price
Compare

Petrol, 1498 cc, Automatic (DCT), 17.85 kmpl

Fuel Type: Petrol
Engine: 1498 cc (Higher engine size helps to generate more power)
Transmission: Automatic (DCT)
Mileage: 17.85 kmpl (ARAI reported mileage)

₹ 21.35 Lakh

Key Features : Turbocharged, 6 Airbags, Sunroof, Push Button Start, Leather Seats
Volkswagen T-Roc Discontinued Versions
Note: ALL Volkswagen T-Roc 1.5 TSI have been discontinued.
About Volkswagen T-Roc
Summary
German car manufacturer Volkswagen sells the T-Roc compact SUV in India via the CBU route. The vehicle is sold in limited numbers and is available in a single top-spec version. The T-Roc is based on Volkswagen's MQB platform and is one of the most safety-feature rich options in its segment.
Exterior
Volkswagen T-Roc gets a typical family face with two slats finished in black that are flanked by elongated LED headlamps. The LED DRLs are positioned lower down on the front bumper. The lower half of the bumper features a honeycomb mesh pattern and a silver bash plate to enhance its rugged character. The sides are highlighted by 17-inch alloy wheels and a chrome border above the window line. The wheel arches are neatly designed and give it a sporty stance. The rear is uncluttered and features split LED tail lamps with a strong crease line joining the two clusters.
Interior
The T-Roc gets premium leather upholstery and the cabin is equipped with a 10.25-inch touchscreen infotainment system with Apple CarPlay and Android Auto connectivity. Additionally, the vehicle comes with all the bells and whistles in the form of a reverse parking camera, keyless entry, and heated front seats, six airbags, tyre pressure monitoring system, dual-zone climate control, electronic parking brake with auto-hold, and heated mirrors.
Engine
The Volkswagen T-Roc is powered by a 1.5-litre TSI petrol engine that generates 148bhp and 250Nm of torque with Active Cylinder Technology (ACT). This engine comes mated to a seven-speed DSG unit.
Read More
T-Roc FAQs
Volkswagen T-Roc is a 5 seater car with 5 doors.
Quick Facts about
Volkswagen T-Roc
Volkswagen T-Roc, a SUV, is available from ₹ 21.35 Lakh in India. Volkswagen offers the latest T-Roc in 1 versions in India. The base model 1.5 TSI starts at ₹ 21.35 Lakh in Delhi and the top model 1.5 TSI priced at ₹ 21.35 Lakh in Delhi. If you are looking for 5 seater car then you should consider T-Roc.
T-Roc comes in 1 Petrol version (s).
The Petrol version comes with 1498cc engine capacity and Automatic (DCT) transmission mode(s). It generates 148 bhp @ 5000 rpm.
Volkswagen T-Roc comes in 6 colors which include Kurkuma Yellow, Pure White, Ravenna Blue, Indium Grey, Flash Red, and Deep Black.
Compare T-Roc with Alternatives
| | | | | |
| --- | --- | --- | --- | --- |
| | Volkswagen T-Roc | Volkswagen Tiguan | MG Hector | Volkswagen Taigun |
| Price | ₹ 21.35 Lakh | ₹ 33.49 Lakh | ₹ 14.73 Lakh | ₹ 11.56 Lakh |
| Fuel Type | Petrol | Petrol | Petrol | Petrol |
| Engine Size | 1498 cc | 1984 cc | 1451 cc | 999 cc |
| Transmission | Automatic (DCT) | Automatic (DCT) | Manual | Manual |
| Power | 148 bhp @ 5000 rpm | 187 bhp @ 4200 rpm | 141 bhp @ 5000 rpm | 114 bhp @ 5000 rpm |
| Torque | 250 Nm @ 1500 rpm | 320 Nm @ 1500 rpm | 250 Nm @ 1600 rpm | 178 Nm @ 1750 rpm |
| Safety Rating | 5 Star (Euro NCAP) | 5 Star (Euro NCAP) | Not Tested | 5 Star (Global NCAP) |
| Boot Space | 445 litres | 615 litres | 587 litres | 385 litres |
| Ground Clearance | - | - | - | 188 mm |
| Size | 4234 mm L X 1819 mm W X 1573 mm H | 4509 mm L X 1839 mm W X 1665 mm H | 4699 mm L X 1835 mm W X 1760 mm H | 4221 mm L X 1760 mm W X 1612 mm H |
| Compare | - | Compare T-Roc vs Tiguan | Compare T-Roc vs Hector | Compare T-Roc vs Taigun |
Volkswagen T-Roc Videos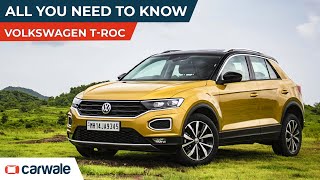 2021 Volkswagen T-Roc Design, Engines, Colours, Features, and Price | All You Need to Know | CarWale
05/17/2021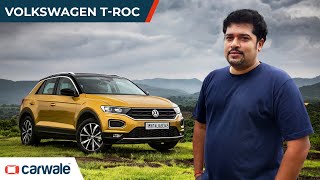 Volkswagen T-Roc | Is it SUV enough? | CarWale
07/30/2020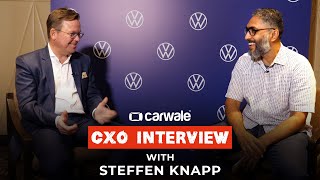 10 Questions | Director Volkswagen India Steffens Knapp | CarWale CXO Interview
03/26/2020
Volkswagen T-Roc News
Volkswagen India introduces Monsoon Car Care Service campaign
Volkswagen India introduces Monsoon Car Care Service campaign
Volkswagen T-Roc to be reintroduced in India on 1 April
Volkswagen T-Roc  Volkswagen India will kick start the SUVW strategy in India with the re-launch of the T-Roc SUV. The T-Roc made its debut last year in March and only 1,000-units were
Volkswagen T-Roc arrives at dealerships in India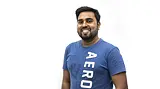 Volkswagen T-Roc arrives at dealerships  German car manufacturer Volkswagen had launched the T-Roc in India on 18 March 2020. The SUV was introduced in a single top spec variant at an
2021 Volkswagen T-Roc launched in India; priced at Rs 21.35 lakh
Volkswagen T-Roc Volkswagen has re-launched the T-Roc SUV in India with an ex-showroom price of Rs 21.35 lakh. To be brought in the country by the same CBU route, the T-Roc is now Rs 1.35 lakh
Volkswagen T-Roc sold out in India
Volkswagen T-Roc The Volkswagen T-Roc has been sold out and the company has closed the booking window for the model. The T-Roc, which was imported into the country via the CBU route, was
Find New Cars of Your Choice
PRICE RANGE

FUEL TYPE

BODY TYPE

MAKE

MORE
Used Volkswagen Cars
₹ 1.95 Lakh

Starting Price

₹ 14.5 Lakh

Starting Price

View All Used Volkswagen Cars