Nissan Kicks
The new Nissan Kicks, a SUV from Nissan, was launched in India in Jan 2019. Kicks has received 87% rating score from our users. Kicks is preferred for its styling and comfort.
Nissan Kicks price starts from ₹ 9.50 Lakh in India. Kicks is available in 9 colours - Pearl White, Blade Silver, Bronze Grey, Deep Blue Pearl, Night Shade, Fire Red, Pearl White/Onyx Black, Bronze Grey/Amber Orange, and Fire Red/Onyx Black. Kicks seating capacity is 5 People. Kicks mileage is 13.9 - 15.8 km/l. Kicks has received 3 Star (Euro NCAP) safety rating.
Kicks is available in 8 versions and 1 fuel options - Petrol. Petrol models comes with 1498cc engine which generates peak power of 105 bhp @ 5600 rpm . Kicks is also offered in 1330cc Petrol engine which generates peak power of 154 bhp @ 5500 rpm .
Kicks competes with Mahindra XUV300, MG Astor and Kia Sonet in India.
Nissan Kicks Model List
| Kicks Model | Price | Key Specs |
| --- | --- | --- |
| XL 1.5 | ₹ 9.50 Lakh | Petrol, 1498 cc, Manual |
| XV 1.5 | ₹ 10.00 Lakh | Petrol, 1498 cc, Manual |
| XV Turbo 1.3 | ₹ 12.29 Lakh | Petrol, 1330 cc, Manual |
| XV Premium Turbo 1.3 | ₹ 13.19 Lakh | Petrol, 1330 cc, Manual |
| XV Turbo 1.3 CVT | ₹ 14.13 Lakh | Petrol, 1330 cc, Automatic (CVT) |
| XV Premium (O) Turbo 1.3 | ₹ 14.19 Lakh | Petrol, 1330 cc, Manual |
| XV Premium (O) Turbo 1.3 Dual Tone | ₹ 14.39 Lakh | Petrol, 1330 cc, Manual |
| XV Premium Turbo 1.3 CVT | ₹ 14.88 Lakh | Petrol, 1330 cc, Automatic (CVT) |
Kicks Price
Kicks price starts from ₹ 9.50 Lakh and goes up to ₹ 14.88 Lakh. Kicks EMI starts from ₹ 19,262. Select city to check Nissan Kicks on-road price.
Version
All Versions
City
Not Selected
Avg. Ex-Showroom price
Kicks Monthly EMI
₹19,262 for 5 Years
Ex-Showroom Price

This price includes GST and any state/city entry tax. However, the ex-showroom price does not include RTO, Insurance, Fast tag, and other accessories cost

₹

0

Registration Charges

Road Tax or registration tax This varies from city to city.

₹

0

Insurance

The insurance cost on CarTrade covers 1-year comprehensive insurance cost with 95% IDV and 3-year third-party insurance cost.
IDV - it is the max amount you will receive if your vehicle is stolen or completely damaged.
Third-party insurance - If you met with an accident with another vehicle, third-party insurance covers cost against damages to the other vehicle or the owner/driver of the other vehicle. It is helpful in the event of an accident by your mistake.
Insurance is mandatory for every vehicle as per the Indian Govt laws.

₹

0

Other Charges

₹

0

On-Road price

The final price you will need to pay to purchase the car in your city. On-road price = ex-showroom price + RTO + Insurance + Fast tag and other accessory charges.

₹

0
Need help with Test Drive, Offers Resale Value, Wait Time or anything else?
Sponsored
Contact dealer for
Test Drives
Offers & Exchange
EMI Options
Insurance
Nissan Kicks Key Specifications
| | |
| --- | --- |
| Price | ₹ 9.50 - 14.88 Lakh |
| Fuel Type | Petrol |
| Mileage | 13.9 - 15.8 km/l |
| Seating Capacity | 5 People |
| Safety Rating | 3 Star (Euro NCAP) |
| Warranty | 2 Years or 50000 km |
| Engine Size | 1498 cc, 1330 cc |
| Transmission | Manual, Automatic (CVT) |
| Size | 4384 mm L X 1813 mm W X 1669 mm H |
| Fuel Tank | 50 litre |
| Ground Clearance (mm) | 210 mm |
Kicks Expert Review
1498cc Petrol
1330cc Petrol
Opening
The much-awaited Nissan Kicks will be the newest player in the fast-growing compact crossover market when it officially goes on sale early next year. Now this segment has experienced record sales in recent times, thanks to cars like the Hyundai Creta, the Maruti Suzuki Brezza and the Ford EcoSport. Even the Renault Duster has made a big impact in this space, however, the same cannot be said for the Nissan Terrano which has always remained inconspicuous. The pressure is dooming, then, on the Kicks but unlike the Terrano which was basically a rebadged Duster, the Kicks is an entirely new product. It's a crossover built for busy city-dwellers to tackle everything the urban jungle can throw at it.

Developed and tuned in Japan and India, the Kicks is Nissan's fresh new attempt to recover some lost ground in the challenging crossover segment. You may have read about the UAE-spec Kicks that we recently drove in Dubai. Here's take two with the real deal.
Appearance Exterior
Let's talk numbers first. The Kicks is over 4.3 metres long, 1.8 metres wide and 1.65 metres in height, meaning it's noticeably longer and wider than the Hyundai Creta though not as tall. It's 2673mm wheelbase, too, is longer than the Hyundai. As for the ground clearance, the Kicks stands tall and above the rest, at 210mm. All in all, it's looking good so far for but what about the design?

The production version retains the basic design cues taken from the Kicks concept first shown at the 2014 Sao Paulo Motor Show. You will find familiar Nissan design elements like the V-Motion grille, boomerang-style headlights and taillights, and the floating roof with a wrap-around look to the windscreen and side glass. In particular, with the C-pillar 'hidden' with a black finish that blends into the tailgate glass, it seems that the floating roof concept has been exaggerated on the Kicks, giving it a unique appearance when viewed from the rear. Speaking of the rear, it is the best part of the Kicks' design as the extremely raked tailgate and the sharply-designed, wraparound taillights are something that are new to this segment. For the India-spec model, Nissan has tinkered with a few things – unlike the Kicks that is sold overseas, the door sills on this car are actually part of the doors. Nissan says this redesign makes it easier to get in and out with traditional clothes.

All in all, the Kicks is a fairly good looking crossover. It's not as flamboyant or in-your-face as the Ecosport but then it's not as simple looking as the Creta either. Being the longest and widest in its class, the Kicks has plenty of road presence as well, which is a big plus in this segment.
Appearance Interior
It may not be as good looking as the exterior, but the cabin of the new Kicks is still modern and surprisingly spacious. Unlike most modern cars that seem to cram a lot of materials and switchgear on to their dashboard, the Kicks' dash is clean and straightforward. We especially like the simplicity of the centre console and the climate control panel. As for the quality, it's a mixed bag in here. For starters, the middle part of the dash, door armrests and the middle armrest is covered in soft touch materials which lend a premium feel to the cabin. That being said, there are also shiny hard plastics on the door pads and the lower half of the dash. What affects the overall ambience further are the sheer number of old-design parts shared with existing Renault-Nissan products. The climate control panel, steering column mounted audio controls, cruise control switch and the window switches all come from the Duster and the Captur.

Thankfully, the Kicks gets an entirely new infotainment system that comes with a slick 8-inch display. The floating screen, in fact, is of high quality and the touch response is great as well. It's also the most loaded in this segment – you get smartphone mirroring tech, Apple CarPlay, Android Auto and built-in navigation. That said, our favourite feature is the surround camera view which uses four cameras to present a 360-degree view of the car. It's something unheard of in this segment and indeed, makes for a useful feature on every drive. The top-spec variant also gets LED projector headlights, functional roof rails with 100kg capacity, leather seats, climate control standard, height adjustable driver's seat and twin parcel shelf. In terms of safety, the Kicks comes with four airbags, ABS, EBD and speed sensing door locks as standard.

As for space and comfort, the dashboard is set slightly high, however, there is a kink on the window line which improves sideward visibility. The front seats are snug and just about the right size, offering enough back and knee support. They also helped us to limit fatigue over a full day of driving. The second row, meanwhile, is equally supportive with a bench that offers adequate thigh support and a nicely contoured backrest. Cavernous it's not, but the Kicks' rear is good enough for two occupants in total comfort – there are also AC vents and an armrest at the back for a more soothing ambience. The 400-litre boot capacity is good for this segment. Better still, the loading area is fully flat and squared out, meaning it's easier to stuff heavy items.
Performance Drive
On the road, the Kicks can be best described as 'comfortable'. Nissan has continued with the tried and tested 1.5-litre K9K diesel motor. That being said, there is a vast difference in the way the Kicks and the Captur/Duster behave on the road.

The Kicks and the Captur share the same engine which makes 110bhp/240Nm, but the level of refinement on the move is much higher. The Kicks is significantly quieter thanks to better insulation and a less noisy motor – one can hardly hear the diesel clatter once the windows are up. What's more, this new offering also accelerates in a more linear manner than the Captur when the motor is on boost. For those who are wondering, there is still turbo lag under 2,000rpm, post which the Kicks pulls strongly till 4,000rpm. There's more than enough torque in the midrange to propel the Kicks through traffic without ever feeling like it needs to be worked too hard. To our surprise, even the clutch feel is different – it's more precise and not too heavy. Speaking of the clutch, it's paired to a slick-shifting 6-speed manual gearbox that offers positive throws. The only downside, as we see it, is the lack of an automatic option.

We tested the Kicks on the fairly smooth inner roads and highways of Gujarat, and will have to wait to test out its plushness on really bad roads. Nonetheless, we did take it over some rough, dusty patches and the Kicks managed to hover across ruts and small potholes without unsettling itself. Yes, it is slightly stiff compared to other crossovers but the trade-off to this is better high speed poise when driving over undulated roads. Perhaps the most impressive bit is the way it rebounds quickly from any sharp bump you might encounter, regaining composure almost immediately. Unfortunately, the Kicks also suffers from the high speed steering judder that's present in the Captur and the Duster. When taking corners at high speeds, the steering judders quite a bit, something that could be unnerving for some drivers.
Conclusion
All in all, the Kicks is quite an interesting proposition. It's the longest and widest in its class and it's not just the proportions that Nissan seems to have gotten on point. The Kicks looks the part, too, without appearing overdone. The real question here, however, is whether the Kicks advances the crossover game forward for Nissan. It's certainly improved over its siblings in many key areas including engine refinement, gearshift quality, cabin design and quality. However, it trails behind its rivals when it comes to interior fit and finish and drivetrain options. Nissan India, then, have got to play their pricing card right for the Kicks to work. In terms of pricing, we expect the Kicks to start at around Rs 10 lakhs, going all the way till Rs 15 lakhs for the top-spec diesel trim.
Photos By Kapil Angane
Why would I buy it?
Mid-range performance
Ride quality
Good looks
Why would I avoid it?
Nissan's diminishing dealer network
Engine and Performance
Petrol power is all that one gets with the Nissan Kicks, albeit in two BS6 offerings. A 105bhp/142Nm 1.5-litre naturally-aspirated petrol with only a five-speed manual gearbox, and the new 154bhp/254Nm 1.3-litre turbocharged petrol with either a six-speed manual (we have here) or a CVT automatic transmission. Post cranking this 1.3-litre mill, you won't be left with the impression that this is one of the more silent or refined engines, simply because it puts up a considerable share of NVH.
But first thing first, the lack of low-end torque means you'll end up stalling the engine numerous times to get on the move. Two ways out of this are to either feed in more throttle or keep the auto start/stop mechanism on so that it instantly cranks again. Now we noticed that there's a substantial amount of turbo-lag at low revs (below 2,000rpm). So, the only way one can see some usable road action in this rev range is to slot into a lower gear and keep the revs on the boil at over 2,000rpm. This is where the surge picks up prominently, after which, keeping it pinned will let it run away strongly till about 4,500rpm, before tapering off gradually until the 6,000rpm redline.
It's this resilient mid-range punch that not only allows for some fun behind the wheel but what's also needed to perform overtakes/speedy manoeuvres. Likewise, our Vbox equipment clocked the run from 0-100kmph in a respectable 10.24 seconds. Moreover, our drivability tests of 20-80kmph (third gear)/40-100kmph (fourth gear) took a reasonably swift 9.41/12.51 seconds. Our only gripe is that the notchy gearshifts with a heavy clutch robbed us of some quick-shifting fun. But besides that, the gear lever benefits from short throws and well-defined gates.
Ride Quality and Handling
From the Kicks' ride and handling attributes stem a comfortable ride, both on smooth and broken roads. The latter is taken care of in its stride with considerable ease. Sure, the suspension feels a wee bit firm over the harsher bumps, but it never gets to the point of being intolerable. And also adding to its set of repertoires is the lofty 210mm of high ground clearance which allows the Kicks to steer clear of most road hurdles.
Even the chassis balance is quite favourable as per SUV standards. But that's only if one doesn't push it too hard around the bends. This way, only a controllable amount of body roll is experienced. Meanwhile, the steering itself isn't quick (three turns from lock-to-lock) and is on the heavier side which becomes apparent whilst parking. Otherwise, the steering is quite feelsome and weighs up appropriately as the momentum rises. But the exciting bit is that there's some neat torque steer to be sensed. Also, braking feel by far is confidence-inspiring even in panic situations.
Comfort, Convenience, and Features
Much like the exterior, the Kicks' cabin remains untouched. As such, it's an uncluttered ergonomic one that boasts both premium looking materials as well as some that aren't, the latter mainly seen lower down in the cabin. That apart, the cabin is draped in a yummy chocolate brown shade, which when combined with the similarly dyed leather upholstered seats, produces an interestingly palatable experience. We specifically found the floating eight-inch touchscreen infotainment system with its orderly layout of controls to provide a respectable user experience.
It's clear to me now though, that things like the climate control setup, power window switches, and stalk controls that've been borrowed from the Duster/Captur parts-bin can be a disappointment to most. Notwithstanding, the Kicks is a large spacious SUV that not only offers adequate head-, knee-and shoulder-room overall, it's also able to provide seating for three adults at the rear without a squeeze. Yes, there are AC vents here, but we'd certainly have approved of an adjustable backrest, and maybe even some more under-thigh support, but I'll admit that I'm just plain nit-picking now.
Other than that, storage options here are limited, but what partially makes up for this flaw is the Kicks' cavernous 400-litre boot-space that satisfies the most varied requirements. Plus, the features included in the Kicks XV Premium (O) dual-tone version are the automatic headlamps, electrically adjustable door mirrors, cruise control, front fog-lamps with the cornering function, a cooled glove-box, rear AC vents, rain-sensing wipers, 'Nissan Connect' functionality, and a segment-first 360-degree camera with parking sensors. However, it sadly misses out on important ones such as auto-dimming inner mirror, a sunroof possibly, and wireless charging of course.
Safety Features
The Nissan Kicks makes its case worthwhile by being well-equipped with a host of safety features that include adjustable headrests, ABS, EBD, and four airbags, electronic stability control, hill start assist, seat-belt and speed warning, traction control system, and vehicle stability management system.
Exterior
Upfront, the Kicks sports Nissan's latest V-Motion grille. And, this being the top-spec variant means there are full-LED headlamps with good-looking DRLs to savour. In profile, you can spot the cross-over stance of the Kicks owing to the shape of the roofline as well as the flared well arches that house the diamond cut 17-inch alloys with wide rubber. The rear, on the other hand, is quite dramatic due to stylish tail lamps, layered sloping elements, and the blacked-out C-pillar which gives the effect of a floating roof. If attention is what you want, the Kicks will serve it to you in oodles.
Conclusion
The turbocharged Kicks range in the manual avatar starts from Rs 14.67 to Rs 17.12 lakh (OTR Mumbai), and to just give you an idea, it's more affordable than the top-of-the-line Kia Seltos that's more feature-laden but less powerful. What goes heavily under the axe for this Nissan is the lack of modern features and a dwindling dealer network that's also known for its inconsistent service support. This is truly unfortunate considering the Kicks is a robust, capable, and handsome SUV with strong performance and dynamics to match.
Pictures by Kapil Angane
Nissan Kicks Variants
Find a list of all 8 petrol versions of Nissan Kicks. This table includes Nissan Kicks on-road price which covers all costs like RTO and Insurance.
Filter By
Fuel type, Transmission and Seating Capacity
Petrol
Manual
Automatic (CVT)
5 Seater
Kicks Versions
Ex-showroom Price
Compare

Petrol, 1498 cc, Manual, 13.9 kmpl

Fuel Type: Petrol
Engine: 1498 cc (Higher engine size helps to generate more power)
Transmission: Manual (In a manual transmission car, the driver has to manually shift gears)
Mileage: 13.9 kmpl (ARAI reported mileage)

₹ 9.50 Lakh

Key Features : Touch-screen Display, Rear AC, Parking Sensors - Rear, Integrated Music System, Steering Adjustment

Petrol, 1498 cc, Manual, 13.9 kmpl

₹ 10.00 Lakh

Extra Features over XL versions : Alloy Wheels, Steering Mounted Controls, Reverse Camera with Guidance Parking Assist, Average Fuel Consumption Display, Gear Shift Indicator Display

Petrol, 1330 cc, Manual, 15.8 kmpl

₹ 12.29 Lakh

Extra Features over XL versions : Turbocharged, Push Button Start, Alloy Wheels, Steering Mounted Controls, Reverse Camera with Guidance Parking Assist

Petrol, 1330 cc, Manual, 15.8 kmpl

₹ 13.19 Lakh

Extra Features over XV versions : Cruise Control, LED Headlights, Front & Rear Power Windows, Power Steering

Petrol, 1330 cc, Automatic (CVT), 15.8 kmpl

₹ 14.13 Lakh

Extra Features over XL versions : Turbocharged, Push Button Start, Alloy Wheels, Steering Mounted Controls, Reverse Camera with Guidance Parking Assist

Petrol, 1330 cc, Manual, 15.8 kmpl

₹ 14.19 Lakh

Extra Features over XV Premium versions : Leather Seats

Petrol, 1330 cc, Manual, 15.8 kmpl

₹ 14.39 Lakh

Extra Features over XV Premium versions : Leather Seats

Petrol, 1330 cc, Automatic (CVT), 15.8 kmpl

₹ 14.88 Lakh

Extra Features over XV versions : Cruise Control, LED Headlights, Front & Rear Power Windows, Power Steering
Nissan Kicks Price in India
About Nissan Kicks
Summary
Nissan Kicks, the premium SUV is available in eight petrol-powered variants of which two make use of the 1.5-litre petrol engine while the other six make use of the 1.3-litre turbo petrol engine. The SUV is available in 9 colour schemes (including dual-tone options). The vehicle boasts of offering class-leading features such as the least turning radius of 5.2-metres and the Nissan Connect.
Exterior
As for the exterior, the Nissan Kicks gets LED projector headlights, shark fin antennae, signature V-motion grille and multi-LED set of DRLs incorporated in the headlamp cluster. The vehicle is also available in dual-tone body colour option. The top-end variants will also be equipped with fog lamps neatly integrated into the front bumper. The Kicks rides on 17-inch dual-tone five-spoke machined alloy wheels. These look proportionate and add to the appeal as well.
Interior
All variants of the Nissan Kicks get dual front airbags, power windows, height-adjustable driver's seat, and electrically adjustable mirrors with integrated indicators and climate control with rear AC vents. An 8.0-inch touchscreen system is standard from the XV variant onwards while the top-spec XV Pre-Option variant also gets a segment-first 360-degree surround camera.
Engine & Transmission
The engine options comprise 1.5-litre petrol and 1.3-litre GDi turbo petrol. The former is good for 105bhp/142Nm and is mated to a five-speed manual. The turbo petrol, on the other hand, produces 154bhp/254Nm and can be had with either a six-speed manual or a CVT.
Competition
The Nissan Kicks competes with the Renault Duster, Hyundai Creta, Kia Seltos and Maruti Suzuki S-Cross.
Read More
User Reviews for Kicks
Very much comfortable . Nice SAMALL SEGMENT SUV. Perfect for family long drive. Really love and enjoy ride always.

Mileage Details

Mileage (City)

13 kmpl

Mileage (Highway)

17 kmpl

Maintenance

2000 per month
View All Kicks User Reviews
Write Review
Kicks FAQs
Nissan Kicks is a 5 seater car with 5 doors.
Ground clearance of Nissan Kicks is 210 mm.
Quick Facts about
Nissan Kicks
Nissan Kicks, a SUV, is available from ₹ 9.50 - 14.88 Lakh in India. Nissan offers the latest Kicks in 8 versions in India. The base model XL 1.5 starts at ₹ 9.50 Lakh in Delhi and the top model XV Premium Turbo 1.3 CVT priced at ₹ 14.88 Lakh in Delhi. If you are looking for 5 seater car then you should consider Kicks.
Kicks comes in 8 Petrol version (s).
The Petrol version comes with 1498cc engine capacity and Manual transmission mode(s). It generates 105 bhp @ 5600 rpm. Another petrol version comes with 1330cc engine capacity and Manual, Automatic (CVT) transmission mode(s). It generates 154 bhp @ 5500 rpm.
Nissan Kicks comes in 9 colors which include Pearl White, Blade Silver, Bronze Grey, Deep Blue Pearl, Night Shade, Fire Red, Pearl White/Onyx Black, Bronze Grey/Amber Orange, and Fire Red/Onyx Black.
Compare Kicks with Alternatives
| | | | | |
| --- | --- | --- | --- | --- |
| | Nissan Kicks | Mahindra XUV300 | MG Astor | Kia Sonet |
| Price | ₹ 9.50 Lakh | ₹ 8.41 Lakh | ₹ 10.52 Lakh | ₹ 7.79 Lakh |
| Fuel Type | Petrol | Petrol | Petrol | Petrol |
| Engine Size | 1498 cc | 1197 cc | 1498 cc | 1197 cc |
| Transmission | Manual | Manual | Manual | Manual |
| Power | 105 bhp @ 5600 rpm | 109 bhp @ 5000 rpm | 108 bhp @ 6000 rpm | 82 bhp @ 6000 rpm |
| Torque | 142 Nm @ 4000 rpm | 200 Nm @ 2000 rpm | 144 Nm @ 4400 rpm | 115 Nm @ 4200 rpm |
| Safety Rating | 3 Star (Euro NCAP) | 5 Star (Global NCAP) | Not Tested | Not Tested |
| Boot Space | 400 litres | 257 litres | 488 litres | 392 litres |
| Ground Clearance | 210 mm | 180 mm | - | - |
| Size | 4384 mm L X 1813 mm W X 1669 mm H | 3995 mm L X 1821 mm W X 1627 mm H | 4323 mm L X 1809 mm W X 1650 mm H | 3995 mm L X 1790 mm W X 1610 mm H |
| Compare | Kicks base vs top model | Compare Kicks vs XUV300 | Compare Kicks vs Astor | Compare Kicks vs Sonet |
Nissan Kicks Videos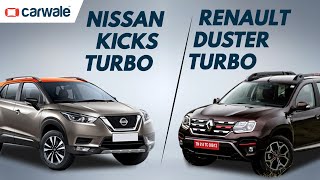 Nissan Kicks Turbo vs Renault Duster Turbo - Power, Space, Features and Price Compared | CarWale
06/23/2021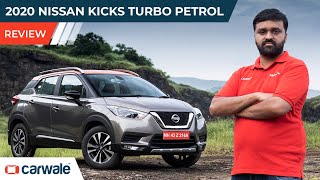 2020 Nissan Kicks Turbo Petrol Review | Is It Faster than Hyundai Creta and Kia Seltos | CarWale
10/06/2020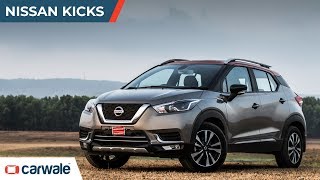 Nissan Kicks Should it be your next car? Test 6 Minute Review
05/15/2019
Nissan Kicks News
Nissan and Datsun models now available through Canteen Store Departments
Nissan and Datsun models now available through Canteen Store Departments
Nissan Kicks available with a discount of up to Rs 95,000 in March
Nissan Kicks Nissan India has announced special benefits on its official website of up to Rs 95,000 for its SUV – Kicks. These advantages are in the form of exchange benefit,
Nissan Kicks available with a year-end discount of Rs 65,000 in December 2020
Nissan Kicks Nissan has announced special benefits up to Rs 65,000 on its SUV – Kicks listed on its official website. These advantages are in the form of exchange benefits and year-end
Nissan India introduces subscription plans for select Nissan and Datsun models
Nissan India introduces subscription plans for select Nissan and Datsun models
Discounts up to Rs 95,000 on Nissan Kicks in February 2021
Nissan Kicks Nissan India has announced special benefits on its official website of up to Rs 95,000 for its SUV – Kicks. These advantages are in the form of exchange benefits,
Find New Cars of Your Choice
PRICE RANGE

FUEL TYPE

BODY TYPE

MAKE

MORE
Used Nissan Cars
₹ 1.55 Lakh

Starting Price

₹ 6.16 Lakh

Starting Price

View All Used Nissan Cars