MINI Countryman
The new MINI Countryman, a Hatchback from MINI, was launched in India in May 2018. Countryman has received 94% rating score from our users. Countryman is preferred for its styling and performance.
MINI Countryman price starts from ₹ 46.00 Lakh in India. Countryman is available in 6 colours - Chilli Red, White Silver, Midnight Black, Sage Green, Island Blue, and British Racing Green IV Metallic. Countryman seating capacity is 5 People. Countryman mileage is 14.3 km/l. Countryman has received 5 Star (Euro NCAP) safety rating.
Countryman is available in 1 versions and 1 fuel options - Petrol. Petrol models comes with 1998cc engine which generates peak power of 189 bhp @ 4400 rpm .
Countryman competes with MINI Cooper, MINI Cooper JCW and BMW X1 in India.
MINI Countryman Model List
| Countryman Model | Price | Key Specs |
| --- | --- | --- |
| Cooper S JCW Inspired | ₹ 46.00 Lakh | Petrol, 1998 cc, Automatic (DCT) |
Countryman Price
Countryman price starts from ₹ 46.00 Lakh. Countryman EMI starts from ₹ 93,271. Select city to check MINI Countryman on-road price.
Version
All Versions
City
Not Selected
Avg. Ex-Showroom price
Countryman Monthly EMI
₹93,271 for 5 Years
Ex-Showroom Price

This price includes GST and any state/city entry tax. However, the ex-showroom price does not include RTO, Insurance, Fast tag, and other accessories cost

₹

0

Registration Charges

Road Tax or registration tax This varies from city to city.

₹

0

Insurance

The insurance cost on CarTrade covers 1-year comprehensive insurance cost with 95% IDV and 3-year third-party insurance cost.
IDV - it is the max amount you will receive if your vehicle is stolen or completely damaged.
Third-party insurance - If you met with an accident with another vehicle, third-party insurance covers cost against damages to the other vehicle or the owner/driver of the other vehicle. It is helpful in the event of an accident by your mistake.
Insurance is mandatory for every vehicle as per the Indian Govt laws.

₹

0

Other Charges

₹

0

On-Road price

The final price you will need to pay to purchase the car in your city. On-road price = ex-showroom price + RTO + Insurance + Fast tag and other accessory charges.

₹

0
MINI Countryman Key Specifications
| | |
| --- | --- |
| Price | ₹ 46.00 Lakh |
| Fuel Type | Petrol |
| Mileage | 14.3 km/l |
| Seating Capacity | 5 People |
| Safety Rating | 5 Star (Euro NCAP) |
| Warranty | 2 Years (Unlimited KMs) |
| Engine Size | 1998 cc |
| Transmission | Automatic (DCT) |
| Size | 4299 mm L X 1822 mm W X 1557 mm H |
| Fuel Tank | 47 litre |
| Ground Clearance (mm) | 165 mm |
Countryman Expert Review
Opening
MINI Countryman Review: The Adventurous
Little did Sir Alexander Arnold Constantine Issigonis know that his creation of a small cost and fuel efficient car in the shortest possible duration on a mere napkin would attain such cult status.
The MINI, which started as a concept was more focused on the utility and practicality of a small car packing in the most space possible with the handling of a Go-Kart. Interesting as it sounds as a cost effective budget car need not be a track performer at all but then thanks to a certain John Cooper, the famous race car builder , who was part of this project since its inception.
The Cooper series have evolved a long way from the time it was first introduced. They aren't any MINIer but then have got a lot meaner and aggressive in design instead without losing on the core essence and value MINIs are known for.
Launched in India recently, it has caught the attention of many. When we were given an option to choose from, I anxiously chose the MINI Countryman over the other petite variants to get a big bite of the premium so called SUV, is it really an "Adventurous" way of spending a premium amount?
Appearance Exterior
It has been long since I got my hands on an authentic retro styled car and not just mere retro inspiration. Reviewing regular cars is a mundane activity but then this was beyond a normal review as it was not just me testing the MINI but also the MINI testing my limits.
The MINI Countryman is officially a SUV, but kindly do not get the compare SUV vs SUV list and demean this car. The looks of the Countryman can lure anyone and everyone. It can make your superiors envy and juniors look upto you. Park it anywhere and the entire scene becomes apt to be inked on a canvas.
If Elvis features in your playlist too often then the MINI Countryman should be gracing your parking lot. This crossover had been designed to bring the inspiring cues of the MINI Cooper hatch to a Sports Activity Vehicle. The Countryman was the first MINI Cooper to come with 4 doors and a seating capacity of 5 people in addition of breaking the 4 metre length of the normal MINIs.
All the MINI enthusiasts can vouch for the trademark short and wide bulldog stance that the Cooper design endorses. Though, back in the days when the Cooper was designed it didn't pack as much people, attitude and fun as the modern day versions and rightly so as in those days it was more about simple subtle life where the tunes on radio were very soothing but then fast forward to present time and the immediate aggression and attitude is evident in everything which has also crawled in on the MINI design language.
The short and stout hexagon grille nose of the Countryman sticks out from the front face sniffing all that comes on its way. Immediately after the radiator grille is an additional air intake slit, which sucks in all the air and supplies the same to the engine as well as at the brakes.
Seems it takes a lot to cool this angry bulldog then just patting its head and giving it a normal snack. In addition to the air intakes under the radiator grille there are some additional air scoops on the front bumper, which channelize the incoming air to the brakes again. The brakes thus need to get cooled through many ways.
Ask any toddler to design a small car and he would design something similar to what the MINI Countryman would look from side view. The front pillars don't have an envious aerodynamic design but they still don't loose on the styling and character of the MINI. The design of front pillars is extended to the side panel with a chrome strip, which also has the side indicator along with the red "S" badging.
The roofline runs tall and parallel to the shoulder line. Door handles done in chrome are an elegant touch. A trendy rear quarter glass after the C pillar extends the hatch suitably and merges it with the tall rear gate door with an integrated spoiler.
The bulging wheel arches surrounding the massive 205/55 R16 are way too impressive. I won't say the stance and the wheels will really encourage you to use it like a go-anywhere-SUV but then who cares as the cult value of the vehicle overshadows everything.
Carrying the trademark tail lights, the rear of this premium SUV is no less impressive. Beginning with the chunky and visually appealing tail lights which has a chrome treatment around, the design is not loud but is very bold in nature. The waistline sits at a considerable height with the MINI logo affixed in the middle and the Cooper S syllables on the right completing it.
The rear bumpers, which has lots of fancy contours holds the shot gun sounding chrome tipped exhausts. The rear bumpers are meaty and protrude out too similar to the front bumpers. The bulging lines of the wheel arches on both the sides are carried on the rear bumpers as well with a small chrome section.
The MINI Countryman like all other MINIs believes in the theme of glamour. It proves that a woman can look beautiful with the curves and turns at the right places and the chiseled and soaked runway model's look is a passé.
Appearance Interior
Venice is your favorite holiday destination. The only time you endure the heat of the sun is probably while taking a sun bath on an exotic beach. There is a chartered Jet at your service always. If all these have a check before them then the MINI Countryman can be your way of spending an adventurous weekend.
It is not at all embarrassing for me to accept the fact that it was my first encounter with something as historic and cult as the MINI. So the moment I got inside, it took me sometime to realize that I am finally seating inside a MINI Cooper. A car, which features in the dream cars list of many including mine.
Jump in and with the thud of those doors you leave the modern monotone out and enter a world of retro cool. An old school design which has tremendous potential to leave you in a state of awe. This Cult classic makes the other cars stoop down in shame with its flamboyant classic curves all over.
The just right size steering wheel has paddle gear shifters with which you can shift into higher and lower gears both ways. The steering wheel has audio controls, phone paring option as well as the voice guidance system too. A chunky and sporty tachometer demands your attention as soon as seated. It's a Cooper S so the sporty theme is obvious with its racy digits and needles.
The centrally located speedometer is a visual treat. If you have smart kids at home, they will find a resemblance between the Speedometer and Micky Mouse, as the twin AC vents on the speedometer resemble Micky's ears. The speedometer also has the infotainment system embedded in it. The dangling speedo needle is superb and you have to take good efforts to make the needle climb its way over the top and go to the other side.
The theme behind the interiors of the MINI Countryman remains to be Circles and Chrome. Be it the retro propeller styled AC vents or the speedo and the tacho arrangement.
Central console has chrome switches for windows and central locking with nice intermediate chrome brackets. Chrome also finds its way on the sporty accelerator and brake pedals along with on the dead pedal. A short and stout auto transmission stick has the S badging on it as well and immediately after the sticks lies the circular controls for controlling the infotainment system.
The MINI is a British car by its origin and so the roots have a very strong influence throughout the car. The raised seats, which have to be adjusted manually (paying close to Rs. 45 lakhs and getting manually adjustable seats is not too much of a comfort) finally make you realize that this is not the regular hatch, which the blokes used in Italian Job but instead is the big brother of it.
Even though the sports seats are a standard on the Countryman, they won't have a negative impact on you. The seats are extremely convenient and its tall height makes it easy to move in and out of the cabin. The legroom offered for both the row of passengers is very generous and is not at all cramped in any which way. The same goes for the headroom offered which is greater than the conventional Cooper hatch.
The door trims have been tastefully done. The grains on the interiors are very eye catchy. Fluidic lines flowing on the door trims of the front and the rear door join each other. This car is a classic and there is always an instance of discovering something new every time. Below the hand rest, lies a stylish Sun glass holder. It was a welcome change over the one situated near the middle rear view mirror. This one has a glossy finish and can be adjusted across a track and the best part, it has the "MINI" label on it. The curvaceous chrome door handles are truly retro and not some inspired design, which makes them stand out.
The storage options start with a grand glove box, which was more than happy to gulp in all the stuff we threw in it. A good recess on both the door trims and twin cup holders on the central console. Luggage space at rear is 350 liters, which is lesser than that in BMW X1 which also costs cheaper. But saying all of that, no one would buy a MINI in comparison to other cars the reason being its expensive but then only connoisseurs of cars would own it.
Performance Drive
This rockstar is powered by a 4 cylinder 1598cc Twin Turbo petrol engine, which produces a power of 184 bhp at an engine speed of 5500 rpm and a torque of 240 Nm between ranges of 1600 – 5500 rpm. The unit is meshed with a 6 speed automatic shift which can also be plated around with a paddle shift on the steering wheel.
It's an epic ride indeed. The cooling of the cabin may not be the strongest point of the vehicle especially for the rear half, which should have some cooling channel to it. Electrically adjustable front seats are missed a lot especially considering its price tag.
The above are the small MINI lows compared to the major highs. Let's start with the Harman/Kardon music system. The name features among the top notch alongside Bang & Olufsen audio systems. A 6.5 inch screen for the infortainment system with ten high end speakers paired with a 480 watt amplifier, the music system is second to none in any premium hatch.
Coming to the tastiest part of the review is the drive. Slide in the key and press the Start button. Behold as an orchestra of tunes from the engine and the exhaust start rolling in tandem. Even if you have the most matured approach towards life and like the calm and serenity of surroundings, this bad girl will lure you to do things against it. At an age, when one should be behaving in a composed manner, I lose it every time I step inside such maniac headed machines, observed it during my AMG drive too and then now in the MINI Countryman.
Just keep pushing the throttle more and more and the coarse scream of the MINI will give you a high. Leave the brakes and you shall blur through the streets with an ease. With the low profiles, the grip is sure tight and the Go-Kart handling can be experienced properly.
This is an SUV but then it is not just a mass people hauling vehicle, it is a MINI so the performance of it has to justify the 4 syllables. It is capable of doing 0 to 100 in 7.9 seconds and can reach a top whack of 210 kmph. The acceleration timing could not be verified but could be very well experienced and felt. The MINI Countryman was the most notorious rides we have reviewed so far.
Traffic Signals, Parking lots, Streets, Highways, Restaurants... park it anywhere and you are the star in it. Women who are normally not to keen on identifying cars are all eyes on this one. Men, Boys, Girls and Women even the kids want to see it and be in it. The quick response from the steering wheel and the paddle shifts are the biggest crooks of the vehicle as they don't let your brains control you but they control you instead. They will make you race in the narrowest of the lanes and longest of the stretches on the highway. In fact, on the highway we faced some good cars who wanted to race with this, the best one being a Toyota Fortuner.
The suspensions are fantastic courtesy its rallying heritage and so are the brakes which can bring the vehicle to a complete standstill without disturbing anyone. The superb handling and brakes are also because of the combine efforts of the Dynamic Stability Control, Electronic Brake Force Distribution, and Cornering Brake control. This angry bulldog needs a lot of controls to remain tamed.
During the review drive, there were 2 questions which I often faced from people. How much does it cost? And what is the fuel efficiency of it? . Seeing my shy smile, the question was gracefully passed over. Who buys an iconic car and cribs about fuel figures? But still for the ones eager to know, we got a worst mileage of 5.8 kmpl and a best mileage of 10 kmpl.
Safety aspect of the MINI Countryman is taken care by three point inertia reel seat belts; the front seats have belt tensioners and belt force limiters. The Countryman S also comes with the runflat technology which is also seen in BMW vehicles.
Tech Specs
Technical Specifications
Make
Mini cooper countryman
Model
Countryman S
ALL4
Engine Capacity (cc)
1598/4
-
Power (PS/RPM)
121/6000
184/5500
Torque (Nm/RPM)
154/4250
158/1600-5000
Transmission
6/A
6/A
Dimensions in mm
Groud clearence
-
-
Length
4110
4110
Width
1789
1789
Height
1561
1561
Wheel Base
2595
2595
Claimed fuel efficiency in KMPL
12.3 city
12.3
Curb weight (kgs)
1805
1805
Cargo Capacity in Liters
350
350
0-100KMPH
7.9 seconds
7.9 seconds
Top Speed
210 KMPH
210 KMPH
Wheels
17' Alloy wheels
Optional 18"Alloy wheels
Tyre size
205/55 R16
205/55 R17
Fuel tank capacity
47L
47L
Features
| | | | |
| --- | --- | --- | --- |
| Features | Countryman | CountrymanS | CountrymanALL4 |
| Automatic airconditioning | Yes | Yes | Yes |
| Automatic transmission with steptronic | Yes | Yes | Yes |
| Central locking with immobiliser and crash sensor | Yes | Yes | Yes |
| Leather upholstery | Yes | Yes | Yes |
| Fog lights | Yes | Yes | Yes |
| Sports leather steering wheel | Yes | Yes | Yes |
| Multifunction steering wheel | Yes | Yes | Yes |
| Rain and light sensor | Yes | Yes | Yes |
| Park distance control, rear | Yes | Yes | Yes |
| Electric seat adjustment with memory for driver seat | Yes | Yes | Yes |
| HiFi loudspeaker system | Yes | Yes | Yes |
| CD changer for 6 CD | Yes | Yes | Yes |
| Driver and front passanger airbag | Yes | Yes | Yes |
| Head airbag front to rear | Yes | Yes | Yes |
| Side airbag driver and front passanger | Yes | Yes | Yes |
| Cornering Brake Control | Yes | Yes | Yes |
| Dynamic stability control | Yes | Yes | Yes |
| Dynamic traction control | Yes | Yes | Yes |
Competition All Specs
Specifications

Mini

Audi

Volkswagen

Variant
Mini cooper countryman
Audi Q3 2.0 TFSI Quattro Petrol
Beetle 2.0 Petrol
Ex Show room price Mumbai in lakh
-
-
-
Engine Capacity (L)
1598
1984
1984
Power (PS/RPM)
121/6000
170/6200
116/5400
Torque (NM)
154/4250
280/4200
172/3200
Dimensions in mm
Length
4110
4385
4129
Width
1789
1831
1721
Height
1561
1427
1498
Wheel Base
2595
1608
2502
Claimed fuel efficiency in KMPL
12.3
12
-
Tyre size
205/55 R16
205/60 R16
195/65 R15
Top speed KMPH
210
210
210
Kerb weight
1805
2100
1870
Tank capacity in Liters
47
65
52
Ex showroom Mumbai
3342900
2621000
2177179
Conclusion
The MINI Countryman comes in a petrol powered 1.6L configuration in India, while internationally a 2.0L diesel version is also available. The Cooper D would make a lot of sense for India the now-a-diesel-fan country. But then the cost calculations involved in getting a 2.0L unit won't be justified.
Secondly, not that the MINI Countryman is of any less fun but then the fun factor could have been raised with a manual shift gearbox. A manual shift gearbox with the rev happy motor would be an epic combination and the sportiness of the MINI would be unchallenged by anyone in that segment.
The MINI Countryman is indeed a pricy car. I have mentioned it before too that it does not stand very strong if compared with the regular cars in the same price segment but then History comes at a price. This car is truly a cult. The MINI can take you the closest to own a high performance sports car. Don't think much, just make sure your dad loves you a lot and this is the best way he can prove it to you.
Let's see how strong the Flamboyant MINI Cooper S holds to the adventurous Countryman, when we review it sometime soon.
MINI Countryman Variants
Find a list of all 1 petrol versions of MINI Countryman. This table includes MINI Countryman on-road price which covers all costs like RTO and Insurance.
Filter By
Fuel type, Transmission and Seating Capacity
Petrol
Automatic (DCT)
5 Seater
Countryman Versions
Ex-showroom Price
Compare

Petrol, 1998 cc, Automatic (DCT), 14.3 kmpl

Fuel Type: Petrol
Engine: 1998 cc (Higher engine size helps to generate more power)
Transmission: Automatic (DCT)
Mileage: 14.3 kmpl (ARAI reported mileage)

₹ 46.00 Lakh

Key Features : Turbocharged, Sunroof, Cruise Control, Push Button Start, Leather Seats
MINI Countryman Price in India
About MINI Countryman
Summary
The largest of the Minis, the Countryman is available in three trims – the Countryman Cooper S, Countryman Cooper SD and the Countryman S JCW Pack. The current generation model offers more space for the occupants than its predecessor. The new mini is locally assembled at the company's facility in Chennai.
Exterior
Visually, the Mini Countryman gets single barrel headlamps and moustache like grille. The new squared headlamps are all-LED with projector lenses. While intelligent headlamps are optional, it gets auto-headlamp function and follow-me-home function as standard. As for the rear, it continues to feature the rectangular tail lamps and large chrome badging which has been carried forward from the older model. For those in love with the British green paint scheme with a white roof, mirror caps and hood stripes; it is offered as an option exclusively on the JCW Inspired version, and it goes without saying that this is indeed the loudest of the lot.
Interior
Step inside and one will be welcomed with the premium leather upholstery. Standard feature list includes a touchscreen system with signature chrome surrounds, steering mounted audio controls, black interiors, two-zone climate control and orange backlighting. The Countryman offers 450-litres of boot space which can be extended to a total of 1,309-litres. In comparison to its predecessor, the new model offers additional 220-litres of boot space.
Engine & Transmission
Under the hood, the Mini Countryman is available in petrol and diesel engine options. The Countryman Cooper S and S JCW Inspired are powered by the 2.0-litre four-cylinder engine which generates 192bhp of power 280Nm of torque, while the Countryman Cooper SD is offered with a 2.0-litre twin turbo four-cylinder engine that puts out 190bhp of power and 400Nm of torque. The older six-speed transmission has been replaced by an eight-speed automatic transmission.
Read More
Quick Facts about
MINI Countryman
MINI Countryman, a Hatchback, is available from ₹ 46.00 Lakh in India. MINI offers the latest Countryman in 1 versions in India. The base model Cooper S JCW Inspired starts at ₹ 46.00 Lakh in Delhi and the top model Cooper S JCW Inspired priced at ₹ 46.00 Lakh in Delhi. If you are looking for 5 seater car then you should consider Countryman.
Countryman comes in 1 Petrol version (s).
The Petrol version comes with 1998cc engine capacity and Automatic (DCT) transmission mode(s). It generates 189 bhp @ 4400 rpm.
MINI Countryman comes in 6 colors which include Chilli Red, White Silver, Midnight Black, Sage Green, Island Blue, and British Racing Green IV Metallic.
Compare Countryman with Alternatives
| | | | | |
| --- | --- | --- | --- | --- |
| | MINI Countryman | MINI Cooper | MINI Cooper JCW | BMW X1 |
| Price | ₹ 46.00 Lakh | ₹ 40.00 Lakh | ₹ 47.70 Lakh | ₹ 45.90 Lakh |
| Fuel Type | Petrol | Petrol | Petrol | Petrol |
| Engine Size | 1998 cc | 1998 cc | 1998 cc | 1499 cc |
| Transmission | Automatic (DCT) | Automatic (DCT) | Automatic (TC) | Automatic (DCT) |
| Power | 189 bhp @ 4400 rpm | 189 bhp @ 5000 rpm | 228 bhp @ 5200 rpm | 134 bhp @ 4400 rpm |
| Torque | 280 Nm @ 1350 rpm | 280 Nm @ 1250 rpm | 320 Nm @ 1450 rpm | 230 Nm @ 1500 rpm |
| Safety Rating | 5 Star (Euro NCAP) | 4 Star (Euro NCAP) | 4 Star (Euro NCAP) | 5 Star (Euro NCAP) |
| Boot Space | 450 litres | 211 litres | 211 litres | 476 litres |
| Ground Clearance | 165 mm | - | - | 183 mm |
| Size | 4299 mm L X 1822 mm W X 1557 mm H | 3850 mm L X 1727 mm W X 1414 mm H | 3850 mm L X 1727 mm W X 1414 mm H | 4500 mm L X 1845 mm W X 1630 mm H |
| Compare | - | Compare Countryman vs Cooper | Compare Countryman vs Cooper JCW | Compare Countryman vs X1 |
MINI Countryman Videos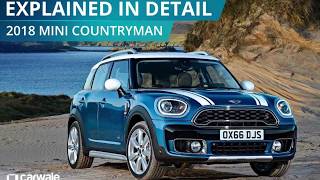 2018 Mini Countryman Launched Explained in details
05/04/2018
MINI Countryman News
2021 Mini Countryman launched in India at Rs 39.50 lakh
Mini Countryman Cooper S Mini India has launched the 2021 Countryman in India and is offered in two trims – Cooper S and Cooper S JCW Inspired, priced at Rs 39.50 lakh (ex-showroom) and Rs
Explained in details: 2018 Mini Countryman
Mini Countryman is launched in India for the price of Rs 34.90 lakhs (ex-showroom).  The Countryman is the compact crossover SUV in Mini's line-up and was showcased at the 2018 Auto
New Mini Countryman launched in India at Rs 34.90 lakhs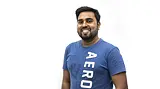 2018 Mini Countryman has been launched in India at a starting price of Rs 34.90 lakhs. The second-generation model is available in three variants - the Countryman Cooper S, Countryman Cooper SD and
Mini launches Countryman Black Edition in India, prices start at Rs 42.40 lakhs
Mini Countryman Black Edition The Mini Countryman Black Edition has been launched in India, with prices starting at Rs 42.40 lakhs (ex-showroom, all India). As the name suggests, the Countryman
2018 Mini Countryman buying guide
The Mini Countryman has been launched in India at Rs 34.90 lakhs (all-India ex-showroom). It's the second generation for the British automaker's largest vehicle and was unveiled for the
Find New Cars of Your Choice
PRICE RANGE

FUEL TYPE

BODY TYPE

MAKE

MORE