Audi RS5 [2018-2020] has been discontinued.
Below details of Audi RS5 [2018-2020] are as of time of discontinuation.
Audi RS5 [2018-2020]
₹

1.11 Crore

Avg. Ex-Showroom price
Audi RS5 [2018-2020]
| | |
| --- | --- |
| Price | ₹ 1.11 Crore |
| Transmission | Automatic |
| Fuel Type | Petrol |
| Seating Capacity | 5 Seater |
About Audi RS5 [2018-2020]
Summary
Audi RS5 Coupe has been launched in India for the price of Rs 1.10 crores (ex-showroom all-India). This is the second generation of the sports coupe. The new RS5 Coupe goes head to head with the BMW M4 which is priced at Rs 1.33 crores in the country. The Beemer also has four-door sedan version, the M3, while the other rival is the Mercedes-AMG C63 in India. The RS5 can also be an alternative to the Jaguar F-Type V6 Coupe and the Porsche 718 twins.
Exterior
The RS5 gets an aggressive styling with large functional air-vents up front, sleek LED Matrix headlamps, hair-splitters and slopping coupe roofline. It sits on massive 20-inch wheels with dual oval exhausts sticking out the diffusers at the back. There are RS badging all over with contrasting silver trims to add to the sporty appeal. The carbon fibre roof and a petite lip spoiler add to the appeal.
Interior
Even after being sporty, the cabin of the RS5 is luxurious. It gets It gets all the luxury features considered standard in this part of the market but trimmed out in the Audi RS badging and interior design. The whole cabin is in a shade of black with carbon fibre and chrome inserts as a part of the design package. Additionally, quilted sports seats with RS logo stitched into them are also thrown into the deal. The instrument cluster is the virtual cockpit while the steering wheel has been given special inserts and badges as a part of the sporty touches.
Engin & Transmission
Under the hood, the 4.2-litre V8 has been replaced with a twin-turbocharged 2.9-litre V6 engine producing 440-bhp of raw power and 600Nm of twisting force with Quattro AWD and an eight-speed Tiptronic gearbox. The output is the same as the before but the torque has gone up by 100Nm. You can do 0-100kmph in 3.9 seconds and then go on to hit a top speed of 250kmph.
Read More
Audi RS5 [2018-2020] Price List
Find a list of all 1 petrol versions of Audi RS5 [2018-2020]. This table includes on-road price which covers all costs like RTO and Insurance.
Filter By
Fuel type, Transmission and Seating Capacity
Petrol
Automatic
5 Seater
RS5 [2018-2020] Versions
Ex-showroom Price
Compare

Petrol, Automatic

Fuel Type: Petrol
Transmission: Automatic (In semi-automatic transmission cars, Gear shifting is handled by the car itself like an automatic car but gear shifting may not be as smooth as an automatic car)


₹ 1.11 Crore

Key features: Sunroof, Cruise Control, Push Button Start, Leather Seats, Ventilated Seats
Audi RS5 [2018-2020] Images
Audi RS5 [2018-2020] Expert Review
Audi RS5: Blitzkrieg Style
Audi RS5, is one of the strongest names when performance coupes are considered. It boasts of a naturally aspirated 4.2L V8 engine pumping out a great deal of power and torque which is transferred to the road via its all wheel drive system. We managed to g
Read More
Audi RS5 [2018-2020] Expert Review
Audi RS5: Blitzkrieg Style
Audi RS5: Blitzkrieg Style
This has to be one of the sexiest Audi's I have ever driven. It does not get Tony Stark inspired flair of an R8 neither does it hug you in luxury instead it acts as a pure muscle car with a German pedigree.
This two door coupe can go fast and seriously fast. It does a sprint of 0 to 100 km/h in 4.6 seconds which means before you can complete saying Vorsprung durch Technik, the speedometer and tachometer needles will be on the other side of their starting point.
Audi RS5 is one of the strongest names where performance coupes are considered. It boasts of a naturally aspirated 4.2L V8 engine pumping out a great deal of power and torque which is transferred to the road via its all wheel drive system. How does it feel to drive a performance car like this on normal roads? We find out in our review.
They all look the same don't they....NO! It has a face similar to its luxury siblings but then the similarity ends there as the RS5 has an expressive face. The aggression in its front lines paired with those shrewd narrow headlights won't encourage anyone to mess with it. It has a large single frame radiator grille with a honey comb style mesh. Lower air intake vents on the bumper can swallow litres of air.
It has a pronounced jaw line with a sporty lip spoiler in an aluminium finish. A strong shoulder line and a clean roofline make it look crisp. The forged Aluminium turbine shaped wheels have a machined grey finish. These wheels are expensive and might cost you a Tata Nano to replace.
The RS5 is a two door coupe and its dimensions look near to perfection. The interesting part about its design is even the oddly shaped bits look in proportion when seen from any angle. The descending roof line, which does not flow parallel to the rear window, look dynamic. There is a gentle flare on wheel arches. The muscular contours on the entire body scream about its performance potential.
A German car with an Italian rear sounds weird but the RS5 does that with great panache. The rear profile reminds me of the Maserati's elegant yet sporty tail design with clean sections. It has an integrated boot lip spoiler. This is not a pseudo fast looking car as it gets a real spoiler tastefully hidden in the rear boot lid which tilts upward at a gentle click from inside.
If luxury is what you seek in a car, then it is better to step out of the RS5 and get inside one of the business class Audi's. The RS5 has interiors which have been designed keeping its performance DNA in mind. The overall theme is dark with subtle red accents.
It is a two door coupe and thus gets rear seats. On paper, the RS5 can seat four people which is only possible if they have an athletic built because it is extremely difficult to make two sit comfortably in the rear. Front row seats have electrical settings to shift them forward and help entry of rear passengers. Blame it on my size, I never made it to the rear of the RS5 (...or perhaps I didn't intend to).
The three spoke steering wheel with RS5 badging looks smashing. Even the instrumental panel with special scaling and black dials with white markings look great. There is also an additional lap timer with oil temperature gauge.
Contrasting brushed aluminium finished shifters and pedals compliment the overall interiors. The same can be seen on door trims too. It might not be a practical everyday car coz of its performance and mileage but when it comes to storage options, the RS5 offers multiple options which range from cup holders, bottle holders even individual holders for the rear passengers and then it gets a large sized boot.
The Audi RS5 is a fast car is a no brainer statement. What else would a naturally aspirated 8 cylindered 4163 engine do? It produces 450Hp of power and a peak torque of 430Nm between 4000 to 6000 rpm. Naturally aspirated cars are slowly vanishing thus if you plan to get a souvenir, then the RS5 should do fine.
Before noticing the car, it is the exhaust note which grabs allthe attention. We saw curious onlookers trying to spot the car as soon as they heard the maniac exhaust note which sounds like a Shotgun gone insane.
The all wheel Quattro grabs the road like claws of an eagle. Get this German rolling and the sudden rush of power makes the heart race. The throttle is nimble but the response isn't as all those numbers can be related to the time it takes to make the surroundings go in a motion blur.
It is all about precision when it comes to such high performance cars and Audi's 7-Speed S tronic transmission does a brilliant job. It takes less than a second before shifting into the next gear thus reducing lag times to almost zero. In Auto mode, the shifts are smooth and but in the sports mode, the RS5 just transforms and all the machinery and equipment inside starts making complete sense.
Those wheels and tyres look amazing but they go beyond being mere pretty additions as the grip these low profile tyres offer especially around corners is simply great. A lot of credit also goes to its meaty braking too. The 265 / 35 R19 tyres are best suited on clean roads without any undulations. It is only when the roads begin to get uneven where these tyres give up on performance. Traction remains its high point but then coz of the low profile they do not sufficiently insulate the cabin from disturbances caused by the road.
It has muscle car inspired styling but at the same time the aerodynamics of the RS5 helps it cut through air effortlessly. The flowing hood line paired with the front pillars and other sections on the front guide air flow in the right direction. Even the scoops on the front bumper help channelize air flow to a great extent. During our test run, It delivered a mileage a 10kmpl which is similar to others in the segment.
Technical Specifications
Make
Audi
Model
RS5
Variant
4.2 FSI quattro
Price
Rs. 9,980,000
Fuel
Petrol
Engine Capacity
4163
Power in hp/RPM
450/8250
Torque in Nm/RPM
430/4000-6000
Gears
7 Speed S Tronic
Length mm
4649
Width mm
1860
Height mm
1366
Wheel base mm
2751
Fuel tank capacity L
64
Tyre Spec
265 / 35 R19
| | |
| --- | --- |
| Features | 4.2 FSI quattro |
| Xenon headlights with separate LED daytime running lights | Yes |
| Radio Symphony with 6 CD changer | Yes |
| RS multi-function steering wheel with alluminium look shift paddles | Yes |
| Fine nappa leather with piping | Yes |
| Audi drive select | Yes |
| Speed-activated retractable rear spoiler | Yes |
| RS body styling | Yes |
| Inlays in matt-brushed alluminium | Yes |
| S sport seats at front electrically adjustable | Yes |
| 3 zone automatic air-conditioning | Yes |
| Anti-theft wheel bolts | Yes |
| Audi parking system plus | Yes |
| Panoramic sunroof | Yes |
| Bang & Olufsen® Sound System | Yes |
Specifications

Audi
RS5

Mercedes Benz
E63 AMG

BMW
M5

Variant
4.2 FSI quattro
AMG 5.5-liter V8 Biturbo engine
M TwinPower Turbo V8 petrol engine
Price (Ex Showroom Delhi)
Rs. 9,980,000
Rs. 13,200,000
Rs. 12,970,000
Fuel
Petrol
Petrol
Petrol
Engine Capacity
4163
5461
4395
Power in PS/RPM
450 / 8250
557 / 5500
560 / 6000-7000
Torque in Nm/RPM
430 /4000-6000
720 / 1750
680 / 1500-5750
Gears
7 Speed S Tronic
7-speed AMG SPEEDSHIFT
7-Speed Auto
Length mm
4649
4879
4910
Width mm
1860
1854
2119
Height mm
1366
1474
1467
Wheel base mm
2751
2874
2964
Fuel tank capacity L
64
80
NA
Kerb Weight (Kgs)
1800
1845
NA
Tyre Spec F
265 / 35 R19
255 / 40 R18
265 / 40 R19
Tyre Spec R
265 / 35 R19
285 / 35 R18
295 / 35 R19
Mileage (kmpl)
9.52
10.2
10.1
Fiction is fancier than truth and the RS5 proves that right. The other Germans who have a bigger heart and pump our more numbers come at a heavier price. The other side of the story is the RS5 is the only rebellious looking built-for-performance coupe unlike the Mercedes Benz E63AMG which looks like a fast family car. The BMW M5 looks better than the AMG but it does not have the raw appeal.
There is no practicality involved in buying a RS5 but then if there is a hooligan in you who has a childish fetish of waking up the entire neighbourhood at 3AM then one must get it for sure.
Quick Facts about
Audi RS5 [2018-2020]
Audi RS5 [2018-2020], a Coupe, is available from ₹ 1.11 Crore to ₹ 1.11 Crore in India. Audi offers the latest RS5 [2018-2020] in 1 versions in India. The base model Coupe starts at ₹ 1.11 Crore in Delhi and the top model Coupe priced at ₹ 1.11 Crore in Delhi. If you are looking for 5 seater car then you should consider RS5 [2018-2020].
RS5 [2018-2020] comes in 1 Petrol version(s).
Audi RS5 [2018-2020] comes in 8 colors which include Nardo Gray, Floret Silver Metallic, Glacier White Metallic, Mythos Black Metallic, Navarra Blue Metallic, Sonoma Green Metallic, Daytona Grey Pearl Effect, Misano Red Pearl Effect.
Read More
Read Less
Audi RS5 [2018-2020] Colors
Daytona Grey Pearl Effect
RS5 [2018-2020] Specifications
Note: Specifications for RS5 [2018-2020] Coupe have been mentioned
Steering, Tyres, & Suspnsions
Steering Type
Power assisted (Electric)
Minimum Turning Radius
5.7
Suspension - Front
five-link lightweight suspension with dynamically tuned spring/damper combination with adapted electro kinematics
Suspension - Rear
trapezoidal rear axle with independent wheel suspension
Tyres Size - Front
265 / 35 R19
Tyres Size - Rear
265 / 35 R19
Size, Weight, & Dimensions
Bootspace / Dicky Capacity (L)
465
Fuel Tank Capacity (L)
58
Audi RS5 [2018-2020] Videos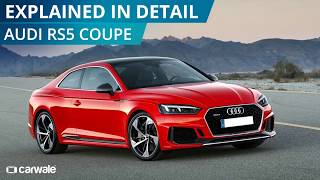 Audi RS5 Coupe Explained in Detail
04/12/2018
Audi RS5 [2018-2020] News
2021 Audi RS5 Sportback to be launched in India on 9 August
Audi India has teased the new RS5 Sportback on its social media handles ahead of its launch that is scheduled to take place on 9 August, 2021.
Audi launches RS5 Coupe in India for Rs 1.10 crore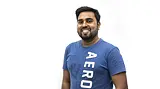 The new second-generation Audi RS5 Coupe has been launched in India at Rs 1,10,65,000 (all-India, ex-showroom). The new RS5 Coupe totally outperforms the S5 and owing to the new platform, it is now
Geneva Show 2017: 2018 Audi RS 5 showcased
The latest generation Audi RS5 has been unveiled at the 2017 Geneva Motor Show. The flagship model for the '5' range of vehicles from the Four Ringed manufacturer, it gets a new design
Audi RS5 explained in detail
Audi has launched the 2018 RS5 coupe in India at Rs 1.10 crores (All-India ex-showroom). It's a high performance addition to the A5, S5 and A5 cabriolet range and the car that has been launched
New Audi RS5 launched in the UK
Audi has officially launched the latest-gen RS5 in the UK. The high-performance coupe with its new 450bhp bi-turbo V6 has been priced at £62,900 on-road, which roughly translates to around Rs
Find New Cars of Your Choice
PRICE RANGE

FUEL TYPE

BODY TYPE

MAKE

MORE