Audi R8
The Audi R8, a Coupe from Audi, was launched in India in Feb, 2016.
Audi R8 price starts from ₹ 2.30 Crore in India. R8 is available in 10 colours - Vegas Yellow, Ibis White, Dynamite Red, Floret Silver, Camouflage Green, Daytona Grey, Suzuka Grey, Mythos Black, Tango Red, Macaw Blue. R8 seating capacity is 2 People. R8 mileage is 6.71 km/l.
R8 is available in 2 versions and 1 fuel options(s) - Petrol. Petrol models comes with 5204cc engine which generates peak power of 533 bhp @ 8250 rpm .
R8 competes with Nissan GT-R, BMW M8 and Porsche Panamera in India.
Audi R8 Model List
| R8 Model | Price | Key Specs |
| --- | --- | --- |
| 5.2 V10 | ₹ 2.30 Crore | Petrol, 5204 cc, Manual |
| 5.2 V10 Plus | ₹ 2.72 Crore | Petrol, 5204 cc, Automatic |
R8 Price
Version
All Versions
City
Not Selected
₹2.30 - 2.72 crore
Last Recorded Price
Audi R8 has been discontinued in 2020. We are showing the last known price for R8.
Audi R8 Key Specifications
| | |
| --- | --- |
| Price | ₹ 2.30 - 2.72 Crore |
| Fuel Type | Petrol |
| Mileage | 6.71 km/l |
| Seating Capacity | 2 People |
| Warranty | 2 Years (Unlimited KMs) |
| Engine Size | 5204 cc |
| Transmission | Manual, Automatic |
| Size | 4426 mm L X 1940 mm W X 1240 mm H |
| Fuel Tank | 83L, 73L |
R8 Expert Review
Opening
This is closest we can get to time travel. We welcome the Audi R8 V10 plus coupe. Over the years Audi's technological knowhow have helped its prototypes achieve 13 wins in the Le Mans, the most gruelling long-distance race in the world. With such a legacy, you'd know what to expect of the R8 V10 plus Coupe. Oh, and did I mention it has 5.2-litre V10 naturally aspirated engine that feels like a volcano erupting?
More on this masterpiece. Unlike the usual automated assemblies, the R8 is mostly put together by hand at the quattro GmbH sports car facility in Neckarsulm, Germany (VW owned). Weld seams of this seemingly flawless body shell are carried out by humans. You'd be baffled to know that robots are involved only as support when the need arises. 15 coordinated stations is all it takes for the most experienced set of hands to assemble this exemplary machine. With the abundant equipment variations and customisation possibilities, not any combination is created twice! Feast your eyes as this is the kind of exclusivity you get for the orange speed demon depicted..
Appearance Exterior
Now, these aerodynamic body lines date back to Audi's legendary R18. While it still retains the basic design language of the earlier R8, it looks much more razor-sharp than before. There's quite a bit of carbon additions thrown in. Especially the new front spoiler, exterior mirror housings, two piece side blades, rear wing and diffuser. Deliciously crafted 19-inch forged aluminium wheels can be seen in tangent with the 19-inch ceramic brakes. Every small detail begs your attention.
I will give you a hint. Each time I pulled over, it took three seconds for people to run from all corners, and magnetically transform into selfie instruments. Look at the finish of that enticing orange paint; just melts your eyes. Superior paint and processes are put to use as this adds to unnecessary weight. So a regular finish is made up of four different coats, while a matte effect paint finish uses as many as six and the outcome is no thicker than a human hair! An interesting optional feature is the laser light head lamps that reaches twice as far. Important to see where this SAM (surface to air missile) is pointed in the dark, right?
Appearance Interior
You kind of lose your breath when you fling the frameless door open. The sight of the cabin makes you forget the bend job needed to get into the seat that's just a few centimetres off the tarmac. Once in, the unmistakeable performance oriented flat bottom steering with scary buttons all over stop you for a detailed viewing. In fact, I realised that everything in this cabin are exquisite tools centric to the driver. There's a reason why the motor start up, driving dynamics, engine sound, infotainment or gear changing can be controlled from the steering wheel. It's so that you can keep your eyes on what's important; burning the tarmac.
There's reasonable amount of space on the inside even though this is a two seater supercar. Absence of the B-pillars accentuates the airy feel and the view over the hood is remarkable. Bucket seats are well appointed in Nappa leather and propose an outrageous level of lateral support. However, finding a natural driving position was impossible as the backrest is fixed. Also, there's space behind the seats for some shopping bags but the question is, with people going gaga over it, where do you safely intend to park this car? There's also some space for your soft bags under the hood, only if you decide to leave the deflated spare wheel behind.
Audi's iteration of an instrument cluster called 'Virtual Cockpit' now sits behind the steering and they've smartly dropped the central display. A vivid 12.3-inch TFT screen displays loads of important information, including the navigation map. A clever function also gets the map to occupy the entirety of the screen while the dials shrink to either side, brilliant! It is also obvious here that the most nerve shattering music is sourced from the vocals of the V10 thrumming in your ears, and not the Bluetooth track.
Performance Drive
Finally! Now to give you an idea, the Audi R8 LMS gets 50 per cent of its parts from this R8 V10 Coupe. Namely the Space Frame and the V10 engine. Being light is exigent, and Audi's Space Frame has high strength aluminium that incorporates carbon for 14 per cent of the construction. And then there's this sweet 5.2-litre direct injection V10 engine strapped on to the hump of this lightweight frame. Believe it or not, this motor meets EU6 exhaust emission standards! With 602bhp on a tight leash, 60bhp more than the outgoing version, I'm sure you're getting the picture. Hit the conspicuous red button, and the V10 coughs to life with a maniac rev that could wring motoring spirits back from the dead.
It feels nothing short of what JPL (Jet Propulsion Laboratories) could build for Nasa. I mean you literally take off while the mind struggles to comprehend and focus the eyes on the road. All this while your soul screams nirvana! 0-100kmph is despatched in a mind numbing 3.56sec, 150kph in 6.73 seconds and before you know it, 200kmph comes up in just over 11sec. This is partially possible due to the S tronic seven-speed dual clutch transmission whose shifts are brutally quick. In hundredths of a second with no pause in power, the thrust is so fierce that you can sense your brain-ware working backwards to deal with the speed. Not to mention the ballistic exhaust note that's unleashed while you're at it. In fact, the decibel drama is so wild that we had cars, visibly farther ahead, shift off our lane.
When you're not in the mood for performance (are you joking?), Audi has gone to the extent of altering the settings in partial load operations. This means that the injection and ignition are switched off at a cylinder bank and only five cylinders, instead of ten, are active. When needed the inactive cylinders switch on for the engine to deploy its full power within milliseconds. Audi's deep installation position of the V10 along with a 90 degrees cylinder angle lends the R8 a low centre of gravity. What also aids the package is the double wishbone axle used on both ends of the suspension. Originating from motorsport, it offers precise steering and excellent agility. At the wheel, it didn't take me more than a bend to figure that out. The electromechanical power steering is super quick to react to whatever is thrown at it. There's also an aggressive eagerness to change direction which helps velocity and the line be maintained around corners.
To aid ride characteristics, the R8 gets adjustable dampers. It makes the car become extremely useful especially in our road conditions. Though the ride can be tuned to offer a reasonably comfortable drive, it can't really pose as an everyday car. Sport mode however, makes the suspension tremendously stiff and everything the road has to offer can be felt hard. Unexpectedly, the ground clearance coupled with the angled chin got the R8 over all kinds of speed breakers and undulations. Armed with 19-inch ceramic brakes and light discs that sport hard silicon carbide, even under high thermal stress their deceleration and control is impressive. Superlative braking power with immaculate pedal response was exhibited.
Tech Specs
| | |
| --- | --- |
| Make | Audi |
| Model | R8 Coupe |
| Fuel | Petrol |
| Variant | V10 plus |
| Engine Capacity | 5204 |
| Max. Power (bhp@rpm) | 602 @ 8250 |
| Max. torque (Nm@rpm) | 560 @ 6500 |
| Gears | seven-speed automatic |
| Length mm | 4426 |
| Width mm | 1940 |
| Height mm | 1240 |
| Wheelbase mm | 2650 |
| Fuel Capacity (in litres) | 73 |
Features
| | |
| --- | --- |
| Features | |
| MMI navigation plus with MMI touch | Yes |
| Audi Virtual Cockpit - Instrument clustre | Yes |
| Bang and Olufsen sound system | Yes |
| Parking system plus with reversing camera | Yes |
| Ceramic brakes | Yes |
| Start-Stop system | Yes |
| Electronic Stabilisation Control | Yes |
| quattro: permanent all-wheel drive | Yes |
| Convenience key | Yes |
Competition All Specs
Specifications
Audi
R8 Coupe
Mercedes-Benz
AMG GT S
Variant
V10 plus
AMG GT S
Fuel
Petrol
Petrol
Engine Capacity
5204
3982
Max. Power (bhp@rpm)
602 @ 8250
503 @ 6250
Max. torque (Nm@rpm)
560 @ 6500
650 @ 1750-4750
Gears
seven-speed automatic
seven-speed automatic
Length mm
4426
4546
Width mm
1940
1939
Height mm
1240
1288
Wheelbase mm
2650
2630
Fuel Capacity (in litres)
73
75
Conclusion
Well, there you have it. Audi's elite and one of the most formidable machines ever built. Created in the world's most demanding development laboratory: Motorsport. So you can expect nothing but the best from it in terms of performance. If money is not a constraint for you, then the Rs 2.97 crore should seem justifiable for the deliciously appointed orange R8 that can be parked at your garage. It will attract the nuts out of anything it comes by and will make you even more famous. Do I really need to say anything more here?
Photo Courtesy By : Kapil Angane
Audi R8 Variants
Find a list of all 2 petrol versions of Audi R8. This table includes on-road price which covers all costs like RTO and Insurance.
Filter By
Fuel type, Transmission and Seating Capacity
Petrol
Manual
Automatic
2 Seater
R8 Versions
Ex-showroom Price
Compare

Petrol, 5204 cc, Manual, 6.71 kmpl

Fuel Type: Petrol
Engine: 5204 cc (Higher engine size helps to generate more power)
Transmission: Manual (In a manual transmission car, the driver has to manually shift gears)
Mileage: 6.71 kmpl (ARAI reported mileage)

₹ 2.30 Crore

Key Features : Sunroof, Cruise Control, Push Button Start, Leather Seats, Ventilated Seats

Petrol, 5204 cc, Automatic, 6.71 kmpl

Fuel Type: Petrol
Engine: 5204 cc (Higher engine size helps to generate more power)
Transmission: Automatic (In semi-automatic transmission cars, Gear shifting is handled by the car itself like an automatic car but gear shifting may not be as smooth as an automatic car)
Mileage: 6.71 kmpl (ARAI reported mileage)

₹ 2.72 Crore

Key Features : 6 Airbags, Sunroof, Cruise Control, Push Button Start, Leather Seats
Audi R8 Discontinued Versions
Note: ALL Audi R8 5.2 V10, 5.2 V10 Plus have been discontinued.
About Audi R8
Summary
Audi is one of the world's most renowned German automobile manufacturers in luxury sports section. Audi R8 is one such model that has gathered immense appreciation for its features and performance all over the world. R8 happens to be a full-fledged two seater luxury sports car. During the initial stages, the company launched Audi R8 4.2 V8 coupe, which was then followed by R8 5.2 V10 Coupe, v10 Spyder and V10 Plus. Earlier in 2015, R8's newest version LMX was launched with more upgrades and better specifications than the previous versions.
Further to this, read Audi R8 Road Test details by our expert.
Exterior
R8 has been in the market for many years now, and is still an appealing sports car with its design and power. The exteriors of R8 have an exotic appearance with big upsized wheels. The aerodynamic shape of the car gives it an edge over while driving at high speeds. The car sports bi-xenon headlamps and a single framed radiator at the front fascia, while the retractable spoiler at rear adds to its sporty look.
Interior
The interiors of R8 are an inviting place with all the luxurious offered at right place. The cabin is designed with quality materials and ambient lighting. The seats of R8 have a quilted leather design with world class finishing of Alcantara composites offering all day comfort and ample support. In order to offer a superior drive experience, the car comes fitted with a seven-speaker audio system with satellite radio, bluetooth and GPS navigation with loaded maps. Other features at interiors of R8 include trunk lights, sun sensor, climate control, 465 watts stereo speakers and voice-activated navigation system.
Engine and Transmission
Audi R8 is available in 6 different variants; V8 has a 4.2-liter petrol engine with displacement of 4163 cc and it generates 428 bhp of maximum power and 430 Nm of peak torque. On the other hand, V10 comes in 3 different variants with V10 FSI equipped with a 5.2-liter petrol engine having a displacement of 5204 cc, and it produces 520 bhp of highest power and 530 Nm of torque. The other two variants V10 coupe and V10 Spyder feature a 5.2-liter petrol engine with a displacement of 5204 cc generating 525 bhp and 570 bhp of peak power, respectively. Audi R8's engine gives power to all the wheels through its 6-speed automatic transmission gearbox with AWD function.
Performance and Handling
The acceleration produced by Audi R8, irrespective of the engine (V8 or V10), is very impressive and stunning. In order to enhance its acceleration the auto maker has made some minor changes in the recent years. The manual gearbox is now replaced with a proper dual DSG clutch transmission system that has increased the car's performance by a good margin. Along with, the powerhouse of R8, V10, is capable of generating enormous speed for this car. The top speed of this car is 320 kmph, making it one of the fastest sports cars in the world. The 10-cylinder V10 engine also creates a lot of acceleration giving the car a thrilling speed of 100 kmph in just 4.4 seconds. Audi R8 has an all-wheel drive function that makes it very athletic and easy to drive. The wheel grip on the road increases the ease of handling.
Braking System
No matter how fast the car is, R8 comes loaded with an efficient braking system. With features like Anti-lock Braking System (ABS) and Electronic Brake-force Distribution (EBD), R8 is safe to drive on high speeds. In order to provide an efficient braking system, the car comes equipped with disc brakes at both front and rear end with traction control.
Mileage
The 5204 cc Petrol - powered variant delivers a fuel economy of 6 kmpl in city and 8 kmpl on highways.
Safety Features
The pre-installed safety features include driver air bag, passenger air bag, side air bags, knee airbags and anti-lock braking system, electronic stability control, integrated turn signal mirrors and traction control. In 2014, the car was tested in a crash test and received positive remarks. With 9/10 marks on safety test, this sports car ensures safety of all the occupants. Having parking sensors at front and rear end and a rearview camera, R8 ensures complete safety while parking the vehicle.
Verdict
If you are a sports car lover, then it's completely up to your choice because many other sports cars like Porsche 911 and 918 fall in the same category. The new R8 has dual clutch DSG transmission that is a huge improvement over the previous models making it a must buy for sports car lovers who have a particular desire for powerful machines.
Competition
Audi R8 has a lot of competitors in its class. Many other sports cars like Porsche 918 Spyder and Porsche 911 are the biggest rivals of Audi R8. Although R8 has been in the market for many years now, it is still a favorite sports car of many. Minor updates every year make it stand neck to neck with its rivals in the market.
Pros
Impressive engine sound
Extremely fast
Easy to Drive
Adds an Exotic touch to the owner's image
Cons
Consumes a lot of fuel
Clumsy automatic transmission
Read More
User Reviews for R8
I got the opportunity to drive Audi R8 recently and have to admit that the super sports car is one of the best from its class. The best sports car in India, Audi R8 is the complete package which offers a power-packed performance, latest technologies and an aerodynamic structure. I was most impressed with its 4.2-litre, V90 spark-ignition engine with 4163 cc displacement. With maximum power generation of 420 bhp and peak torque of 430 Nm, Audi R8 is undoubtedly one of the best performing sports car in India. According to me, the aspect that set the sports car apart from others is its head-turning exterior design. Audi R8 has a commanding presence on Indian roads, especially with its dynamic sports car styling which is accentuated with numerous features. Towards the interiors, my driving experience in Audi R8 was nothing like I had ever imagined. Although a little low on cabin space, the two-door coupe is well-tended with features like air-conditioning system with dual zone climate control, adjustable steering control, driver's seat with electrically adjustable function and steering mounted audio controls. Delivering in terms of every aspect including performance, comfort and safety, Audi R8 has managed to give tough competition to models like Porsche 911.
View All R8 User Reviews
Write Review
Quick Facts about
Audi R8
Audi R8, a Coupe, is available from ₹ 2.30 - 2.72 Crore in India. Audi offers the latest R8 in 2 versions in India. The base model 5.2 V10 starts at ₹ 2.30 Crore in Delhi and the top model 5.2 V10 Plus priced at ₹ 2.72 Crore in Delhi. If you are looking for 2 seater car then you should consider R8.
R8 comes in 2 Petrol version (s).
The Petrol version comes with 5204cc engine capacity and Manual,Automatic transmission mode(s). It generates 533 bhp @ 8250 rpm.
Audi R8 comes in 10 colors which include Vegas Yellow, Ibis White, Dynamite Red, Floret Silver, Camouflage Green, Daytona Grey, Suzuka Grey, Mythos Black, Tango Red, Macaw Blue.
Read More
Read Less
Compare R8 with Alternatives
| | | | | |
| --- | --- | --- | --- | --- |
| | Audi R8 | Nissan GT-R | BMW M8 | Porsche Panamera |
| Price | ₹ 2.30 Crore | ₹ 2.12 Crore | ₹ 2.23 Crore | ₹ 1.57 Crore |
| Fuel Type | Petrol | Petrol | Petrol | Petrol |
| Engine Size | 5204 cc | 3799 cc | 4395 cc | 2894 cc |
| Transmission | Manual | Automatic (DCT) | Automatic (TC) | Automatic (DCT) |
| Power | 533 bhp @ 8250 rpm | 570 bhp @ 6800 rpm | 591 bhp @ 6000 rpm | 326 bhp @ 5400 rpm |
| Torque | 540 Nm @ 6500 rpm | 637 Nm @ 3600 rpm | 750 Nm @ 1800 rpm | 450 Nm @ 1800 rpm |
| Safety Rating | - | Not Tested | Not Tested | Not Tested |
| Boot Space | - | 315 litres | 420 litres | 495 litres |
| Ground Clearance | - | 110 mm | 130 mm | 134 mm |
| Size | 4426 mm L X 1940 mm W X 1240 mm H | 4710 mm L X 1895 mm W X 1370 mm H | 4867 mm L X 1907 mm W X 1362 mm H | 5049 mm L X 1937 mm W X 1423 mm H |
| Compare | R8 base vs top model | Compare R8 vs GT-R | Compare R8 vs M8 | Compare R8 vs Panamera |
Audi R8 Videos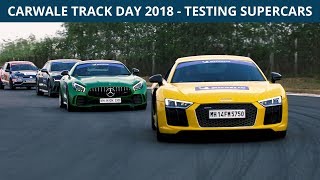 Carwale Track Day Supercars
05/14/2018
Audi R8 News
Audi R8 will not get a V6
Audi's own roadmap, back in 2016, had shown a V6 R8 in 2018 to make the R8 more accessible for the numbers game. But it seems that the idea of a V6 for the flagship supercar might have not gone
Audi R8 GT4 unveiled at New York Auto Show
Audi has built the R8 GT4, a LeMans-spec race machine, to cater to the budding new low-cost GT4 class in world racing. The GT4 sits below the R8 GT3 LMS, a full-fledged race car based on the R8. The
Audi introduces R8 Spyder in the UK
Audi UK has just launched the much-awaited Spyder version of the R8. Priced at £129,990 (Rs 1.14 crore) on-road for the base car, this new convertible version joins the second-gen R8 line-up
Frankfurt Motor Show 2017: Audi R8 V10 RWS revealed
by
CarTrade Editorial Team
Audi has revealed the first ever rear-wheel driven R8 at the Frankfurt Motor Show. Frankfurt Motor Show 2017: Audi R8 V10 RWS revealed Called the R8 V10 RWS (Rear Wheel Series), it is the
Entry-level Audi R8 V8 engine to make way for a V6
As bad as it sounds, yes, the 4.2-litre V8 that is synonymous with the Audi R8 supercar will be replaced by a 2.9-litre V6 petrol engine. As per Audi, the 4.2-litre V8 has been discontinued due to
Find New Cars of Your Choice
PRICE RANGE

FUEL TYPE

BODY TYPE

MAKE

MORE