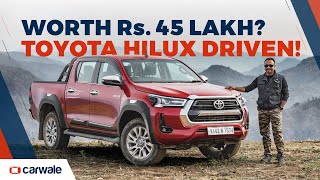 Toyota Hilux First Drive Review - Luxury, Practicality, Exclusivity Combined?
CarTrade | 20 Mar 2023
We took the Toyota Hilux pickup truck out for its first drive on Indian roads and into the wild to explore its features and capabilities. In this video, we examine the exterior and interior of this luxury pickup and assess whether it looks and feels luxurious. Toyota calls it a lifestyle car for adventurous individuals and we take a closer look at its off-road capabilities and examine whether it is comfortable and capable on the road. Finally, we put this 4x4 pick-up truck through an off-road course to test its capabilities.
CHECK ON ROAD PRICE
More details on Toyota Hilux
Watch more Toyota Hilux Videos