Tata Tiago JTP
The Tata Tiago JTP, a Hatchback from Tata, was launched in India in Oct, 2018.
Tata Tiago JTP price starts from ₹ 6.39 Lakh in India. Tiago JTP is available in 2 colours - Berry Red, Pearlescent White. Tiago JTP seating capacity is 5 People. Tiago JTP mileage is 23.84 km/l.
Tiago JTP is available in 2 versions and 1 fuel options(s) - Petrol. Petrol models comes with 1199cc engine which generates peak power of 112 bhp @ 6000 rpm .
Tiago JTP competes with Maruti Suzuki Wagon R, Maruti Suzuki Celerio and Hyundai Santro in India.
Tata Tiago JTP Model List
| Tiago JTP Model | Price | Key Specs |
| --- | --- | --- |
| 1.2 [2018-2019] | ₹ 6.39 Lakh | Petrol, 1199 cc, Manual |
| 1.2 | ₹ 6.71 Lakh | Petrol, 1199 cc, Manual |
DISCONTINUED
DISCONTINUED
DISCONTINUED
DISCONTINUED
DISCONTINUED
DISCONTINUED
DISCONTINUED
DISCONTINUED
Tiago JTP Price
Version
All Versions
City
Not Selected
₹6.39 - 6.71 lakh
Last Recorded Price
Tata Tiago JTP has been discontinued in 2020. We are showing the last known price for Tiago JTP.
Tata Tiago JTP Key Specifications
| | |
| --- | --- |
| Price | ₹ 6.39 - 6.71 Lakh |
| Fuel Type | Petrol |
| Mileage | 23.84 km/l |
| Seating Capacity | 5 People |
| Warranty | 2 Years or 75000 km |
| Engine Size | 1199 cc |
| Transmission | Manual |
| Size | 3746 mm L X 1647 mm W X 1531 mm H |
| Fuel Tank | 35 litre |
| Ground Clearance (mm) | 166 mm |
Tiago JTP Expert Review
Opening
When Maruti Suzuki, Volkswagen or Ford come out with performance oriented variants of their cars, we are always happy about it, but when Tata Motors decided to jump on to the performance bandwagon, we were not just happy but surprised too. Lets face it, India is not exactly a performance car market, in fact its quite far from it. Yet there are a small bunch of enthusiasts who yearn for these 'go-faster' variants of standard cars and are willing to overlook the 'kitna deti hai' question in a bid to enjoy driving.
While there are plenty of cars offering exciting performance, there aren't too many out there who offer this on a budget. Tata Motors knew there was plenty of scope here and decided to take the lead here. We already knew about Tata Motors collaborating with Jayem Automotives to form their performance brand JTP and had also seen the first two products of this collaboration, the Tiago and the Tigor JTP which were shown at the 2018 Auto Expo. The cars are finally here and we got behind the wheel to experience them on some fabulous roads in Ooty.
Appearance Exterior

Both the Tiago and the Tigor are one of the better looking cars in the market and have garned a lot of praise for their fresh design. The JTP treatment has added plenty of character to both these happy looking family cars. For starters both get an aggressively designed front bumper with a large trapezoidal lower grille. Whats really cool is that one can see the intercooler through the air-dam which clearly shouts performance. The headlamps now gets dual chamber projectors which really look the part.

On the sides, the stance is bettered by 15-inch diamond cut alloy wheels and side skirts which complete the sporty theme. Distinguishing the rear are twin exhaust pipes and JTP badging in red. While both the cars look smashing in the red or the white paintjob, we think the Tiago has better proportions overall and is the better looker of the two. In fact with the JTP updates, we think its one of the best looking hatchbacks in our country.
Appearance Interior

Interiors on both the cars remain identical to the standard cars in terms of layout. But they have managed to spice up the insides just like the outside. To retain the sporty focus, the dashboard is all black with none of the dual tone stuff thrown in. There are red accents on the aircon vents which are further accentuated by the red stitching on the seats, the steering wheel and the gearlever. The steering wheel remains the same but it now gets wrapped in leather for better feel.

Talking about the seats, they're pretty comfortable for normal drives, but these are JTP cars which are meant for not so normal drives. Going hard around the corners, the seat recesses can't keep you in place and you do end up moving quite a lot. The JTP cars also get aluminium pedals which frankly look a little cheap but do their job neverthless.

The rest of the equipment is carried forward from the standard car like the 8-speaker Harman system, 5-inch screen and a barrage of connectivity options.
Performance Drive

This is where the proof of the pudding lies. Tata took its most modern and best selling products as the base to try something new and that's not a bad thing at all. Both the cars in their standard trim get a 1.2-litre, 3-cylinder petrol engine putting out a modest 84bhp and 114Nm of torque. Clearly with such run of the mill figures, a big boost was needed. And that boost has come in the form of the 1.2-litre, turbocharged 3-cylinder petrol engine lifted straight from the Tata Nexon. But theres more. While in the Nexon this engine puts out 108bhp and 170Nm, in the JTP twins, the engine makes a higher 112bhp but lesser 150Nm of torque. These figures put the JTP Tiago and Tigor way ahead of competition like the VW Polo GT TSI, the Maruti Suzuki baleno RS and the Ford Figo S. But how do these figures translate on the road?

For starters, twisting the key evokes a bassy thrum from the twin exhaust pipes and if that isn't enough to get your attention, the new-found urgency in acceleration definitely will. Right off the bat, the cars gather momentum quickly as you go through the slightly notchy but positively shifting 5-speed gearbox. More than outright acceleration, its the in-gear accleration that impresses. All through the ghat section, third gear was more than enough to pull through most situations. You also get to choose between City and Sport mode, no doubts for guessing which is more fun. But in both modes, part throttle evokes a jerky response at times which we think is more of a mapping issue.

That said Tata claims some very impressive figures when it comes to outright acceleration. 10 seconds to a 100 kmph is proper proper quick. Slapping on a vbox will tell us genuinley how quick these cars are. While the performance is there, there is no escaping the thrummy character of three cylinder engines. There is no mistaking the engine for a three pot thanks to its coarsness and vibes that are transferred through the gearlever. JTP says its more of a raw feel to experience the performance but we think its just borderline rough and could do with more refinement.

Going fast isn't just about outright power. You need the handling to match as well. So the JTP twins get re-tuned dampers which make the cars stiffer and lower. While most of the times stiff usually indicates teeth-chattering ride quality, Tata has pulled a rabbit out of the hat when it comes to the ride and handling balance. You do feel an underlying stifness but should you get to a broken section, you will be pleasantly surprised. The suspension soaks in the bumps nicely without upsetting the car, the only drawback being the noise filtering into the cabin. Its only the sharp bumps which one needs to be careful of, but other than that JTP have got the set-up pretty much bang on.
Approaching the bends is something we look forwrd to in the JTP twins. The steering is direct and the turn-ins are quick and the car changes direction brilliantly. We could complain about feel but then its not too bad. Then there's the grip. The 185 section Apollo tyres have been specially developed for these cars and they work wonders when it comes to grip and handling. The brakes remain unchanged and that is bit of a bummer too because we would have loved to get more feel and bite. The Tiago owing to its lighter weight and shorter wheelbase is the pick of the lot if its all out fun you are looking for. The Tigor is almost just as capable but offers better practicality with more legroom and bootspace.
Conclusion

So who will the JTP twins appeal to? Tata Motors has tried to tap an unchartered territory which has been lying nascent forever now. Compact performance cars that are not only affordable to buy but are cheap to run too. The JTP twins inspite of offering a big performance jump over the standard cars offer the same service intervals and warranty. And unless you really keep the pedal to the metal at all times, will offer almost similar fuel efficiency figures too.
The JTP twins then are for those who like their cars small and affordable but do not want to compromise when it comes to the joy of driving. At Rs. 6.39 lakh for the Tiago JTP and 7.49 lakh for the Tigor JTP, there aren't any other cars who offer this kind of performance for the buck. In fact these two even triumph cars that are a segment above. No they aren't perfect and have their fair share of glitches, but everytime you hear the turbo hiss and the tacho hit the limiter, you just tend to smile and forget those petty issues. Performance is no longer just for the high and mighty, JTP you beauty you!
Photos By Kaustubh Gandhi
Tata Tiago JTP Variants
Find a list of all 2 petrol versions of Tata Tiago JTP. This table includes on-road price which covers all costs like RTO and Insurance.
Filter By
Fuel type, Transmission and Seating Capacity
Tiago JTP Versions
Ex-showroom Price
Compare

Petrol, 1199 cc, Manual, 23.84 kmpl

Fuel Type: Petrol
Engine: 1199 cc (Higher engine size helps to generate more power)
Transmission: Manual (In a manual transmission car, the driver has to manually shift gears)
Mileage: 23.84 kmpl (ARAI reported mileage)

₹ 6.39 Lakh

Key Features : Turbocharged, Steering Mounted Controls, Integrated Music System, Steering Adjustment, Average Fuel Consumption Display

Petrol, 1199 cc, Manual, 23.84 kmpl

Fuel Type: Petrol
Engine: 1199 cc (Higher engine size helps to generate more power)
Transmission: Manual (In a manual transmission car, the driver has to manually shift gears)
Mileage: 23.84 kmpl (ARAI reported mileage)

₹ 6.71 Lakh

Key Features : Turbocharged, Steering Mounted Controls, Reverse Camera Parking Assist, Integrated Music System, Steering Adjustment
Tata Tiago JTP Discontinued Versions
Note: ALL Tata Tiago JTP 1.2 [2018-2019], 1.2 have been discontinued.
About Tata Tiago JTP
Summary
The JT Special Vehicles (JTSV) – a joint venture between Tata Motors and Jayem Automotive – has launched the Tiago JTP and Tigor JTP in India. These go-faster variants of the duo get a new engine, tuned suspension, aggressive styling and are available in a single top-of-the-line variant. The JTP badged cars will have dedicated space and staff at existing Tata Motors showroom. The duo will also be offered with elaborate customisation options, says Tata Motors. To begin with, both these cars will be offered in only one trim with no options to upgrade the cars visually or mechanically.
Exterior
Both the Tigor JTP and Tiago JTP get aggressive front bumpers with extended trapezoidal front grille finished in contrasting gloss black. The Tiago JTP gets a red paint scheme while the compact sedan has a white paint option. There is an air scoop on the bonnet which looks catchy and there is also a vent on the front fender with JTP logo on it. There is a smoked headlamp unit in Tiago while the Tigor gets a clear lens unit, but both get dual-chamber projector units. A similar wheel design has been seen on both the JTPs - a 15-inch diamond cut dual tone 6.5J lightweight alloy wheels.
Even the rear of the duo gets aggressive styling with stylish diffusers in the Tiago and clear tail lamps in the Tigor. But the most prominent feature at the back is the twin barrel exhaust which sticks out from below the bumper. Tata has also provided a roof spoiler to add to the drama. While the rest of the design remains unchanged, the blacked-out roof is complemented by contrasting ORVMs.
Interior
The cabin of both the cars gets the same sporty theme which is accentuated by red accents on AC vents and contrasting red stitching all around. The leather-wrapped steering wheel gets a red contrast stitch while the black fabric seat upholstery has a red hexagonal motif. The aluminium pedals add to the sporty intention of the Tiago JTP. There are special JTP floor mats while the JTP logo is also seen in the instrument cluster. Just like the modern crop of Tatas, the JTP model too gets the eight-speaker Harman music system with the ConnectNext infotainment system.
Powertrain
Powering the Tigor JTP and its hatchback sibling, the Tiago JTP is the same 1.2-litre three-cylinder turbocharged Revotron petrol engine from the Nexon. It produces 112bhp at 5,000rpm and 150Nm between 2,000 and 4,000rpm. The intake and exhaust system of both the cars are specially tuned, enabling the duo to hit 100kmph from standstill in around 10 seconds. The engine is mated to a five-speed manual transmission with an optimised gear ratio for improved acceleration and performance in the two drive modes - Sport and City. There is no automatic transmission even as an option though, but the steering gets an active return for improved control, while the lowered ride height and the wider tyre provide better grip to the performance duo.
Read More
Quick Facts about
Tata Tiago JTP
Tata Tiago JTP, a Hatchback, is available from ₹ 6.39 - 6.71 Lakh in India. Tata offers the latest Tiago JTP in 2 versions in India. The base model 1.2 [2018-2019] starts at ₹ 6.39 Lakh in Delhi and the top model 1.2 priced at ₹ 6.71 Lakh in Delhi. If you are looking for 5 seater car then you should consider Tiago JTP.
Tiago JTP comes in 2 Petrol version (s).
The Petrol version comes with 1199cc engine capacity and Manual transmission mode(s). It generates 112 bhp @ 6000 rpm.
Tata Tiago JTP comes in 2 colors which include Berry Red, Pearlescent White.
Read More
Read Less
Compare Tiago JTP with Alternatives
| | | | | |
| --- | --- | --- | --- | --- |
| | Tata Tiago JTP | Maruti Suzuki Wagon R | Maruti Suzuki Celerio | Hyundai Santro |
| Price | ₹ 6.39 Lakh | ₹ 5.47 Lakh | ₹ 5.23 Lakh | ₹ 4.89 Lakh |
| Fuel Type | Petrol | Petrol | Petrol | Petrol |
| Engine Size | 1199 cc | 998 cc | 998 cc | 1086 cc |
| Transmission | Manual | Manual | Manual | Manual |
| Power | 112 bhp @ 6000 rpm | 66 bhp @ 5500 rpm | 66 bhp @ 5500 rpm | 68 bhp @ 5500 rpm |
| Torque | 150 Nm @ 2000 rpm | 89 Nm @ 3500 rpm | 89 Nm @ 3500 rpm | 99 Nm @ 4500 rpm |
| Safety Rating | - | Not Tested | Not Tested | 2 Star (Global NCAP) |
| Boot Space | 242 litres | 341 litres | 313 litres | 235 litres |
| Ground Clearance | 166 mm | - | 170 mm | - |
| Size | 3746 mm L X 1647 mm W X 1531 mm H | 3655 mm L X 1620 mm W X 1675 mm H | 3695 mm L X 1655 mm W X 1555 mm H | 3610 mm L X 1645 mm W X 1560 mm H |
| Compare | Tiago JTP base vs top model | Compare Tiago JTP vs Wagon R | Compare Tiago JTP vs Celerio | Compare Tiago JTP vs Santro |
Tata Tiago JTP Videos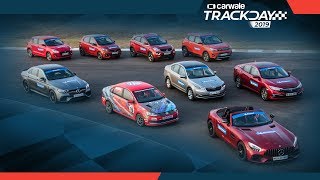 TrackDay- Swift | XUV300 | Civic | VW Vento - CarWale
04/25/2019
Find New Cars of Your Choice
PRICE RANGE

FUEL TYPE

BODY TYPE

MAKE

MORE
Used Tata Cars
₹ 3.75 Lakh

Starting Price

View All Used Tata Cars