Opening
Ssangyong Rexton Review
There is no debating on the fact that Mahindra and Mahindra has evolved into a diversified brand. From starting as a humble jeep maker, the company has it presence felt across multiple platforms. They have always believed in venturing into challenging terrains. Be it their acquisition of electric car company Reva or the two wheeler maker Kinetic Engineering, Mahindra has often raised its own standards.
Even the Ssagyong deal which might have got the critics thinking since it was not a popular brand was a smart move by the company. They wanted to mark their entry in the premium SUV space and thus the Rexton was launched. Toyota Fortuner's success in this range made many jump in but Mahindras were careful to position the Rexton in the most strategic way possible. The result was evident as Fortuner's sales took a dent.
The Rexton offers many features similar to some of the premium SUVs but then it is not priced as much compared to them. We find out more on this flagship offering.
Appearance Exterior
The earlier generation Rexton looked very simple with a conventional design. The radiator grille which seemed a direct fit from its German inspiration along with those weird looking headlamps didn't make sense for it to be continued on the new generation and happily the new car got the needed facelift.
The Ssangyong Rexton has sufficient street presence when compared to the Fortuner. The larger dimensions of the Rexton really work well. Curvy and wide chrome grille gives it a stylish face with large well proportioned sweeping back headlights. The projectors also get the model name etched on it. The long running bonnet gets smooth lines.
Flared side wheel arches and chunky 23575 R16 tyres give it a strong side profile. The ORVMs get embedded turn indicators. There is a subtle chrome lining given to the windows. The upside down rear quarter panel design looks good. Even the rear of the new generation Rexton has been revamped with the use of LEDs in tail lamp. The rear windshield nicely wraps the tail door and merges properly with the D pillar. The only issue is too much of labelling of Ssangyong, RX7, AWD AT Rexton and 'by Mahindra' on the tail door which looks messy. It would have been better with minimal display of names to keep it clean.
The Rexton is a decent looking SUV with enough street presence for a typical chunky SUV fan. The changes that were introduced on this 3rd generation version are impressive.
Appearance Interior
The interiors of Rexton fair well but will not sweep you over with premium quality. The trims material and finishing are not worth complaining though but then they lack the soft touch of a premium quality interior perhaps they wanted it like that.
The leather quality on seats is very impressive and cuddles the occupants with great care. The front row legroom is great with electrically adjustable driver seats. If the front row passengers decide to use the space comfortably then unfortunately the second row passengers might be in soup. The legroom in second row is not sufficient and that paired with its peculiar position makes it uncomfortable. The third row of seats is primarily to keep luggage/groceries and if you decide to replace that with humans it would be a tough job for them to happily hang in there.
Touch screen system with pre loaded navigation maps, steering mounted controls, iPod Aux-in connectivity, automatic dimming lights, fully automatic climatic control and many more features makes the Rexton a laden SUV for the savvy generation. The list of features is impressive but then the overall feel is very functional.
Performance Drive
A look at the comparo sheet and the Rexton comes out a clear winner in power and torque figures over the Toyota Fortuner and Isuzu MU7. The Rexton uses a 5 cylinder 2696cc engine producing 184 PS at 4000 rpm and a torque of 402Nm which is greater than the other two. It also comes in two optional detuned manual transmission variants. The one we had was the 5 speed automatic RX7 variant.
It might look bigger on specs on paper but is not exactly as quick when it comes to real time situation. At lower initial speeds, it takes great efforts to haul the SUV at a higher speed. The automatic shifts don't earn any accolades for being crisp on shift. It has an evident lag. While others have moved on, Ssangyong still manages to run the show with a 5 speed torque converter unit. There are no gear shifters but instead buttons on the steering wheel to change gears.
It's larger dimensions come into play when the Rexton is thrown around corners at high speeds. The body roll takes over its handling potential. High profile 235/75 R16 tyres will make sure you can drive it over anything possible without being scared but then they are not the best in the business when it comes to controlling this massive vehicle. Even the brakes lack bite.
You might not complain a lot if you decide to take the Rexton for a long commute. It has sufficient pitching to make occupants doze off on long journeys. Cruising at triple digit speeds is not a task at all and its large engine takes care of it. During overtaking, the automatic might not behave like a whip but then if you can afford to ignore it, it offers a comfortable ride on highways.
Tech Specs
Technical Specifications
Make
Ssangyong
Model
Rexton
Engine Displacement
2696
Power (PS/RPM)
184/4000
Torque (NM/RPM)
402/1600-3000
Gears
5/AT
Groud clearence
140 @ 6400
Length
4755
Width
1900
Height
1785
Wheel Base
2835
Turning circle radius
5.7
Fuel Tank capacity
78
Tyre Rating
P 235/75 R16
Features
| | | | |
| --- | --- | --- | --- |
| Features | RX5 MT (TOD) | RX6 MT (TOD) | RX7 AT (AWD) |
| Dual tone beige & black interiors | Yes | Yes | Yes |
| Metal grain accents | Yes | Yes | Yes |
| Premium upholstery | Fabric | Leather | Leather |
| Leather wrapped steering wheel | Yes | Yes | With additional metalgrain accents |
| Gear knob | Leather wrapped | Leather wrapped | With chrome and metalgrain accents |
| 8-way electrically adjustable driver seat | No | Yes | Yes |
| 8-way manually adjustable driver seat | Yes | No | No |
| Driver seat with adjustable lumbar support | Yes | Yes | Yes |
| Automatic easy access function for driver seat | No | Yes | Yes |
| ORVMs with electric adjustment + folding and heating | Yes | Yes | Yes |
| Steering mounted audio controls | Yes | Yes | Yes |
| Tilt adjustable steering wheel | Yes | Yes | Yes |
| Day and night IRVM | Manual | Auto | Auto |
| Power windows with driver side auto up-down | Yes | Yes | Yes |
| Keyless entry | Yes | Yes | Yes |
| 3 - 12V power outlets (dashboard mounted, below front passenger seat & boot) | Yes | Yes | Yes |
| Cigarette lighter | Yes | Yes | Yes |
| Removable ashtray | Yes | Yes | Yes |
| Front and 2nd row cup holders | Yes | Yes | Yes |
| Fully automatic climate control system | Yes | Yes | Yes |
| Rear parking sensors - audible | Yes | Yes | Yes |
| Automatic headlamps | No | Yes | Yes |
| Rain sensing wipers | No | Yes | Yes |
| Cruise control | No | No | Yes |
Competition All Specs
Specifications

Ssangyong
Rexton

Toyota
Fortuner

Isuzu
MU7

Variant
RX7
4x2 AT
4x2 MT HI PACK
Price Ex-Showroom Mumbai Rs.
20,90,374
23,32,095
21,87,000
Engine Displacement
2696
2982
2999
Power (PS/RPM)
184/4000
169/3600
161/3600
Torque (NM/RPM)
402/1600-3000
360/1400
360/1800
Gears
5/AT
5/AT
5/MT
Groud clearence
208
220
210
Length
4755
4705
4955
Width
1900
1840
1800
Height
1785
1850
1805
Wheel Base
2835
2750
3050
Turning circle radius
5.7
5.6
6.2
Fuel Tank capacity
78
80
76
Tyre Rating
235/75 R16
265 / 65 R17
245 / 70 R16
Leather Upholstery
Yes
Yes
Yes
Automatic Headlamps
Yes
Yes
No
Daytime Running Lamps (DRLS)
Yes
No
No
Cruise Control
Yes
Yes
No
ESP
Yes
No
No
Traction Control System (TCS)
No
No
No
CD Entertainment System
No
No
No
Rear Parking With Camera
Sensor
Camera
Camera
Engine Immobilizer
Yes
Yes
Yes
Child Safety Feature
Yes
Yes
Yes
Conclusion
Mahindra has pitched the Rexton to battle it against mainstream players like the Hyundai Santa Fe Toyota Fortuner and even the new entrant in this segment which is the Isuzu MU7. The Rexton is for those who want to just enter the premium SUV space without shelling extra for a premium known brand. The list of features it offers almost makes it for the lows felt in interiors and performance. If you want a Bigger SUV for not a bigger price the Rexton would do a good job.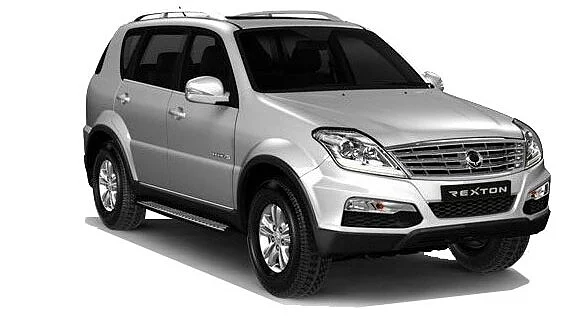 Ssangyong
Rexton
₹ N/A

Onwards
Ssangyong
|
Rexton
|
Ssangyong Rexton