Opening
Ssangyong Rexton First Impression
Brand Mahindra had got into new high when XUV 500 was launched.In further development plan Mahindra has launched Rexton. In fact Rexton is a premium SUV from Ssangyong of Korea. Tie up with Mahindra in India has helped Ssangyong enter the Indian market.
Rexton being the first launch of the partnership and is aimed at luxury SUV segment. We made a visit to Mahindra dealership to check the same and do a first impressions report on the same
Appearance Exterior
At the first look Rexton gives the impression of a sturdy majestic appearance SUV.The wide chrome plated front grills with Rexton Logo grabs the attention. The eagle eye shaped projector head lamps are equally attractive and demands a second look to give appreciation for he style. The headlamp is powerful and does give the best of visibility in all weather conditions. Front bumpers make does participate in giving wider image of the vehicle. Fog lamps are made sleek .Bonnet is provided with W shaped counters. There is smooth and high inclination from front end of bonnet to top of wind shield. The overall front portion gives the impression of high royal look SUV.
Side view reveals the actual size of the vehicle. The wide window panels of front and rear doors, and the extension provided at rear quarter panel and proportionate overall width of door panels ,Wide front front fenders, rear quarter panel, with the big 16" Wheel side participate in the bigger image of car on road. Foot step is provided under the door panel for easy access inside the car.
The Rexton has wide rear windshield glass and covers almost half of dickey door. Tail lamp is in proportionate with dimensions of car. Located at exact corner of quarter panel and dickey door gives a clear and indication of rear side and the width of car as viewed from behind. This could help the following drivers and hence avoid probable brushing in darkness. Wiper is located at center of the dickey door and separate black strip is provided to make it a thing of lesser importance to notice. The name REXTON is impregnated in the dickey door panel and serves as a ambassador for branding. Badges such as Ssangyong, RX7,AT in automatic transmission version are provided. The important point is of the name Mahindra. Its mentioned at bottom corner as "by Mahindra". Its a clear indication that Ssangyong has better share.
Appearance Interior
Best part of Rexton is its interiors. True to the luxury segment belongingness it has best of features one looks for. First the Doors are wide and offers easiest entry .There is ample leg space and head room. Wide seats ensures comfortable seating. 8 –Way Electrically adjustable driver seat with memory function ensures the driver is seated comfortably and adjust the posture so as to get best of visibility. The dash is wide and equipped with all modern features such as touch screen infotainment system with MP3,DVD,USB port and AUX in, and 6 speakers, Navigation system with pre loaded maps, glove box with AC inputs, etc .Black and beige combination used for interiors to make a perfect match.
Premium leather upholstery is used in RX5 variant and Fabric upholstery available in RX5. AC blowers with controls are provided at 2nd and 3rd row. Second row is for 3 passengers and 3rd row is specially designed for children. There is ample space and could be used as sleeping bed for children. Folding the 3rd seat will give plenty of space for luggage .AC blowers available at the center console with arm rest between driver and co driver seats. Sunroof features is a special feature available in Rexton. The wide sunroof has options for tilting and closing available as desired.
The 3rd row being child seat is a special thing about Rexton. Generally in most of SUV, third row seats would also be for adult seating. The intended design of vehicle seems to be limited to 5 people. In case of excessive passengers, children could be seated comfortably in 3 rd row. Also the fact that the dickey is a hatch back type than the door type. A door type would assure entry of persons from rear door. A hatch back door indicate that its meant for luggage.
Performance Drive
Once we get in to the car, we are welcome with the plush leather upholstery of driver seat which ensures best of comfort. There is option for electrically adjustability of driver seat in RX7 variant which we took a test drive. In RX5, manual 8-way adjustability feature is provided for driver seat. Driving of big vehicles such as this and Toyota Fortuner seem to be tough in city driving. However the features like speed sensing steering with shift position indicator help a lot for smooth driving. Though we could not go beyond 80 KMPH due to city traffic conditions, with the smoothness and fast pick up speed, the claimed speed of reaching 194KMPH in RX7 and 180 KMPH in RX5 wont be difficult.
The high quality infotainment system and GPS facility assures comfortable journey. All wheel drive is available in RX7 and is very useful for cross country usage. True to claimed turning circle radius of 5.7M, taking sharp turn at U turns would be a easy thing to do. The majestic look of the car combined with special attraction of Rexton logo grabs the public attention much.
The looks and size of Rexton directly gives a impression of tough competition from Mahindra to take on Toyota Fortuner and Ford Endeavour etc. In brief comparison with Toyota Fortuner and Ford Endeavour. The performance of Rexton is in par with that of Fortuner and Ford Endeavour. Ford Endeavour seems to have edge over Rexton in terms actual performance and Rexton has better features. Features available in Rexton are even better compared to Fortuner. Rexton also has advantage of better pricing than compared with AT version of Fortuner and Endeavour.
Tech Specs
Technical Specifications
Make
SsangYong
Model
Rexton MT
Rexton AT
Variant
RX5 MT
RX5 AT
Engine Displacement / No. of Cylinders
2696/4
2696/4
Power PS/RPM
162/4000
184/4000
Torque in Nm/RPM
340/3250
402/3000
Transmission
5 MT
5 AT
Drive Line
4X4 TOD
AWD
Tyres
235/75 R16
235/75 R16
Fuel Tank Capacity
78L
78L
Dimensions in mm
Ground Clearance
252
252
Turning circle radius in M
5.7M
5.7M
Length
4755
4755
Width
1900
1900
Height
1785
1785
wheel base
2835
2835
Seating capacity
5
7
Gross Vehicle Weight
2760
2760
Mileage kmpl
City
10
10
Highway
12
11
Max Speed km/h
180
194
Fuel
Diesel
Diesel
Color Options
Volcano Black
Volcano Black
Satin White
Satin White
Moon dust silver
Moon dust silver
Opulent Purple
Opulent Purple
Features
Features
RX5 MT
RX7 AT
Price in Bangalore
Ex-showroom price
1840889
2059210
Insurance
70970
411430
Road tax
347376
78987
On road price
2269235
2559627
Premium leather upholstery
Fabric
Yes
8 Way electrically adjustable driver seat
No
Yes
8 Way manually adjustable driver seat
Yes
No
ORVM with electric adjustment and folding,heating
Yes
Yes
Infotainment system with touch screen
Yes
Yes
Steering wheel with tilt function ,audio control
Yes
Yes
Day night IRVM
Yes
Yes
2nd and 4rd Row AC vents with blowers controls
Yes
Yes
Navigation system with pre loaded maps
Yes
Yes
Etronic gearbox with sporty manual mode
Yes
Yes
Electric sunroof with tilt,open function and sunblind
No
Yes
Automatic headlamps
Yes
Yes
Rain sensing wipers
Yes
Yes
Cruise control
Yes
Yes
All wheel drive system
No
Yes
Intelligent 4X4 Torque on demand System
Yes
No
Immobiliser
Yes
Yes
Competition All Specs
Specifications

SsangYong
Rexton

Toyota
Fortuner

Ford
Endeavour

Variant
RX7 AT
4X2 AT
4X2 AT
Ex Showroom Bangalore in Rs
2015436
2262311
2119745
Engine Displacement
2696
2982/4
2953/4
Power PS / RPM
184/4000
171/3600
156/3200
Torque in Nm / RPM
402/3000
343/3400
380/2500
Transmission
5 AT
4 AT
5 AT
Tyres
235/75 R16
265/65 R17
245/70 R16
Fuel Tank Capacity
78L
80L
71L
Dimensions in mm
Ground Clearance
252
221
210
Turning circle radius in M
5.7M
5.9M
-
Length
4755
4695
5060
Width
1900
1840
1788
Height
1785
1850
1826
wheel base
2835
2750
2800
Seating capacity
7
7
7
Mileage Kmpl
City
10
10
10
Highway
11
12
12
Fuel
Diesel
Diesel
Diesel
Conclusion
The new Rexton of Ssangyong under banner of Mahindra offers a great competition among the 20 to 25 Lakh segment SUV. With launch of XUV 500,Mahindra had grown to 15 Lakh range SUV and now its shown further rise. The points like sunroof, availability of Automatic Transmission, leather upholstery, electrically adjustable driver seats etc are boosting factor for Rexton.The factor of 3 rd row seats for 3 adults is affected.
Also the hatch lift dickey door directly indicate it meant for putting luggage. Rexton has all ingredients to make it a satisfactory choice as a luxury SUV. Still some of the points such as image of China made goods in India, non familiarity of Ssangyong in India are some points that make one think twice. Though thee is boosting factor of Brand Mahindra confidence. It would have got even better sales demand if brand Mahindra was highlighted .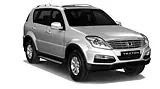 Ssangyong
Rexton
₹ N/A

Onwards
Ssangyong
|
Rexton
|
Ssangyong Rexton