Maruti Suzuki has recalled its flagship SUV, the Grand Vitara for the third time in just two months. This time, the recall is made for 11,177 affected units of the Grand Vitara that were manufactured between 8 August, 2022 and 15 November, 2022.
According to the brand, the recalled models would be inspected for the possible defect in the rear seatbelt mounting brackets, which in rare cases, may loosen and impact its functionality in the long run. The authorised dealership will communicate with the owners of the concerned vehicles for the inspection and replacement of the affected parts free of cost.
In other news, the Toyota Urban Cruiser Hyryder, which is a rebranded version of the Grand Vitara, is also being recalled by the automaker for the same issue as both the SUVs share similar parts and components.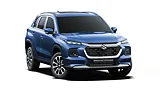 Maruti Suzuki
Grand Vitara
₹ 10.70 Lakh

Onwards
Maruti Suzuki
|
Grand Vitara
|
Maruti Suzuki Grand Vitara