Honda will soon reveal the Coupe version of the 2016 Honda Civic at the 2015 Los Angeles Auto Show which will take place next week. This will be the second launch on the same platform as of the brand new tenth-generation Honda Civic. The 2016 Honda Civic Coupe will offer sportier lines and an even more dynamic character than the sedan.
2016 Honda Civic Coupe
In addition, the interiors will laden with high end technology and there will be a host of powertrain options under the hood of the new Coupe. It will be the sportiest offering on the Civic platform. Much like the sedan, the 2015 Honda Civic Coupe will come with refined engine, well insulated cabin with extremely low NVH levels along with class-leading fuel efficiency.
The new generation Honda Civic Coupe will be offered with a choice of two new motors including a first time turbocharged unit. This unit will have a 1.5-litre displacement and will indeed be one of the most powerful units. Then there would be the naturally aspirated 2.0-litre option which will be available as a standard option. In terms of transmission, the turbocharged unit will make use of CVT while the standard version will get an option between a 6-speed manual transmission and an automatic unit.
Honda is said to launch the Civic in multiple forms which include a sedan, coupe, high performance Si models, hatchback and a Type-R spec model for U.S.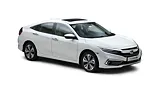 Honda
Civic
₹ N/A

Onwards
Civic
|
Honda Civic
|
Honda