Mercedes-Benz Maybach GLS
Sponsored
Contact dealer for
Test Drives
Offers & Exchange
EMI Options
Insurance
Mercedes-Benz Maybach GLS
| | |
| --- | --- |
| Price | ₹ 2.47 Crore |
| Mileage | 8.5 kmpl |
| Engine | 3982 cc |
| Transmission | Automatic (Torque Converter) |
| Fuel Type | Petrol |
| Seating Capacity | 5 Seater |
About Mercedes-Benz Maybach GLS
Summary
Mercedes-Benz India has introduced the second Maybach model in its India lineup. After the Maybach S-Class, the German carmaker has now launched the Maybach GLS 600 in the country. The flagship SUV is now not only large but luxurious and can pamper its occupants with oodles of features, space, and comfort.
Exterior
What makes this GLS special is the Maybach branding on the exterior that can be found on the front grille, C-pillar, and boot. The chrome elements on the grille with vertical slats, side sill panels, and on the window frame lend elegance and charm to the luxury SUV. The LED headlamps get the multi-beam technology as standard while the tail lamps are similar to the standard model. What adds more appeal are the chrome embellishments on the boot and the rear bumper that extends across the entire width of the car. While it gets 22-inch alloys as standard, one can also opt for the bigger 23-inch ones that are made of polished aluminium and designed exclusively for this model.
Interior
Step inside and the Maybach GLS 600 impresses you with its finely laid out super opulent and comfortable leather seats. The centrepiece is the glass panel on the dashboard that houses two 12.3-inch screens that can also be personalised with three display styles – Sport, Progressive, or Discreet. The dashboard, multifunction steering wheel and the upholstery in magma grey/black or mahogany brown/macchiato beige are standard and draped in rich Nappa leather. The GLS can be had as a four- or five-seat configuration. Also included is the MBUX rear tablet on the centre console of the rear seats that can be adjusted electrically and features a 10 pressure-point massage function.
Other inclusions include LED ambient lighting, a panoramic sunroof, four USB ports, Burmester surround sound system, and Mercedes' Airmatic suspension as standard. On the safety front, features like active lane keep assist, traffic sign assist, speed limit assist, brake assist with turning manoeuvre function, and blind-spot assist with exit warning are all covered under the ex-showroom price bracket.
Engine and Transmission
Powering the Maybach GLS 600 is a 4.0-litre V8 engine with a 48-volt onboard electrical system that Mercedes likes to call EQ boost. While the V8 pushes out 550bhp and 730Nm of peak torque, the EQ boost provides an extra punch of 21bhp and 250Nm of torque. The power is distributed to all four wheels and the transmission duty is taken care of by the nine-speed automatic transmission.
Read More
Mercedes-Benz Maybach GLS Price List
Find a list of all 1 petrol versions of Mercedes-Benz Maybach GLS. This table includes on-road price which covers all costs like RTO and Insurance.
Filter By
Fuel type, Transmission and Seating Capacity
Petrol
Automatic (Torque Converter)
5 Seater
Maybach GLS Versions
Ex-showroom Price
Compare

Petrol, 3982 cc, Automatic (Torque Converter), 8.5 kmpl

Fuel Type: Petrol
Engine: 3982 cc (Higher engine size helps to generate more power)
Transmission: Automatic (Torque Converter)
Mileage: 8.5 kmpl (ARAI reported mileage)

₹ 2.47 Crore

Key features: 8 Airbags, Sunroof, Cruise Control, Push Button Start, Leather Seats
Mercedes-Benz Maybach GLS Price in Popular Cities
Mercedes-Benz Maybach GLS Images
Mercedes-Benz Maybach GLS Expert Review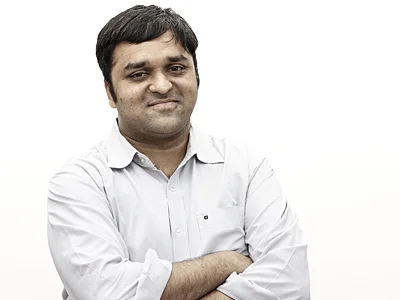 2021 Mercedes-Maybach GLS 600 First Drive Review
It's the most luxurious Mercedes SUV with a V8 for motivation and even a fridge in the rear!
Read More
Mercedes-Benz Maybach GLS Expert Review
2021 Mercedes-Maybach GLS 600 First Drive Review
Why I would buy it?
Space and features
V8 engine
Why I would avoid it?
Too wide and too long for Indian roads
Inadequate boot space
Engine refinement is a department where Mercedes has done its homework when developing this vehicle. It is powered by a 4.0-litre twin-turbo mild-hybrid V8 producing 557bhp and 730Nm of torque and comes mated to a nine-speed automatic with the German automaker's 4MATIC AWD system. The output of this engine is more than enough to lug the car's large frame around and you never feel it strain or struggle. What you do feel is the V8's ability to launch the car forward if you mash the throttle with a 0-100kmph time of 4.9 seconds and the electronically limited top speed of 250kmph; you are never going to be short of motivation with this one.
The nine-speed gearbox is not the fastest and there's a very minor lag in terms of shifts, but given the relaxed nature of the car, it's better for refinement and a smooth driving experience. The V8 growl, while muted due to the levels of insulation, is ever-present and is glorious to hear when you hit the higher sections of the RPM band.
Now, one of the signature elements of the Mercedes Maybach range is an air suspension which gives it a very plush and relatively flat ride. Comfort is the absolute key and nothing compromises that, making it a very impressive setup. This being an air suspension, you can adjust the firmness by changing modes as well as ride height when the going gets rough. On the smooth blacktop where such a car is expected to spend most of its time, it's an odd kind of comfort – thanks to the high levels of insulation, massive tyres, and the ability of the suspension to articulate the individual wheels on speed breakers and keep the car level as much as possible.
For reasons that are more than obvious, words like handling and cornering don't have much effect when referring to the GLS 600 and the size and weight it brings along. But you would be surprised at the driving experience the Maybach GLS600 offers. The air suspension's ability to articulate the wheels means you are going more or less flat through the corners and depending on the five driving modes you get an additional sense of weight in the steering wheel. This is noticeable and reassuring, considering it is mostly devoid of feel in the dead ahead position. With all this in picture, if you get behind the wheel, then it is better to brake early and take wider turns to account for the car's size and weight.
In a car like this, the place that matters the most is the rear seats. It's strictly a space for two and is coloured out in these rather bright shades of brown and beige, and comes fitted with every conceivable luxury one could ever want in their vehicle.
The seats are electrically adjustable using the controls on the door and apart from moving the rear seats, one can also adjust the front passenger seat. What's more, you get three pre-sets which allow you to choose between normal, recline, and the one that brings you closer to the rear screen. The seats themselves are extremely comfortable with an amazing amount of bolstering and the optional Maybach-branded pillows for that added comfort.
This is of course a carriage of the ultra-rich and so, if they demand, then one can choose between five different massages settings with hot and cold options, via the removable tablet or the seatback mounted screen. If you are in the mood for a complete experience, then there's even an option called Energising Comfort for a relaxing experience where the ambient lighting gets dimmed, seats begin to massage, and there's soft music to soothe your senses. This, however, is an option for the front seats and those at the back would have to choose their massage settings.
With a large glasshouse, massive length, and panoramic sunroof, the view all around is fantastic no matter which seat you are seated in. However, if you want to dial it back just a little bit, then you can adjust the multiple sun-blinds via the touchscreen interface, and this combined with the level insulation does tune out the outside world significantly. Once you have relaxed and are ready to focus, the rear seats of the Maybach GLS can transform into your mobile office or entertainment space. You get fold-out tray tables, Wi-Fi connectivity, USB Type-C ports, and even an HDMI input.
The luxury trappings are not limited to the rear-seat occupants as the front two seats, too, have been lavished with quite a few luxuries. They get the same massaging and seat control options as the rear seat occupants but with the added benefit of the massive dual screens that dominate the dashboard.
The one on the right is a fully digital HD display for the instrument cluster while on the left is the interface for the MBUX infotainment system. It is paired with a 27-speaker Burmester sound system that livens up the proceedings and makes it sound like you are sitting in a small theatre. While the wood and leather are top-notch, it is in the front where a majority of controls and switches are concentrated. You can also see that Mercedes has a fitted car with high-quality plastics, making it just a bit more special.
This car is at the very top of the Mercedes' SUV organisational pyramid and thus comes with every single option in the German automaker's options list. The standard list includes four-zone climate control, powered seats, mirrors and windows, leather upholstery, wood inserts, a Burmester sound system with 27 speakers, and of course everything that we described in the previous section for the rear occupants. The extra little touches come in the form of multiple shades for the ambient lighting, the option to control everything, short of opening the doors electronically, and the massive carpets that provide an additional level of insulation.
There's absolutely no doubt that the GLS at 5.2-metres is a massive car with a presence and exterior design elements to match its large personality. You are never going to miss it in a crowd, no matter how large, and will always stand out among a sea of vehicles.
The face of the GLS Maybach has been adorned with a large amount of chrome, while its huge size is most visible in a profile where it gets this large glasshouse complete with chrome decor for that extra premium feel. This car has been fitted with 22-inch wheels, the largest on offer in India today, and sports this slightly old school multi-spoke design. The rear is a signature Mercedes SUV with very recognisable elements like the tail lamps, dual exhaust tips, and the shape of the glass area.
The Mercedes Maybach GLS600 is no doubt a very capable limousine with many luxury features, oodles of spaces, a luxurious ride thanks to the air suspension, and a very capable 4.0-litre twin-turbo mild-hybrid V8 that is equally adept at providing refined hauling capabilities as well as incredible performance. It's very easy to live with and self-drive once you wrap your head around the size.
However, to be honest, in a country like India, more often than not, it will be chauffeur driven and for that, the rear seats offer nothing short of a business-class flying experience without you ever having to leave the ground! You get one fully loaded version which is officially called the Mercedes-Maybach GLS 600 4MATIC at a price tag of Rs 2.43 crore (ex-showroom Delhi).
Photos: Kapil Angane and Kaustubh Gandhi
Maybach GLS FAQs
Mercedes-Benz Maybach GLS is a 5 seater car with 5 doors.
Quick Facts about
Mercedes-Benz Maybach GLS
Mercedes-Benz Maybach GLS, a SUV, is available from ₹ 2.47 Crore to ₹ 2.47 Crore in India. Mercedes-Benz offers the latest Maybach GLS in 1 versions in India. The base model 600 4MATIC starts at ₹ 2.47 Crore in Delhi and the top model 600 4MATIC priced at ₹ 2.47 Crore in Delhi. If you are looking for 5 seater car then you should consider Maybach GLS.
Maybach GLS comes in 1 Petrol version(s).
The Petrol version comes with 3982 cc engine capacity and Automatic (Torque Converter) transmission mode(s). It generates 550 bhp @ 6000 rpm.
Mercedes-Benz Maybach GLS comes in 8 colors which include Brilliant Blue Metallic, Cavansite Blue Metallic, Emerald Green Metallic, Iridium Silver Metallic, Mojave Silver Metallic, Obsidian Black Metallic, Polar White (Non Metallic), Selenite Silver Metallic.
Read More
Read Less
Similar Cars To Mercedes-Benz Maybach GLS
Mercedes-Benz Maybach GLS Colors
Polar White (Non Metallic)
Maybach GLS Specifications
Note: Specifications for Maybach GLS 600 4MATIC have been mentioned
Transmission
Automatic (Torque Converter) - 9 Gears, Sport Mode
4x4 or All Wheel Drive
Torque-On-Demand
Mileage - ARAI Reported
8.5
Engine
3982 cc, 8 Cylinders In V Shape, 4 Valves/Cylinder, DOHC
Engine Type
4.0L M177 Twin-Turbocharged V8 + 48V Mild Hybrid
Peak Power (bhp@rpm)
550 bhp @ 6000 rpm
Peak Torque (Nm@rpm)
730 Nm @ 2500 rpm
Turbo / SuperCharger
Twin Turbo
Others
Regenerative Braking, Idle Start/Stop
Steering, Tyres, & Suspnsions
Steering Type
Power assisted (Electric)
Minimum Turning Radius
6.26
Suspension - Front
Double Wishbone, Air Springs, Single-tube Gas-filled Shock Absorber, Stabiliser Bar
Suspension - Rear
Multi-link, Air Springs, Twin-tube Gas-filled Shock Absorbers, Stabiliser Bar
Tyres Size - Front
285 / 45 R22
Tyres Size - Rear
325 / 40 R22
Size, Weight, & Dimensions
Bootspace / Dicky Capacity (L)
520
Fuel Tank Capacity (L)
90
Mercedes-Benz Maybach GLS Videos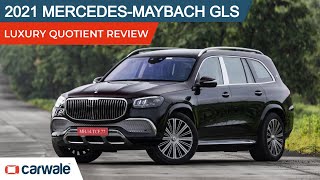 2021 Mercedes-Maybach GLS Luxury Quotient Review | On-Road First-Class Flying Experience | CarWale
08/16/2021
Mercedes-Benz Maybach GLS News
Mercedes-Benz India retails 8,958 cars; sales surge by 79 per cent
Mercedes-Benz India has delivered 8,958 units from January to September 2021.
Mercedes-Maybach GLS 600 India launch on 8 June
Mercedes-Maybach GLS 600 India launch on 8 June
Mercedes-Maybach GLS 600 launched in India; priced at Rs 2.43 crore
Mercedes-Maybach GLS 600 launched in India; priced at Rs 2.43 crore
Mercedes-Maybach GLS 600 launched; Indian launch soon
  Mercedes Maybach GLS 600 The Mercedes-Maybach GLS 600 is launched for the American markets with a starting price tag of $1,61,550 (approximately Rs 1.2 crore). The Mercedes-Maybach GLS
Find New Cars of Your Choice
PRICE RANGE

FUEL TYPE

BODY TYPE

MAKE

MORE