Why would I buy it?
Strong performance
AMT convenience
City friendly dimensions
Why would I avoid it?
Top end lacks essential features
Looks basic
Noisy at highway speeds
Engine and Performance
There's one engine and two gearbox options to choose from, a 5 speed manual or a 5 speed AMT and what we have here is the AMT version which I believe is going to be the pick for majority of Alto buyers. Now it's not the most seamless when it comes to changing gears, especially going up the gears but you know what it doesn't really matter because at the end of the day it does exactly what it says on the box. It's more convenient and easier to drive in traffic for new drivers and for those who are stepping into the world of automatics, this will do the job just fine. Under part throttle it's smooth enough in its operation and gearshifts in general are imperceptible for the most part.
Maruti has switched to their Heartec platform for the new K10 and we believe it has made it even lighter than before. As for the engine, the updated K10C delivers the slightest of improvement in claimed fuel efficiency over the old K10B engine. In fact, the Alto K10 is now rated at 24.39kmpl for the manual and 24.90kmpl for the AMT.
This one-litre three cylinder engine is a strong unit and we have seen that already in the Celerio so to have it here in a car that's even smaller and lighter makes the Alto K10 quite peppy at city speeds. It will get off the mark cleanly in second gear using the clutch alone and although we do not recommend you do that especially when the car is under load, it is nice to know that this engine is tractable and user friendly.
Ride and Handling
What's not so nice is the steering which I think is too heavy at low speeds especially for parallel parking and once you are up to speed it's not like it weighs up positively because there is some vagueness around dead center position. The engine also gets very loud at high RPMs and when you factor in the limited sound deadening it becomes pretty clear that this Alto is not a car that you will relish driving at triple digit speeds on the highway.
Exterior
It's been a couple of years since Maruti stopped selling the Alto K10 and if I am honest I was never a fan of how the facelifted K10 looked. I think it looked too basic from the sides and it had unusually large taillights and headlights which to my eyes messed up the overall look. Now when I look at this new K10, I am glad it doesn't look anything like the old one. In fact, I love how the new K10 makes no bones about it being a basic hatch so it's all simple lines and details when it comes to bodywork. So at the front you have a simple flat bumper with a large air dam which gets a honeycomb design for the grille. Now like I said, it's all very simple and basic so you get halogen headlights, the Suzuki logo and that's pretty much it. There are no flashy daytime running lights or even fog lights for that matter. In fact, you don't even get a provision to fit aftermarket lights on this bumper.
Moving to the sides, you have the side indicators on the fender of course. They are not on the wing mirrors and speaking of which, it's not body colored anymore as you can see it's finished in black so there's that. Now the other visual cue that screams basic are the 13-inches 145 section tires and that's really small but at least the profile is high so that's good for absorbing bumps and potholes.
The rear is one area where I feel the K10's looks have improved the most. It doesn't look bulky anymore and that is mainly because of the smaller taillights which I think are the right size finally considering how small the K10 is. Of course there's no rear wiper or a switch to open the hatch from here so you will have to use the key for that.
Comfort, Convenience and Features
Some of you might not see it but some of the design bits and the features come from more expensive Maruti models which is quite nice. So for instance you have the steering wheel which you will also find on the Ignis and the Wagon R. Then there's the touchscreen infotainment display which is similar to the one on the new Celerio.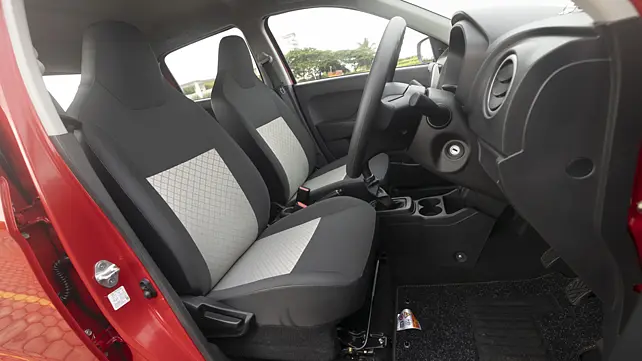 Talking about quality levels and fit and finish, both are acceptable at this price point and even though you have scratchy plastics all over and majority of it is finished in black it looks hardwearing so I wouldn't be worried about things falling apart for a long time. Now the K10 is a small car so naturally it's got a cabin that's also relatively small but one major advantage of this is that all the controls are within your reach and it takes no effort whatsoever even to do things like adjusting the outside mirror or the passenger side seat from the driver's seat.
Speaking of new features, you get a digital instrument cluster, steering mounted audio and phone controls and of course this seven-inch touchscreen infotainment system with four speakers and get this, Android Auto and Apple Carplay. For safety there's dual front airbags, ABS, parking sensors at the back and front seat belts with pre-tensioners. So what are the things even Alto buyers might miss not having? I think electric mirrors and rear power windows would have made this cabin far more convenient.
The other area where the new Alto K10 is better than the old car is right here at the back and it's the amount of space. There is a decent amount of kneeroom for an average sized adult and yes, the rear seat is short and it lacks under thigh support but then again, this is a very small car and in that context it's just fine. Overall, here at the back there's nothing sumptuous or extra but I will say that there is a good amount of space for two adults at least.
Conclusion
So the new Alto K10 range starts a very reasonable 3.99 lakh rupees for the base variant but if you want this car which is a VXi Plus AMT you will have to spend nearly 5 lakh 85 thousand rupees which I know is a lot of money. In all fairness, the new Alto K10 is nippy, it has enough space for a small family, a decent features list and even in this most expensive AMT variant, it represents good value and for a majority of small car buyers that's the most important thing when they are looking to buy a new car.
Pictures by Kapil Angane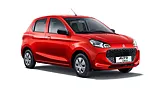 Maruti Suzuki
Alto K10
₹ 3.99 Lakh

Onwards
Maruti Suzuki
|
Alto K10
|
Maruti Suzuki Alto K10