Maruti Suzuki 800 has been discontinued.
Below details of Maruti Suzuki 800 are as of time of discontinuation.
Maruti Suzuki 800
₹

N/A

Avg. Ex-showroom Price (incl. GST)
Thanks for sharing your details
We couldn't find any dealerships in your city
Maruti Suzuki 800 Price List (By Variant)
VARIANTS

EX-SHOWROOM PRICE (DELHI)

COMPARE

796 cc

|

Manual

| - kmpl

N/A

796 cc

|

Manual

| - kmpl

N/A

796 cc

|

Manual

| - kmpl

N/A

796 cc

|

Manual

| - kmpl

N/A
Maruti Suzuki 800 Expert Review
Maruti Suzuki 800: Everyone's car
Does this car need any introduction? Your father had it, your uncle had it, and your dad's friend had the old "Dinky 800" too. Maruti Suzuki 800 became a synonymous name for a cars across all households in India.
Maruti Suzuki 800 has also enjoyed the position of a status symbol for long time. It was a basic car but what made it really special was that it fulfilled lots of dreams. If you could afford one, it showed the progress you had made in life.
The trend of successful hatchbacks in India was initiated by this very small car and now, every car manufacturer want to snuggle their own version in that very segment. The Maruti 800 was the best selling small car until sometime back, when Alto took over.
Though, it has been discontinued in many cities, Maruti Suzuki is planning to revive the iconic 800 in the future with its Cervo model, which is still at the speculation stage.
In the attempt to educate our readers, we publish the ownership experience of Mr.Shiva Shankar and his Maruti Suzuki 800.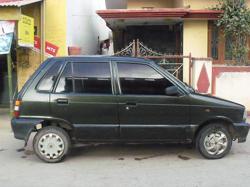 Maruti 800 Technical Specification
Maruti Suzuki 800
Sl no
Parameter
STD
AC
1
Engine cc/cyliner
796/3
796/3
2
Power in PS
37@5000rpm
37@5000rpm
3
Torque
59@2500
59@2500
4
Transmission
4/M
4/M
5
Tyre type
Tubed
Tubed
6
Front tyre size
145/75 R12
145/75 R12
7
Rear tyre size
145/70 R12
145/70 R12
8
Seating capacity
4
4
9
Fuel tank capacity
28
28
10
Dimensions in mm
11
Length
3335
3335
12
Width
1440
1440
13
Height
1405
1405
14
Ground clearance
170
170
15
Turning circle radius in Meters
4
4
16
Ex showroom Price
210296
254374
Maruti Suzuki 800 is powered by a 3 Cylinder 796cc petrol engine. The last version had an MPFi unit as well. The small engine produced a peak power of 37bhp at 5000 rpm and a torque of 59Nm at 2500 rpm. These statistics were basic indeed but were appropriate for a car this size.
Below are a list of frequently asked questions on the Maruti Suzuki 800 and its ownership.
Question: When do you buy the car, what motivated you to go for this deal?
Answer: I bought this car last year i.e. 2011 March for Rs 75000. It had done 43000 kms and till date I have clocked 55056 kms. I use the car for family outings only, which includes weekend outings, as well as occasional long drives. I have a two wheeler and I use it extensively for my daily commuting to work and for personal purpose. My family consists of 5 members, including my parents. So my prime concern was the car should comfortably sit in all my family members. Budget was also an issues as my range was between Rs.80,000 to Rs.1,00,000. The other factors that influenced me for the car was that I was aware about the maintenances involved for it. Secondly, the car had to fit in my tight parking space too. No other car other than the Tata Nano would have been a better alternative.
Question: Tell us about present status of the car.
Answer: The car is 12 years old. Its usage is quite less. As mentioned earlier, it has run roughly 13000km in one year. The engine is very smooth and so is the suspension. Tyre condition is quite good and can be used for another 10K kms max before replacement.
Question: How about the cost per service?
Answer: Last when I had given for service, the total bill was about Rs.2500, including oil change, coolant change and other minor repairs. So far, no major repairs done on it.
Question: Any accident repairs done, insurance claimed?
Answer: I have not done any body work on the car, though there is a small dent on the left rear fender, which creates an obstacle while opening the door, which presently I fail to attend due to lack of time. I will soon be tackling it and assume a repairing cost of Rs.5,000.
Question: Any mileage issues that you have faced?
Answer: I get a mileage of around 15KMPL in City and 17KMPL on the highways. I am quite satisfied with the Fuel efficiency, especially considering the age of the vehicle.
Question: Can you tell us more about your experience in long drives?
Answer: I have taken my car for long drives of around 500kms. It is a comfortable car and offers decent performance. Since my family consists of the elderly and a child, I always practice safe driving. All my trips are well planned including short intervals in between. I choose to drive at a consistent speed of 80KMPH. I enjoy driving fast too, when I am alone and also in a responsible way. I have driven up to speeds of 120KMPH in this vehicle. At speeds exceeding 110kmph, the vehicle starts getting unstable which compels me to slow down.
Question: Any brake down faced and how was the problem solved?
Answer: I did have some tense moments in long drives. Once, the car came to a halt on the highway due to overheating. It was around 11pm to be precise(I had driven continuously for around 130km and earlier driven around 200km on the same morning). So was worried for a while on what to do. Though, I was sure that the vehicle would start once the engine is cooled, anxiety was surely there. It did start after a while and I drove around 70 kms to reach house. Next day, it was given for servicing and found out that the problem appeared due to dilution of coolant. Got the radiator flushing as well as top up done and the problem was solved.
Question: Any good and bad experience at service station?
Answer: Service back up is excellent with the availability of authorized service centers all over the country. However the labor costs have gone up which deviates many to go to local mechanics for the periodic maintenance. I service my vehicle at a nearby authorized service center, it offers very reliable service. I am satisfied with the services offered.
Question: Could you tell us your take on the LPG kit fitments that many are opting for.
Answer: I am satisfied with the performance of my car. Since it offers reasonably good mileage on petrol and my usage is limited, I am not in favour of any LPG kit installment. Moreover, I would be using this car for more years.
Question: How do you rate the overall ownership, would you recommend the same to others?
Answer: Indeed, Marut Suzukii 800 is the best used car one can get under Rs.1Lakh. The points like lower spares cost, wide spread service network, good resale value makes it an appropriate car for any first time buyer.
Question: If you wish to go for a new car, which brand and model would you choose and why?
Answer: For the time being, I do not have any plans of changing my car. I am very satisfied with the performance of my car and the ownership too is not a costly affair. However, I think Maruti Suzuki Eeco would be an ideal car for upgradation as it has an advantage of spacious interiors, 5 seater or 7 seater options and also offers good performance. Though, there could be problem with the parking space at my place for a car of a size of an Eeco.
Maruti 800 Rival Chart
Rival Chart
Tata Nano
Tata Nano
Maruti 800
Sl no
Parameter
LX
AC
1
Engine cc/cyliner
624/2
796/3
2
Power in PS
38@5500rpm
37@5000rpm
3
Torque
51nm@3000rpm
59@2500
4
Transmission
4/M
4/M
5
Tyre type
Tubeless
Tubed
6
Front tyre size
135/70 R12
7
Rear tyre size
155/65 R12
8
Seating capacity
4 person
4
9
Fuel tank capacity
28
19
10
Dimensions in mm
11
Length
3099
3335
12
Width
1495
1440
13
Height
1652
1405
14
Ground clearance
180
170
15
Turning circle radius in Meters
4
4
16
Ex showroom Mumbai
211902
254374
Maruti Suzuki 800 Conclusion
With the above article we have tried to provide an insight into the ownership of Maruti Suzuki 800 and how till today it's the most preferred choice while upgrading from a two wheeler to a 4-wheeler.
We hope the presently discontinued Maruti Suzuki 800 gets back on the streets in a revamped version offering better performance and fuel efficiency than before. Readers are welcome to share their comments and experiences with Maruti Suzuki 800.
Read More
800 User Reviews
06th February 2017, 05:17 IST
Good: engine is good and ac nice condition
Bad: breaks , suspension
Maruti Suzuki 800 Colours
800 Specifications
Note: Specifications for 800 have been mentioned
Dimensions, Capacities & Details
Colors
Blue Blaze, Brick Red, Silky Silver, Superior White
Maruti Suzuki 800 News

Malayalam Superstar Mammootty shows interest to bu....
28th April 2015 08:19 IST
A while ago we had reported the sad plight of India's first ...

The need for preserving India's first ever Maruti ....
20th April 2015 03:00 IST
India's national capital New Delhi might have the word "new" in its ...

India's first Maruti 800 gathers rust unattended
18th April 2015 08:35 IST
Indian car fanatics would never forget the era when the first lot ...

India's once favourite car, Maruti 800, much in de....
by
CarTrade Editorial Team
22nd November 2012 10:29 IST
Though the Maruti 800 is loosing its sheen in India, the fans ...

Maruti Suzuki ships petrol cars to African Nations....
by
CarTrade Editorial Team
India's largest car maker in terms of sales, Maruti Suzuki India Limited ...

Maruti Suzuki witnesses ups and downs in its share....
by
CarTrade Editorial Team
Maruti Suzuki India Limited, the country's largest car maker, has witnessed instability ...
Find the Cars of Your Choice