Isuzu D-Max
The new Isuzu D-Max, a Truck from Isuzu, was launched in India in May, 2021. D-Max has received 92% rating score from our users. D-Max is preferred for its Styling and Comfort.
Isuzu D-Max price starts from ₹ 19.48 Lakh in India. D-Max is available in 8 colours - Nautilus Blue, Red Spinal Mica, Silky White Pearl, Sapphire Blue Mica, Galena Grey, Silver Metallic, Black Mica, White Solid. D-Max seating capacity is 5 People. D-Max has received Not Tested safety ratings.
D-Max is available in 4 versions and 1 fuel options(s) - Diesel. Diesel models comes with 1898cc engine which generates peak power of 161 bhp @ 3600 rpm .
D-Max competes with Toyota Hilux, Jeep Compass and BYD e6 in India.
Isuzu D-Max Model List
| D-Max Model | Price | Key Specs |
| --- | --- | --- |
| Hi-Lander | ₹ 19.48 Lakh | Diesel, 1898 cc, Manual |
| V-Cross Z 4x2 AT | ₹ 22.96 Lakh | Diesel, 1898 cc, Automatic (TC) |
| V-Cross Z 4x4 MT | ₹ 23.44 Lakh | Diesel, 1898 cc, Manual |
| V-Cross Z Prestige 4x4 AT | ₹ 26.95 Lakh | Diesel, 1898 cc, Automatic (TC) |
D-Max Price
Version
All Versions
City
Not Selected
Avg. Ex-Showroom price
D-Max starting EMI
₹39,503 for 5 Years
Ex-Showroom Price

This price includes GST and any state/city entry tax. However, the ex-showroom price does not include RTO, Insurance, Fast tag, and other accessories cost

₹

0

Registration Charges

Road Tax or registration tax This varies from city to city.

₹

0

Insurance

The insurance cost on CarTrade covers 1-year comprehensive insurance cost with 95% IDV and 3-year third-party insurance cost.
IDV - it is the max amount you will receive if your vehicle is stolen or completely damaged.
Third-party insurance - If you met with an accident with another vehicle, third-party insurance covers cost against damages to the other vehicle or the owner/driver of the other vehicle. It is helpful in the event of an accident by your mistake.
Insurance is mandatory for every vehicle as per the Indian Govt laws.

₹

0

Other Charges

₹

0

On-Road price

The final price you will need to pay to purchase the car in your city. On-road price = ex-showroom price + RTO + Insurance + Fast tag and other accessory charges.

₹

0
Isuzu D-Max Key Specifications
| | |
| --- | --- |
| Price | ₹ 19.48 - 26.95 Lakh |
| Fuel Type | Diesel |
| Seating Capacity | 5 People |
| Safety Rating | Not Tested |
| Warranty | 3 Years or 100000 km |
| Engine Size | 1898 cc |
| Transmission | Manual, Automatic (TC) |
| Size | 5295 mm L X 1860 mm W X 1785 mm H |
| Fuel Tank | 55 litre |
| Ground Clearance (mm) | 220 mm |
About Isuzu D-Max
Summary
Isuzu DMAX, a SUV has 3 versions available in India. Isuzu DMAX has 3 Diesel cars. Other popular cars in the similar price range of Isuzu DMAX are Fiat Avventura, Maruti Suzuki Swift and Tata Zest. Isuzu DMAX comes in 3 colours, namely, Alpine White, Nautilus Blue, Sterling Silver Metallic.
Pickup trucks were never really popular with private owners. Commercial owners though found relatively great use of this vehicle. In the tiny roads and narrow lanes, the sub-1.5 ton vehicles and the sub-1 ton models are the most popular. Most of the market is ruled by Tata and Mahindra, whose pickup models are quite useful in the commercial sector. In spite of the fact that this vehicle space has quite some dearth with respect to the number of models, entry-level vehicles are ruling the roost in the sector. With Isuzu launching the D-Max pick-up truck, it is expected that the space will no longer have the usual gap.
Isuzu D-Max has the goal of becoming one of the most affordable as well as comfortable lightweight pick-up machine, mainly suitable for small businesses. The taxation structure and the various set of rules governing the commercial models. However, the new government is looking forward to boost the small industries. Simultaneously, the government is also promoting smaller pick-up trucks and their sales. This is primarily because of the fact that these vehicles are more suitable for the Indian roads as compared to the full-sized trucks. The congested Indian roads have a tough time accommodating the huge trucks and thus, are better suitable for pick-up trucks. Isuzu has thus struck the right chord by launching the D-Max.
Further to this, read Isuzu DMAX Road Test details by our expert.
Price
The Diesel trims of Isuzu DMAX are priced between Rs. 6,44,000/- to Rs. 7,64,000/-.
Exterior
Isuzu has a fierce looking exterior, which has been primarily made to beat the roads with its performance. The external chrome grille has an appearance like a lion's teeth. The wing mirrors, body-coloured bumpers as well as the door handles has been neatly carved to suit the ergonomics of the vehicle. The cargo area has been efficiently carved to merge well with the body of the pick-up truck. The suave appearance is expected to gain the Isuzu a number of brownie points. Hub caps with steel wheels have been provided as a standard on the vehicle. However, Isuzu might bring an option of alloy wheels.
The vehicle has been provided with only two passengers' compartment and the arched deck version has been provided only as a space cab. The space available on the rear is quite more than expected. Also, there is a thin line of cushioning on the back wall. This is the result of the company's estimation that undoubtedly, people will sit there anyway.
Interior
The cabin of the pick-up truck is almost basic and the interiors have been made as frill-free as possible. Its dashboard has been out in place right from the SUV of the brand MU-7. The grey and black plastic work has been utilised delicately in place of the regular silver trim and faux wood. Instead of the normal touchscreen a single-DIN Kenwood audio system has been put in place.
The quality of the cabin has a distinct touch Isuzu-touch with a fit and finish, well above par the conventional models. The plastic used has been tried and tested and is compatible with rough conditions. However, rest assured that it does not mean that the cabin is rough; in fact, the entire system has been designed to amp the comfort quotient as well.
The bottle-holders on the inside of the doors and the dual cup-holders in the central console is ideally sized to fulfil the purpose ideally. Also, proper-sized cup-holders are in place against the back console along the back wall, which are slightly problematic to reach.
D-Max has been provided with power windows, steering rake adjustment facility and a day-night rear-view mirror. Wing mirrors are adjustable only by hand with no seat adjustments. The driving position is quite commendable where Isuzu has fixed the perfect combination of not too high or not too low riding position. The pick-up offers almost perfect visibility to all people where the bonnet ends. Fabric seats have a firm grip and are ideally designed to suit a long drive.
Engine and Transmission
Isuzu has been provided with a 2.5-litre, quad-cylinder, common rail diesel engine, which generates 134 bhp power and a torque output of 294 Nm of torque. It uses a powerful five-speed manual as well as automatic transmission system.
Performance and Handling
When it comes to power, the engine roars and jump starts to move. However, as I starts moving, the sound ebbs down and power flow is consistent. The drivability is moderately smooth in the middle-range. When the boost sets in, the pick-up truck accelerates almost evenly. The gear-shifts are small initially, but D-Max goes to a longer range at ease with higher gears.
Braking System
The brakes are quite suitable to bring the big machine to bring them to halt. However, whether the tyres are suitable to bear the wear and tear is a question that might be posed later on.
Mileage
The 2499 cc Diesel - powered variant delivers a fuel economy of 10 kmpl in city and 12 kmpl on highways
Safety Features
Isuzu D-Max has not been provided with an ABS system; which hinders it normal braking procedure by a notch. Skinny tyres have been put in place that might raise an eyebrow at the moment. However, Isuzu might follow these as standard in the recurrent versions.
Verdict
Except the skinny tyres, the pick-up truck seems to be ideal for small businesses. Especially suitable for the narrow Indian roads, Isuzu might be a good option in Tier-II and Tier-III cities, as well.
Competition
The main competitors of Isuzu D-Max will be the Tata Xenon XT and Mahindra Scorpio Getaway.
Pros
Spacious
Meant for Small businesses
Cons
No ABS
Read More
Isuzu D-Max Variants
Find a list of all 4 diesel versions of Isuzu D-Max. This table includes on-road price which covers all costs like RTO and Insurance.
Filter By
Fuel type, Transmission and Seating Capacity
Diesel
Manual
Automatic (TC)
5 Seater
D-Max Versions
Ex-showroom Price
Compare

Diesel, 1898 cc, Manual

Fuel Type: Diesel
Engine: 1898 cc (Higher engine size helps to generate more power)
Transmission: Manual (In a manual transmission car, the driver has to manually shift gears)


₹ 19.48 Lakh

Key Features : Turbocharged, Steering Adjustment, Average Fuel Consumption Display, Gear Shift Indicator Display, Front & Rear Power Windows

Diesel, 1898 cc, Automatic (TC)

₹ 22.96 Lakh

Extra Features over Hi-Lander versions : Steering Mounted Controls, Reverse Camera Parking Assist, LED Headlights, Integrated Music System

Diesel, 1898 cc, Manual

₹ 23.44 Lakh

Extra Features over Hi-Lander versions : Steering Mounted Controls, Reverse Camera Parking Assist, LED Headlights, Integrated Music System

Diesel, 1898 cc, Automatic (TC)

₹ 26.95 Lakh

Extra Features over V-Cross Z versions : 6 Airbags, Cruise Control, Push Button Start, Leather Seats, Alloy Wheels
Isuzu D-Max Price in Popular Cities
User Reviews for D-Max
Whats Good

This is the most exciting and fun SUV I have ever driven. I got delivery two weeks back. I am simply loving the ruggedness, power, smoothness of ride on any damn terrain... I made a choice between XUV and Isuzu, and man I have absolutely no regrets. I drove this a couple of times before the purchase and the dealer also allowed me to try it in a off-road event on craziest off-road tracks. This vehicle has tremendous capability and you can straight away take the stock vehicle to extreme off-roading. It in fact loves the bad roads. It also has a great ride on highways. It has tall and commanding driving position and engine is quite smooth and powerful. Seats are comfortable for long journeys, great legroom... Though I have not taken it out for long drives, I know few folks who have recently done cross country road trip and they are extremely happy about the performance and comfort. It looks like a handsome beast and turns lot of heads. Not a single day so far without compliments from strangers coming and asking about the car when they see it. This is a popular vehicle in eastern countries and in Australia and best part is you can do infinite customizations on it just like Jeep or Mahindra Thar. You can upgrade rims to 17", upgrade to all terrain or mud tires, put aa suspension lift kits, add offroad ARB or Ironman bumpers, winch and rear tow hooks... do ECU remapping for additional power... Put fancy LED lightbars or halogen lights and the looks are to drool for... get canopies and lids for the rear pickup tray... You also get Dieseltronics for this car ... Dieseltronics lets you select performance modes like economy, sports etc... This one is the toughest all rounder you can buy in India which can be used to go to your office, city drives, long highway journeys, do river crossings or to tame the extreme mountain terrains... And the large pickup tray on the rear is handy to load your bicycles / tents/ or tons of luggage for your cross country trips... You can get it covered with many soft lid or hard lid options as well... The length and size is huge, but it just takes one or two days to get used to it... Overall I have never been this happy owning a car before... Worth every single dime!

What Can Improve

Engine tune-up / ECU mapping for better fuel economy.

Whats Good

nothing

What Can Improve

complete

only drive 10000 km wheel disk cracked, 2 times clutch complaint
View All D-Max User Reviews
Write Review
D-Max FAQs
Isuzu D-Max comes with a 1898 cc Diesel engine and the price starts at ₹ 19.48 Lakh in Delhi. Whereas Toyota Hilux comes with a 2755 cc Diesel engine and starts with a price tag of ₹ 33.99 Lakh in Delhi. You can
compare Isuzu D-Max and Toyota Hilux
and chose the right car for you.
Isuzu offers warranty for first 100000 km with all offered 4 versions. However, warranty expires after 3 years even if km is not achieved.
Quick Facts about
Isuzu D-Max
Isuzu D-Max, a Truck, is available from ₹ 19.48 - 26.95 Lakh in India. Isuzu offers the latest D-Max in 4 versions in India. The base model Hi-Lander starts at ₹ 19.48 Lakh in Delhi and the top model V-Cross Z Prestige 4x4 AT priced at ₹ 26.95 Lakh in Delhi. If you are looking for 5 seater car then you should consider D-Max.
D-Max comes in 4 Diesel version (s).
The Diesel version comes with 1898cc engine capacity and Manual,Automatic (TC) transmission mode(s). It generates 161 bhp @ 3600 rpm.
Isuzu D-Max comes in 8 colors which include Nautilus Blue, Red Spinal Mica, Silky White Pearl, Sapphire Blue Mica, Galena Grey, Silver Metallic, Black Mica, White Solid.
Read More
Read Less
Compare D-Max with Alternatives
| | | | | |
| --- | --- | --- | --- | --- |
| | Isuzu D-Max | Toyota Hilux | Jeep Compass | BYD e6 |
| Price | ₹ 19.48 Lakh | ₹ 33.99 Lakh | ₹ 19.27 Lakh | ₹ 29.15 Lakh |
| Fuel Type | Diesel | Diesel | Petrol | Electric |
| Engine Size | 1898 cc | 2755 cc | 1368 cc | - |
| Transmission | Manual | Manual | Manual | Automatic |
| Power | 161 bhp @ 3600 rpm | 201 bhp @ 3400 rpm | 161 bhp @ 5500 rpm | - |
| Torque | 360 Nm @ 2000 rpm | 420 Nm @ 1400 rpm | 250 Nm @ 2500 rpm | - |
| Safety Rating | Not Tested | 3 Star (Euro NCAP) | Not Tested | Not Tested |
| Boot Space | 225 litres | 435 litres | 438 litres | 580 litres |
| Ground Clearance | 220 mm | - | - | 170 mm |
| Size | 5295 mm L X 1860 mm W X 1785 mm H | 5325 mm L X 1855 mm W X 1815 mm H | 4405 mm L X 1818 mm W X 1640 mm H | 4695 mm L X 1810 mm W X 1670 mm H |
| Compare | D-Max base vs top model | Compare D-Max vs Hilux | Compare D-Max vs Compass | Compare D-Max vs e6 |
Isuzu D-Max Videos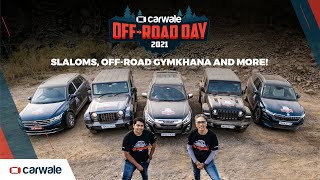 CarWale Off-Road Day 2021 | Thar, Wrangler, D-Max V-Cross, Kodiaq, Tiguan | Top SUV Comparison
03/22/2022
Isuzu D-Max News
Isuzu India opens new facility in Jodhpur
Isuzu India opens new facility in Jodhpur
Isuzu anticipates 50,000 unit production at new Andhra facility in next 3 years
Following the roll out of the new D-Max V-Cross at the newly built manufacturing facility in SriCity, Andhra Pradesh, Isuzuhas announced some major production expansion
2017 Isuzu D-Max introduced in the UK
Isuzu has upgraded the D-Max for 2017 and is now gearing up to put this new model on the roads in the UK. 2017 Isuzu D-Max introduced in the UK The highlight upgrade on the 2017 D-Max is a new
Find New Cars of Your Choice
PRICE RANGE

FUEL TYPE

BODY TYPE

MAKE

MORE