Opening
Honda Mobilio: First Drive
Shifting their focus to consumer centric cars, Honda forayed in a segment that was completely untapped by the company. After the success of Brio and Amaze, Honda will be entering the passenger MPV segment with the Mobilio.
There aren't many offerings in the compact MPV segment except for Maruti Suzuki Ertiga. With the Mobilio, Honda plans to slice out a bigger share by offering premium design and best in class mileage.
Designed keeping the challenging needs of Indian consumers, the Mobilio looks all set to be the new leader. We explore it in our first impression report.
Appearance Exterior
The Mobilio is based on the same platform as the Brio and Amaze and thus it shares certain design cues. Honda officials claim that the design was targeted to the young and aspirational as well as the matured buyers, who value premium and want a balanced design.
The design is similar to the hatch and sedan but the detailing done is impressive. The single slat chrome radiator grille gives the Mobilio a wide stance. Front bumpers are completely new and feature different fog lamp housings. After the Honda City, it is the Mobilio which gets the wide front face with a chunky single chrome grille.
The side profile is very impressive with strong design lines. Wheelbase has gone up from that of Amaze but then it does not look out of proportion. The front and rear overhang appear balanced. Flared arches make it look strong and wide. Post the B pillar the design is completely new with a thunder bolt window line.
It is interesting to see that the designers made sure the Mobilio does not only look good but at the same time feels good too. The arch joining the B pillar to the C pillar makes sure the passengers inside get a wider view of surroundings. The D pillar gets an upper covering while the rest meets the rear tail glass giving it a side panoramic view.
The rear view has to be the best compared to any other MPV selling in the country. Opposing the general trend of making the rear a plain looking dull gate, the Mobilio gets a Odyssey inspired design. It gets a 6 LED high mount stop lamp along with an integrated bumper. It has a flared design to make sure it looks strong as well packs in more luggage. There is a small lip section on the rear bumper to help getting luggage in the boot area.
And if the normal version of Mobilio doesn't fit your enthusiastic bill, there is an option of Mobilio RS. It is a first in the segment. Unlike the Aero kit, this is not an accessory pack but a proper variant which gets best in class exterior updates. It gets projector headlights, day time running lamps, aggressive chrome twin slat grille, sporty bumpers, side skirt and a sporty exhaust. With a sporty theme, the Mobilio RS will surely make a place in minds of select enthusiasts.
The Mobilio definitely looks a lot better than Maruti Suzuki Ertiga because it breaks the monotone of conventional design. Honda has indeed achieved its target of delivering a premium design MPV to India.
Appearance Interior
Making the Mobilio a spacious MPV was the prime concern but then at the same time it also had a task of maintaining the premium image of the brand. The front section again resembles that of Brio and Amaze but then the design concentrates on delivering maximum room possible to the occupants which is in sync with the company's "Man Maximum Machine Minimum" design philosophy.
The engineers have made sure that there are no odd bits or hindrances blocking any area thus making the occupants feel roomy inside. The lower portion of the instrumental panel has been reduced to create extra legroom for front seat occupants. Even the design has been modified in a way to make sure the headroom is as generous for the second row and third row passengers. It also gets roof mounted AC for the second row passengers which is very neatly placed considering the headroom.
To make sure the interior trims feel upmarket, it gets two toned interiors in beige and black paired with silver inserts. While everything appears impressive, it is the wooden finished instrumental panel and central console which oddly strikes out from the design. It does not gel properly with the design and also does not feel premium. The ebony black finish felt better. We are sure the wooden finished vinyls will only feature in top end variants.
The seats, which have a concave design, are ideally meant to offer more kneeroom which it does well but the comfort of these seats needs to be improved. On long journeys, the flat seats might feel tiring. The knee room for front and second row of passengers is great while it is decent for the third row provided tall passengers don't seat in the third row. Getting inside the third row is made easy with one touch drop seats and wide doors for the second row.
We had the V variant and it featured steering mounted controls along with a touch screen with navigation system. It also has a reverse parking guidance system. The touch screen appeared Bluetooth and USB compatible and would be offered in premium trims only.
There are many practical storage areas inside the cabin and on door trims. The base cargo area for Mobilio is generous 223L which can be enhanced to 521L by folding third row seats. This is enough space for a week's getaway.
Performance Drive
Finally, a manufacturer decided to do a drive in Nasik, Maharashtra. I was more than happy because firstly I live here and secondly it meant no driving for endless hours to reach the airport and then fly down to the final destination which is normally the case.
Powering the Mobilio is a 1.5L i-VTEC engine which produces 119 PS of power at 6600 rpm and a torque of 145Nm at 4600 rpm. This petrol engine comes in a 5 speed manual transmission only. The power and torque figures are exactly that of the new Honda City. I-VTEC technology is simply brilliant and it has always been raved for its great performance and mileage. In Mobilio too, the 1497cc engine performs brilliantly by offering the punch of a smooth petrol engine.
Get on the engine revs and it keeps building speeds with great ease. It also reaches higher speeds at lower gears without any stress. The 5 speed manual transmission shifts smoothly like other Honda cars. This petrol engine offers more power and even though it has a long design, there is no lag in response of any sort. The maximum speed has been limited for safety concerns.
It is the diesel variant which will see more numbers as it is a popular option among MPV buyers. The diesel Mobilio has a 1.5L i-DTEC engine which makes a power of 100PS and a torque of 200Nm at 1750 rpm. This one too like the petrol comes in a five speed manual transmission.
The diesel engine which also powers the Amaze does not drive like it. Firstly, it does not feel as noisy as it feels inside the Amaze because Honda engineers have worked on the insulation and made sure the NVH levels are low. Even at an idling speed the engine is barely audible inside the cabin. It is only at higher rpms when the noise seeps in.
The suspensions have been tweaked for the change in body shape and dimensions. Even though the Mobilio is an MPV it still manages to drive like a sedan. The diesel feels high on response from the beginning itself. After getting sufficiently warmed up, the torque kicks in smoothly. While building speeds rapidly on a lower gear, there is no turbo lag. The gear shifts are not as smooth as the one on petrol but then the transmission does a fair job.
It gets bigger 185/65 R15 tyres and the advantage of them is seen in the handling. The dynamics and road mannerism of the Mobilio is amazing. It remains stable at high speeds and even while cornering; it firmly sticks to the road. It is just at speeds above 120kmph where it feels rear heavy. Body roll is negligible. All models get front disc and rear drum brakes. We got the Mobilio to a standstill from a speed of 100Kmph and it barely took time to stop the vehicle without losing on stability.
The steering wheel feels lighter and less precise in the petrol variant. The feedback isn't direct whereas in the diesel variant the steering wheel feels very much in control. Easy manoeuvrability is an asset of Mobilio. The longer wheelbase is not an obstacle while parking it in a tight spot. The V variant also comes with a reverse parking camera.
The Mobilio offers an ARAI approved class leading mileage of 17.3kmpl for the petrol and 24.2kmpl for the diesel.
Tech Specs
Technical Specifications
Make
Honda
Model
Mobilio
Variant
Petrol
Diesel
Engine Capacity
1497
1498
Power in PS/RPM
119 / 6600
100 / 3600
Torque in Nm/RPM
145 / 4600
200 / 1750
Gears
5 M
5 M
Length mm
4386
4386
Width mm
1683
1683
Height mm
1603
1603
Wheel base mm
2652
2652
Kerb Weight in Kg
1131 - 1160
1214 - 1245
Ground clearance mm
189
189
Fuel
Petrol
Diesel
Fuel tank capacity L
42
42
Turning circle radius in M
5.2
5.4
Tyre Spec
185 / 65 R15
185 / 65 R15
Fuel Effeciency
17.3 Kmpl
24.2 Kmpl
Features
| | |
| --- | --- |
| Features | V |
| Electric Power Steering | Yes |
| Electric Power windows | Yes |
| Central locking | Yes |
| AC with Heater | Yes |
| Key less entry | Yes |
| Tilt steering | Yes |
| Electrically adjustable ORVM | Yes |
| Fuel consumption display | Yes |
| Headlight Height adjuster | Yes |
| Integrated Audio system with 4 Speaker | Yes |
| Halogen headlights | Yes |
| Alloy wheels | Yes |
| Front Fog Lamps | Yes |
| Dual tone beige interior color scheme | Yes |
| Steering mounted audio control | Yes |
| Immobilzer | Yes |
| Dual airbag | Yes |
| ABS with EBD | Yes |
Competition All Specs
Specifications

Honda
Mobilio

Maruti Suzuki
Ertiga

Variant
V
ZDI
Engine Capacity
1498
1248
Power in PS/RPM
100 / 3600
89 / 4000
Torque in Nm/RPM
200 / 1750
200 / 1750
Gears
5 M
5 M
Length mm
4386
4265
Width mm
1683
1695
Height mm
1603
1685
Wheel base mm
2652
2740
Kerb Weight in Kg
1214 - 1245
1235
Ground clearance mm
189
185
Fuel tank capacity (L)
42
45
Turning circle radius in M
5.4
5.2
Tyre Spec
185 / 65 R15
185 / 65 R15
Fuel
Diesel
Diesel
Fuel Effeciency(KMPL)
24.2
22.77
Features
Electric Power Steering
Yes
Yes
Electric Power windows
Yes
Yes
Central locking
Yes
Yes
AC with Heater
Yes
Yes
Key less entry
No
No
Tilt steering
Yes
Yes
Electrically adjustable ORVM
Yes
Yes
Fuel consumption display
Yes
Yes
Headlight Height adjuster
Yes
Yes
Integrated Audio system with 4 Speaker
Yes
Yes
Halogen headlights
Yes
Yes
Alloy wheels
Yes
Yes
Front Fog Lamps
Yes
Yes
Dual tone beige interior color scheme
Yes
Yes
Steering mounted audio control
Yes
Yes
Immobilzer
Yes
Yes
Dual airbag
Yes
Yes
ABS with EBD
Yes
Yes
Conclusion
Why should you get the Honda Mobilio? Firstly, it comes from a brand which commands great respect in the country. Great quality cars with an equally convincing post sales experience. Moving on from the brand advantage, the Mobilio offers more than the usual demands of MPV audience.
It looks great. The side and the rear profile botch collectively make the Mobilio undoubtedly a balanced yet impressive looking MPV. The Maruti Suzuki Ertiga, which is its arch rival, looks purely functional with an extended body design. The modern design lines on the Mobilio bring a characteristic touch of a sedan to a family car.
Inside the Mobilio, the space offered is generously more. Seats can do with more cushioning and increase in comfort but the room offered is simply fantastic. Also, finally a compact 7 seater not just on paper but in real too. I am 6'1 in height and managed to fit inside the third row even though it is not meant for someone like me. Won't say it is one of the best places to be in but then it definitely scores more than that of Ertiga.
Even in performance, the Mobilio is more powerful and offers better mileage than the cars in its segment with best in class mileage. The Mobilio is not a substitute for the Toyota Innova in any sense as the latter sits at the extreme end of this segment. The Mobilio will make brilliant sense for a family looking for a compact MPV.
Honda Mobilio launches on 23rd of July 2014 with multiple variants in both petrol and diesel engines. It will be presently offered in manual transmission only however Honda has an automatic box for the Mobilio which it might launch if there is a convincing demand for it. It would be interesting to see how Honda prices this one as we think they will price the base variants of Mobilio lower while the top end variants will command premium over that of Ertiga. The price difference can be in the range of Rs.40,000 – Rs.50,000. Honda Mobilio can be priced between Rs.6 lakhs to Rs.8 lakhs for the petrol while the diesel can be priced between Rs.7.20 lakhs to Rs.9.20 lakhs. Let us know about your expectations from the Mobilio in the comment section below.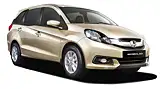 Honda
Mobilio
₹ N/A

Onwards
Honda
Mobilio
|
Honda Mobilio
|
Honda
Honda
Honda
Honda
Honda
Honda
Honda
Honda
Honda
Honda
Honda
Honda
Honda
Honda
Honda
Honda
Honda
Honda
Honda
Honda
Honda
Honda
Honda
Honda
Honda
Honda
Honda
Honda
Honda
Honda
Honda
Honda
Honda
Honda
Honda
Honda
Honda
Honda
Honda
Honda
Honda
Honda
Honda
Honda
Honda
Honda
Honda
Honda
Honda
Honda
Honda
Honda
Honda
Honda
Honda
Honda
Honda
Honda
Honda
Honda
Honda
Honda
Honda
Honda
Honda
Honda
Honda
Honda
Honda
Honda
Honda
Honda
Honda
Honda
Honda
Honda
Honda
Honda
Honda
Honda
Honda
Honda
Honda
Honda
Honda
Honda
Honda
Honda
Honda
Honda
Honda
Honda
Honda
Honda
Honda
Honda
Honda
Honda
Honda
Honda
Honda
Honda
Honda
Honda
Honda
Honda
Honda
Honda
Honda
Honda
Honda
Honda
Honda
Honda
Honda
Honda
Honda
Honda
Honda
Honda
Honda
Honda
Honda
Honda
Honda
Honda
Honda
Honda
Honda
Honda
Honda
Honda
Honda
Honda
Honda
Honda
Honda
Honda
Honda
Honda
Honda
Honda
Honda
Honda
Honda
Honda
Honda
Honda
Honda
Honda
Honda
Honda
Honda
Honda
Honda
Honda
Honda
Honda
Honda
Honda
Honda
Honda
Honda
Honda
Honda
Honda
Honda
Honda
Honda
Honda
Honda
Honda
Honda
Honda
Honda
Honda
Honda
Honda
Honda
Honda
Honda
Honda
Honda
Honda
Honda
Honda
Honda
Honda
Honda
Honda
Honda
Honda
Honda
Honda
Honda
Honda
Honda
Honda
Honda
Honda
Honda
Honda
Honda
Honda
Honda
Honda
Honda
Honda
Honda
Honda
Honda
Honda
Honda
Honda
Honda
Honda
Honda
Honda
Honda
Honda
Honda
Honda
Honda
Honda
Honda
Honda
Honda
Honda
Honda
Honda
Honda
Honda
Honda
Honda
Honda
Honda
Honda
Honda
Honda
Honda
Honda
Honda
Honda
Honda
Honda
Honda
Honda
Honda
Honda
Honda
Honda
Honda
Honda
Honda
Honda
Honda
Honda
Honda
Honda
Honda
Honda
Honda
Honda
Honda
Honda
Honda
Honda
Honda
Honda
Honda
Honda
Honda
Honda
Honda
Honda
Honda
Honda
Honda
Honda
Honda
Honda
Honda
Honda
Honda
Honda
Honda
Honda
Honda
Honda
Honda
Honda
Honda
Honda
Honda
Honda
Honda
Honda
Honda
Honda
Honda
Honda
Honda
Honda
Honda
Honda
Honda
Honda
Honda
Honda
Honda
Honda
Honda
Honda
Honda
Honda
Honda
Honda
Honda
Honda
Honda
Honda
Honda
Honda
Honda
Honda
Honda
Honda
Honda
Honda
Honda
Honda
Honda
Honda
Honda
Honda
Honda
Honda
Honda
Honda
Honda
Honda
Honda
Honda
Honda
Honda
Honda
Honda
Honda
Honda
Honda
Honda
Honda
Honda
Honda
Honda
Honda
Honda
Honda
Honda
Honda
Honda
Honda
Honda
Honda
Honda
Honda
Honda
Honda
Honda
Honda
Honda
Honda
Honda
Honda
Honda
Honda
Honda
Honda
Honda
Honda
Honda
Honda
Honda
Honda
Honda
Honda
Honda
Honda
Honda
Honda
Honda
Honda
Honda
Honda
Honda
Honda
Honda
Honda
Honda
Honda
Honda
Honda
Honda
Honda
Honda
Honda
Honda
Honda
Honda
Honda
Honda
Honda
Honda
Honda
Honda
Honda
Honda
Honda
Honda
Honda
Honda
Honda
Honda
Honda
Honda
Honda
Honda
Honda
Honda
Honda
Honda
Honda
Honda
Honda
Honda
Honda
Honda
Honda
Honda
Honda
Honda
Honda
Honda
Honda
Honda
Honda
Honda
Honda
Honda
Honda
Honda
Honda
Honda
Honda
Honda
Honda
Honda
Honda
Honda
Honda
Honda
Honda
Honda
Honda
Honda
Honda
Honda
Honda
Honda
Honda
Honda
Honda
Honda
Honda
Honda
Honda
Honda
Honda
Honda
Honda
Honda
Honda
Honda
Honda
Honda
Honda
Honda
Honda
Honda
Honda
Honda
Honda
Honda
Honda
Honda
Honda
Honda
Honda
Honda
Honda
Honda
Honda
Honda
Honda
Honda
Honda
Honda
Honda
Honda
Honda
Honda
Honda
Honda
Honda
Honda
Honda
Honda
Honda
Honda
Honda
Honda
Honda
Honda
Honda
Honda
Honda
Honda
Honda
Honda
Honda
Honda
Honda
Honda
Honda
Honda
Honda
Honda
Honda
Honda
Honda
Honda
Honda
Honda
Honda
Honda
Honda
Honda
Honda
Honda
Honda
Honda
Honda
Honda
Honda
Honda
Honda
Honda
Honda
Honda
Honda
Honda
Honda
Honda
Honda
Honda
Honda
Honda
Honda
Honda
Honda
Honda
Honda
Honda
Honda
Honda
Honda
Honda
Honda
Honda
Honda
Honda
Honda
Honda
Honda
Honda
Honda
Honda
Honda
Honda
Honda
Honda
Honda
Honda
Honda
Honda
Honda
Honda
Honda
Honda
Honda
Honda
Honda
Honda
Honda
Honda
Honda
Honda
Honda
Honda
Honda
Honda
Honda
Honda
Honda
Honda
Honda
Honda
Honda
Honda
Honda
Honda
Honda
Honda
Honda
Honda
Honda
Honda
Honda
Honda
Honda
Honda
Honda
Honda
Honda
Honda
Honda
Honda
Honda
Honda
Honda
Honda
Honda
Honda
Honda
Honda
Honda
Honda
Honda
Honda
Honda
Honda
Honda
Honda
Honda
Honda
Honda
Honda
Honda
Honda
Honda
Honda
Honda
Honda