Honda City Hybrid eHEV
The latest Honda City Hybrid eHEV, a Sedan from Honda, was launched in India in May, 2022.
Honda City Hybrid eHEV price starts from ₹ 19.53 Lakh in India. City Hybrid eHEV is available in 5 colours - Golden Brown Metallic, Lunar Silver Metallic, Meteoroid Grey Metallic, Platinum White Pearl, Radiant Red Metallic. City Hybrid eHEV seating capacity is 5 People. City Hybrid eHEV mileage is 26.5 km/l. City Hybrid eHEV has received Not Tested safety ratings.
City Hybrid eHEV is available in 1 versions and 1 fuel options(s) - Hybrid (Electric + Petrol). Hybrid (Electric + Petrol) models comes with 1498cc engine which generates peak power of 97 bhp @ 5600 rpm .
City Hybrid eHEV competes with Honda All New City, Volkswagen Virtus and Skoda Slavia in India.
Honda City Hybrid eHEV Model List
| City Hybrid eHEV Model | Price | Key Specs |
| --- | --- | --- |
| ZX | ₹ 19.53 Lakh | Hybrid (Electric + Petrol), 1498 cc, Automatic (EV/Hybrid) |
Honda City Hybrid eHEV 2022 Price
Version
All Versions
City
Not Selected
Select Version
Avg. Ex-Showroom price
City Hybrid eHEV starting EMI
₹39,599 for 5 Years
Ex-Showroom Price

This price includes GST and any state/city entry tax. However, the ex-showroom price does not include RTO, Insurance, Fast tag, and other accessories cost

₹

0

Registration Charges

Road Tax or registration tax This varies from city to city.

₹

0

Insurance

The insurance cost on CarTrade covers 1-year comprehensive insurance cost with 95% IDV and 3-year third-party insurance cost.
IDV - it is the max amount you will receive if your vehicle is stolen or completely damaged.
Third-party insurance - If you met with an accident with another vehicle, third-party insurance covers cost against damages to the other vehicle or the owner/driver of the other vehicle. It is helpful in the event of an accident by your mistake.
Insurance is mandatory for every vehicle as per the Indian Govt laws.

₹

0

Other Charges

₹

0

On-Road price

The final price you will need to pay to purchase the car in your city. On-road price = ex-showroom price + RTO + Insurance + Fast tag and other accessory charges.

₹

0
Need help with Test Drive, Offers Resale Value, Wait Time or anything else?
Sponsored
Contact dealer for
Test Drives
Offers & Exchange
EMI Options
Insurance
Honda City Hybrid eHEV Key Specifications
| | |
| --- | --- |
| Price | ₹ 19.53 Lakh |
| Fuel Type | Hybrid (Electric + Petrol) |
| Mileage | 26.5 km/l |
| Seating Capacity | 5 People |
| Safety Rating | Not Tested |
| Warranty | 3 Years (Unlimited KMs) |
| Engine Size | 1498 cc |
| Transmission | Automatic (EV/Hybrid) |
| Size | 4549 mm L X 1748 mm W X 1489 mm H |
| Fuel Tank | 40 litre |
City Hybrid eHEV Expert Review
Why I would buy it?
Good fuel efficiency,
Hybrid and autonomous tech
Why I would avoid it?
Compromised boot space
Lacks ground clearance of an SUV
Engine and performance
This Honda City isn't a mild hybrid like you see very commonly. In fact, the City falls under the 'strong' hybrid category, and let me explain why. Powering the City is an Atkinson cycle 1.5-litre, i-VTEC, four-cylinder petrol engine which is linked to two electric motors. The first electric motor works as an electric generator while the second one is the propulsion motor and they use power from a lithium-ion battery placed in the boot.
Another interesting aspect of the City Hybrid is the gearbox or rather the lack of it. Yes, you heard right. Even though Honda claims the Hybrid has an e-CVT gearbox, it actually just has a single high-speed gear with most of the drive being provided by the electric motor. So basically at lower speeds, the car runs solely as an EV and as the speeds get higher, the petrol motor kicks in and so the city runs in pure EV mode, then you have the hybrid mode where the petrol motor is charging the generator but the drive is still through the electric motor and then lastly you have the engine drive mode where the petrol motor comes into play to provide the drive but can also use electric power for bursts of acceleration.
To help charge the battery quicker you also have different levels of deceleration for power regeneration. The paddles that you see are not to go up and down the gears but to change deceleration levels. They can be used to change from gradual deceleration to quick deceleration. It is most useful when the driver does not want to step on the brake pedal while yet being able to maintain good vehicle control and fuel efficiency.
Power figures are pretty impressive too. The petrol motor puts out 97bhp while the electric motor puts out an impressive 108bhp and you get a combined power of 124bhp and 253Nm. However, Honda claims that the Hybrid City is just 0.4 seconds quicker to 100-kmph compared to the petrol CVT. To handle the extra power and torque the City Hybrid now gets disc brakes at the rear as well. Power figures aside, the important part here is fuel efficiency. Now Honda claims the City Hybrid has a claimed fuel efficiency figure of 26.5kmpl and if the real world figures which we will test soon are anywhere near this claimed figure, we think Honda deserves a pat on the back.
Ride and handling
On the go, the City Hybrid feels a little weird since it's near-silent off the mark. the whole transition between the modes is extremely seamless and it's only because you glance at the cool graphics that you know what's happening. Acceleration feels peppy and it mirrors a CVT with that rubber band effect feel. Acceleration isn't something that will blow your mind but the speeds build linearly and overtaking isn't a problem as you always have enough grunt for slow city traffic or the big lumbering trucks on the highways.
Coming to the ride and handling, the City Hybrid retains the same suspension but since it is about 120kgs heavier, the suspension has been retuned. Ride quality is still plush and the City still absorbs the light bumps comfortably. One needs to be a little careful over the sharper bumps but even then the City rides beautifully. Even with the retuned suspension the City Hybrid retains its plush ride and offers a very comfortable drive both in the city and on the highways.
While we did not really get to attack corners, the few corners we took were enough to tell us that the City Hybrid can be entertaining as well. The steering is devoid of any feel but has quite a bit of heft to it which gives confidence at higher speeds. There is body roll but it is pretty controlled and pushing harder just evokes safe understeer.
Exterior design
On the design front, the City remains by and large unchanged barring a few changes. On the front, the LED headlamps and the fat chrome bar have been retained. However, the grille below gets a honeycomb treatment now. Also what you see here is the new Honda Blueline badge. The other change is this claw-type fog lamp garnish which looks much cooler now. On the sides there are no changes, so you get the same 16-inch diamond-cut alloys. We think Honda should have added different design wheels to make the hybrid stand out further.
Now moving to the back, the LED tail lamps remain the same, but adding a sporty touch is this trunk lip spoiler and this faux diffuser that gets a really cool carbon fibre finish. Overall, the Honda City is already a good-looking car and with these minor cosmetic changes, it looks further refreshed.
Comfort, Convenience, and Features
The interiors have received subtle changes as well. First up, you get the new two-tone ivory black interiors. Also as you can see, no manual handbrake now, instead you get an electric parking brake which has freed up a lot of space here and Honda has added a new centre console with a utility tray now. The rest of the dashboard design, the seats, and an eight-inch infotainment screen which still feels a generation behind the competition has been retained but the instrument console now gets additional readouts for the hybrid drive.
Now the seats, legroom, and in-cabin space are the same, you can check out our Honda City review video for it. An important update is the boot space. Due to the placement of the lithium-ion battery in the boot and the presence of a space-saver tyre, boot space now stands at 306 litres as against 506 litres in the standard City.
On the features front, the City Hybrid gets an 8.0-inch touchscreen infotainment system with Android Auto and Apple CarPlay connectivity, an eight-speaker premium sound system, ambient lighting, electric sunroof, and an updated version of Honda Connect with Amazon Echo, Google Assistant, and smartwatch integration. However, there is still no wireless charging or wireless Android auto or Apple CarPlay and no ventilated seats.
However, it's on the safety front where Honda has upped the game significantly. Along with the already present safety suite of six airbags, Honda lane-watch, multi-angle rear-view camera, tyre pressure monitoring system, vehicle stability assist, and hill-start assist, the Honda City Hybrid also gets autonomous technology. Called the Honda sensing suite, you now also get a collision mitigation braking system that will slow or stop the car automatically in case of an emergency. Then you have road departure mitigation which automatically steers the car back into your lane should you be veering off. Lane-keeping assist system provides steering assistance to keep the vehicle centred in the lane. You also get adaptive cruise control and an auto high beam system as a part of the deal.
Conclusion
The Honda City Hybrid currently stands out amongst the sea of green vehicles. Where everyone else has their EV SUVs, Honda has decided to bring in hybrid technology in their most popular sedan. You do have the Tigor EV but then compared to the City it's more utility than luxury. With the City Hybrid, Honda has tried to address range anxiety that one gets with EVs and the inflated fuel costs to an extent by aiming to offer fuel efficiency figures that one expects from a hatchback. And at the same time, it is loaded with features, has plenty of space, and drives pretty well too. With lower maintenance costs compared to standard I.C.E car and an eight-year warranty for the battery, Honda has the peace of mind factor covered as well.
We think 17.99 lakh which is about 2.5 lakh more expensive than the top-end CVT petrol variant should be an ideal price for the City hybrid. Honda has also got the timing for the City Hybrid to enter the market spot on and now all they need to get right is the price.
Photography: Kapil Angane
Honda City Hybrid eHEV Price List
Filter By
Fuel type, Transmission and Seating Capacity
Hybrid (Electric + Petrol)
Automatic (EV/Hybrid)
5 Seater
City Hybrid eHEV Versions
Ex-showroom Price
Compare

Hybrid (Electric + Petrol), 1498 cc, Automatic (EV/Hybrid), 26.5 kmpl

Fuel Type: Hybrid (Electric + Petrol)
Engine: 1498 cc (Higher engine size helps to generate more power)
Transmission: Automatic (EV/Hybrid)
Mileage: 26.5 kmpl (ARAI reported mileage)

₹ 19.53 Lakh

Key features : Sunroof, Cruise Control, Push Button Start, Leather Seats, Alloy Wheels
Honda City Hybrid eHEV Price in Popular Cities
Honda City Hybrid eHEV Images
About Honda City Hybrid eHEV
Summary
In May 2022, the Japanese carmaker introduced the City e:HEV hybrid in India. It comes with five colour options across a single ZX trim. Being a strong hybrid, this sedan gets three dedicated driving modes – EV drive, Hybrid drive, and Engine drive.

Exterior
The City e:HEV measures 4,549mm in length, 1,748mm in width, and 1,489mm in height. Whereas the wheelbase of the sedan remains unchanged at 2,600mm.

The key design highlights include a thick chrome bar integrated with a radiator grille, full-LED headlamps, fog lamps, a sharp shoulder line, LED rear lights, front-door-mounted side-view mirrors, a shark-fin shaped antenna, and new 16-inch alloy wheels. Additionally, it gets redesigned front and rear bumpers, and a boot-mounted spoiler.

Interior
The hybrid sedan features a dual-tone interior theme with leather upholstery for the seats. Honda also offers a semi-digital instrument cluster, eight-inch touchscreen infotainment, and a lane watch camera.

Further, the hybrid version boasts next-generation Honda Connect with smartwatch compatibility, Alexa and Google voice assistants support, rear-wheel disc brakes, VSC, ESC, TPMS, HHC, and Honda Sensing – a set of ADAS functions.

Engine and transmission
The City e:HEV is powered by a 1.5-litre, four-cylinder, naturally aspirated petrol engine linked to a small battery pack and a dual electric-motor setup. This hybrid system is paired with an e-CVT automatic transmission. The engine produces 97bhp/127Nm, while the electric motor delivers 107bhp/253Nm. The combined power output is rated at 125bhp
Read More
Quick Facts about
Honda City Hybrid eHEV
Honda City Hybrid eHEV, a Sedan, is available from ₹ 19.53 Lakh in India. Honda offers the latest City Hybrid eHEV in 1 versions in India. The base model ZX starts at ₹ 19.53 Lakh in Delhi and the top model ZX priced at ₹ 19.53 Lakh in Delhi. If you are looking for 5 seater car then you should consider City Hybrid eHEV.
Honda City Hybrid eHEV comes in 5 colors which include Golden Brown Metallic, Lunar Silver Metallic, Meteoroid Grey Metallic, Platinum White Pearl, Radiant Red Metallic.
Read More
Read Less
Compare City Hybrid eHEV with Alternatives
| | | | | |
| --- | --- | --- | --- | --- |
| | Honda City Hybrid eHEV | Honda All New City | Volkswagen Virtus | Skoda Slavia |
| Price | ₹ 19.53 Lakh | ₹ 11.48 Lakh | ₹ 11.22 Lakh | ₹ 10.99 Lakh |
| Fuel Type | Hybrid (Electric + Petrol) | Petrol | Petrol | Petrol |
| Engine Size | 1498 cc | 1498 cc | 999 cc | 999 cc |
| Transmission | Automatic (EV/Hybrid) | Manual | Manual | Manual |
| Power | 97 bhp @ 5600 rpm | 119 bhp @ 6600 rpm | 114 bhp @ 5000 rpm | 114 bhp @ 5000 rpm |
| Torque | - | 145 Nm @ 4300 rpm | 178 Nm @ 1750 rpm | 178 Nm @ 1750 rpm |
| Safety Rating | Not Tested | 5 Star (ASEAN NCAP) | Not Tested | Not Tested |
| Boot Space | 410 litres | 506 litres | 521 litres | 521 litres |
| Ground Clearance | - | 165 mm | 179 mm | 179 mm |
| Size | 4549 mm L X 1748 mm W X 1489 mm H | 4549 mm L X 1748 mm W X 1489 mm H | 4561 mm L X 1752 mm W X 1507 mm H | 4541 mm L X 1752 mm W X 1507 mm H |
| Compare | - | Compare City Hybrid eHEV vs All New City | Compare City Hybrid eHEV vs Virtus | Compare City Hybrid eHEV vs Slavia |
Honda City Hybrid eHEV Colors
Honda City Hybrid eHEV Videos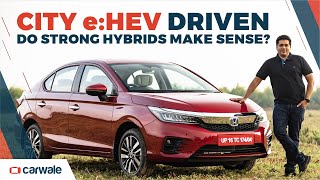 Honda City Hybrid 2022 Driven | 26.5kmpl Mileage Possible? | CarWale
05/02/2022
Find New Cars of Your Choice
PRICE RANGE

FUEL TYPE

BODY TYPE

MAKE

MORE
Used Honda Cars
₹ 1.25 Lakh

Starting Price

View All Used Honda Cars