Cartrade Comparison Test
The Koleos has been pitched against the likes of Toyota Fortuner, Honda CR-V, Chevrolet Captiva and also the BMW X1. It offers a host of luxurious features along with relaxed exteriors. The looks of Koleos are offbeat and that is what makes it unique from competition. The only thing that does not get votes is the price point at which it is offered. It comes in only one variant and is priced at Rs. 2407913.
Brand Mahindra had got into new high when XUV 500 was launched. Mahindra smartly was quick enough to grab ownership stakes in this Korean company. Critics were not too happy by this decision but with the SsangYong Rexton, Mahindra has answered them all. The company made a strong point that a premium feature rich SUV need to be hefty priced. The Rexton is offered in two variants RX5 and RX7 priced at Rs. 1842729 and Rs.2062377 respectively.
Renault Koleos Vs Ssangyong Rexton Exterior
The Renault Koleos seems designed at a place far from the above amidst the peace locales. The Koleos makes a point that an SUV need not be angry looking always; instead it can be a beautiful one.
Renault Koleos Vs Ssangyong Rexton
First look of the Koleos can make you realize of its controlled behavior. Koleos had gone under the design scissors and come out with a refreshed change which include newly designed radiator grille, smoky headlights among many other changes. The radiator grille is all in chrome and has the Renault logo flowing on it with chrome inserts. Koleos has a nose like protruding front. The fog lamps are affixed on the extended air vents with chrome streaks. The air intake vents immediately after the radiator grille have an underbody protector too. Underbody protector unlike other cars starts very early and looks as a part of the lower bumper with contrast shades.
Rexton gives the impression of a sturdy majestic appearance SUV. The widechrome plated front grills with Rexton Logo grabs the attention. The eagle eye shaped projector head lamps are equally attractive and demands a second look to give appreciation for the style. The headlamp is powerful and does give the best of visibility in all weather conditions. Front bumpers make does participate in giving wider image of the vehicle. Fog lamps are made sleek .Bonnet is provided with W shaped counters. Thereis smooth and high inclination from front end of bonnet to top of wind shield. The overall front portion gives the impression of high royal look SUV.
Renault Koleos Vs Ssangyong Rexton Interior
In the Rexton, premium leather upholstery is used in RX5 variant and Fabric upholstery available in RX5. AC blowers with controls are provided at 2ndand 3rdrow. Second row is for 3 passengers and 3rdrow is specially designed for children. There is ample space and could be used as sleeping bed for children. Folding the 3rdseat will give plenty of space for luggage .AC blowers available at the center console with arm rest between driver and co driver seats. Sunroof features is a special feature available in Rexton. The wide sunroof has options for tiltingand closing available as desired.
The 3rdrow being child seat is a special thing about Rexton. Generally in most of SUV, third row seats would also be for adult seating. The intended design of vehicle seems to be limited to 5 people. In case of excessive passengers, children could be seated comfortably in 3 rd row. Also the fact that the dickey is a hatch back type than the door type. A door type would assure entry of persons from rear door.
Renault Koleos Vs Ssangyong Rexton Performance
The Renault Koleos comes with a M9R 1995cc Direct Injection Common Rail Turbo Diesel engine. The mill produces a peak power of 150 bhp at 4000 rpm and a torque of 320 Nm at 2000 rpm. A 6 speed Automatic transmission governs this engine. Mind you the tight handling also takes care of the body roll. This can also be credited to the overall design of the vehicle which is not too tall but compact and the curves on the design make it more aerodynamic then its rivals.
Renault Koleos Vs Ssangyong Rexton.
Koleos won't suit the one who crave for performance and boast of high speed figures. The max speed of Koleos is 180 km/h. She is not too wild if you throttle her hard but then her 320Nm of torque won't let that smile go away completely.
Inside the Rexton, The high quality infotainment system and GPS facility assures comfortable journey. All wheel drive is available in RX7 and is very useful for cross country usage. True to claimed turning circle radius of 5.7M, taking sharp turn at U turns would be a easy thing to do. The majestic look of the car combined with special attraction of Rexton logo grabs the public attention much.
The looks and size of Rexton directly gives a impression of tough competition from Mahindra to take on Toyota Fortuner and Ford Endeavour etc. In brief comparison with Toyota Fortuner and Ford Endeavour. The performance of Rexton is in par with that of Fortuner and Ford Endeavour. Ford Endeavour seems to have edge over Rexton in terms actual performance and Rexton has better features. Features available in Rexton are even better compared to Fortuner. Rexton also has advantage of better pricing than compared with AT version of Fortuner and Endeavour.
Renault Koleos Vs Ssangyong Rexton Conclusion
The new Rexton of Ssangyong under banner of Mahindra offers a great competition among the 20 to 25 Lakh segment SUV. With launch of XUV 500,Mahindra had grown to 15 Lakh range SUV and now its shown further rise. The points like sunroof, availability of Automatic Transmission, leather upholstery, electrically adjustable driver seats etc are boosting factor for Rexton.The factor of 3 rd row seats for 3 adults is affected.
Close to Rs.25 lakhs, Indians have tons of options that will make a buyer deviate away from the Renault Koleos. Toyota has got the 4x2 variant of their well selling SUV, the Fortuner. Ford Endeavour, which is a popular choice among many for its performance and then the small and sophisticated BMW X1.
Renault should price the Koleos more "lucratively" then the present. Maybe a 4x2 no-frills variant of the Koleos, priced a lakh cheaper than the present variant will help Renault carve out a good space in the premium SUV segment.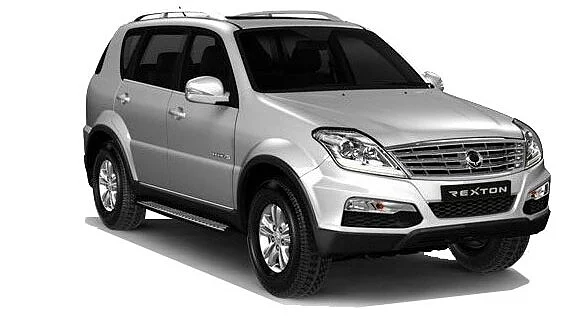 Ssangyong
Rexton
₹ N/A

Onwards
Renault
|
Ssangyong
|
renault koleos
|
koleos
|
Rexton
|
Ssangyong Rexton